Silverlake Axis Ltd – Project-related Revenue Surges
Date:
16/11/2022
Source
:
PHILLIP CAPITAL
Stock
:
Silverlake Axis
Price Target
:
0.49
|
Price Call
:
BUY
Last Price
:
0.36
|
Upside/Downside
:

+0.13 (36.11%)
---
1Q23 earnings of RM57.6mn were in line with our estimates, at 28% of our FY23e. The 64% YoY surge in earnings came from higher software licensing and software and hardware sales offset by lower software project services.
Project-related revenue comprising software licensing and software project services increased 107% YoY due to the delivery of new software licensing deals in Indonesia and Thailand, and the ongoing implementation of two new MOBIUS contracts.
We maintain BUY with an unchanged target price of S$0.49. Our FY23e estimates remain unchanged. Our FY23e estimates remain unchanged. Our target price is pegged to 20x P/E FY23e. We expect MOBIUS and the recovery in bank IT spending after two cautious pandemic years to be the key growth drivers for the company.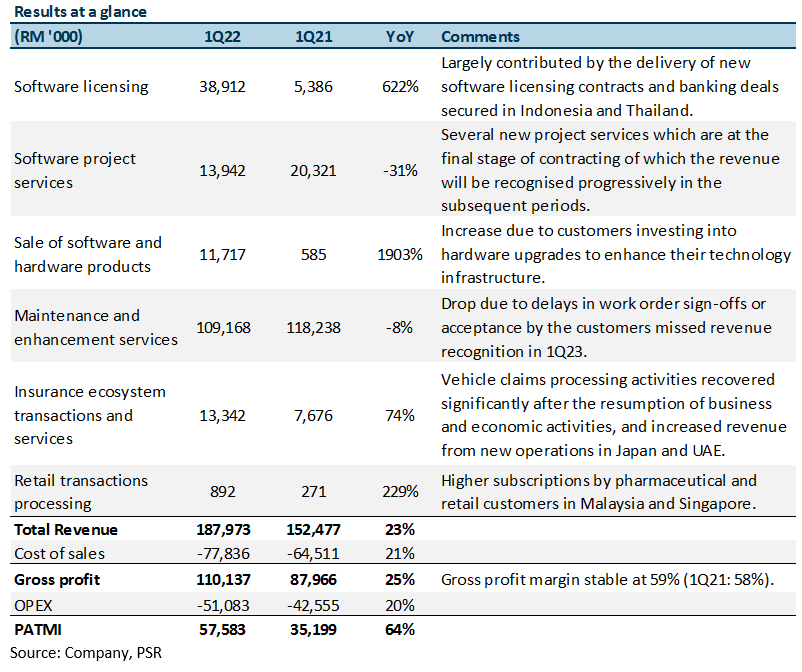 The Positives
+ Project-related revenue increased 107% YoY. Software licensing revenue spiked more than 6-fold YoY to RM39mn. It was largely contributed to by the delivery of new software licensing contracts and banking deals secured in Indonesia and Thailand. However, this was offset by software project services revenue decreasing 31% YoY to RM14mn. A key new implementation project secured in Thailand has just commenced, and the revenue will be recognised progressively in the subsequent periods. There are also a few new project services which are at the final stage of contracting.
+ Order backlog healthy. Silverlake has a long track record and a proven client base in Southeast Asia. Three of the 5 largest Southeast Asia-based financial institutions uses its core banking platform, and it has largely retained all its clients since bringing them on board its platform. Silverlake's project pipeline is healthy, at RM2.1bn (4Q22: RM1.9bn), with a healthy order backlog of RM400mn-450mn. Silverlake is beginning to close more deals and is witnessing an uptick in inquiries about its financial services market solutions and capabilities.
The Negatives
– Recurring revenue dipped 2% YoY. Maintenance and enhancement services fell 8% YoY to RM109mn as maintenance revenue was stable, while enhancement services revenue fell due to delays in work order signoffs or acceptance by the customers missed revenue recognition in 1Q23. Nonetheless, this was offset by insurance ecosystem transactions and services revenue increasing by 74% YoY as vehicle claims processing activities recovered, as well as increased revenue from new operations in Japan and UAE. Revenue from retail transactions processing also increased 229% YoY mainly due to higher subscriptions by pharmaceutical and retail customers in Malaysia and Singapore.
Source: Phillip Capital Research - 16 Nov 2022