Asian Pay Television Trust – Stable With Early Signs of 5G
Date:
16/08/2022
Source
:
PHILLIP CAPITAL
Stock
:
Asian Pay Tv Tr
Price Target
:
0.15
|
Price Call
:
BUY
Last Price
:
0.096
|
Upside/Downside
:

+0.054 (56.25%)
---
Results met our expectations. 1H revenue and EBITDA were at 49%/48% of our FY22e estimates. 2Q22 distribution was maintained at 0.25 cents per unit.
Broadband remains the growth segment, rising 16% YoY but pulled down by 7% contraction in cable TV revenue. 5G backhaul revenue was S$2.2mn annualised (FY21: S$1.6mn).
We upgrade to BUY due to the recent share price weakness. No change to our FY22e EBITDA forecast and target price of S$0.15, based on 9x FY21e EV/EBITDA, a 20% discount to Taiwanese peers. The current dividend yield of 8.5% or S$18mn payout, is well supported by an estimated free cash flows of around S$80mn p.a.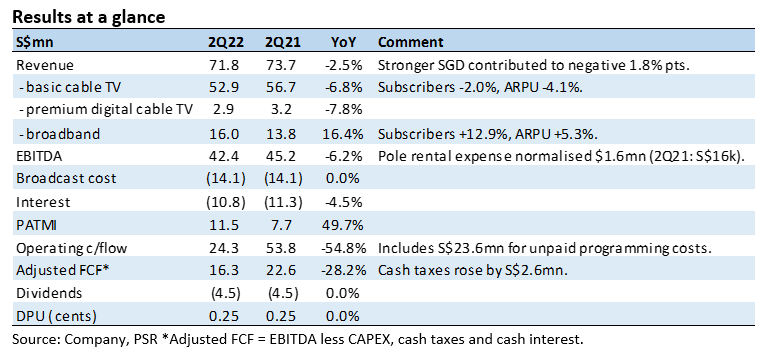 The Positive
+ Broadband growth with some 5G. Broadband revenue grew from both higher volumes and prices. Net subscribers added in 2Q22 were 9,000 (2Q21: +9,000) and ARPU rose 5% YoY to TWD377. Higher speed broadband plans are driving prices and partnership with mobile operators is helping to gain more subscribers. 5G backhaul revenue was disclosed at around $1.1mn in 1H22. This compares with the S$1.6mn in FY21.
The Negative
– Secular decline in basic cable. No change to the continuing weakness in basic cable TV revenue. It is the 18th consecutive quarterly decline of subscribers. Local content is still popular but piracy issues and aggressive IPTV are driving the loss of subscribers and the need to provide more discounts for customer retention.
Outlook
A competitively priced broadband that is 40-50% cheaper than peers together with a collaboration with mobile operators have driven both volumes and prices higher. While ARPU is 20% lower than cable TV, the margins are higher because there is no content cost. Content cost around 30% of cable TV revenue. Broadband can keep group revenue stable with 5G the new growth catalyst. Of the S$1.44bn debt, S$1.3bn is onshore TWD dollar debt of which 93% (or S$1.2bn) is hedged at a fixed rate of 0.94% until 30Jun25. The offshore S$154mn debt is floating rate of base plus 1.6-1.9%. A 100bps rise in SIBOR will increase interest by S$1.5mn, so not a significant impact to free cash flow.
Upgrade to BUY from ACCUMULATE with an unchanged target price of S$0.15
APTT's attractive dividend yield of 8.5% is well supported by free cash flows. Our FY22e PATMI is raised S$14mn from lower effective tax, interest rate and depreciation assumptions.
Source: Phillip Capital Research - 16 Aug 2022