ComfortDelGro Corp Ltd – Recovery Is Underway, Except China
Date:
16/08/2022
Source
:
PHILLIP CAPITAL
Stock
:
ComfortDelGro
Price Target
:
1.80
|
Price Call
:
BUY
Last Price
:
1.19
|
Upside/Downside
:

+0.61 (51.26%)
---
1H22 revenue and PATMI were 49%/35% respectively of our FY22e forecast. Results were below expectations due to taxi rebates of S$10mn in China due to the lockdown.
Huge operating leverage was underway in the results. Excluding government relief and non-recurring items, operating profit in 2Q22 jumped 2.5-fold to S$62mn.
The recovery is at a nascent stage. Return to office and other activities started only in the later part of 2Q22. We expect 2H22 to be stronger. Taxi revenue will benefit from the rising number of trips and an increase in booking fees. Rail ridership is recovering strongly from a surge in ridership. No change in our forecast or DCF target price (WACC 8%) of S$1.80.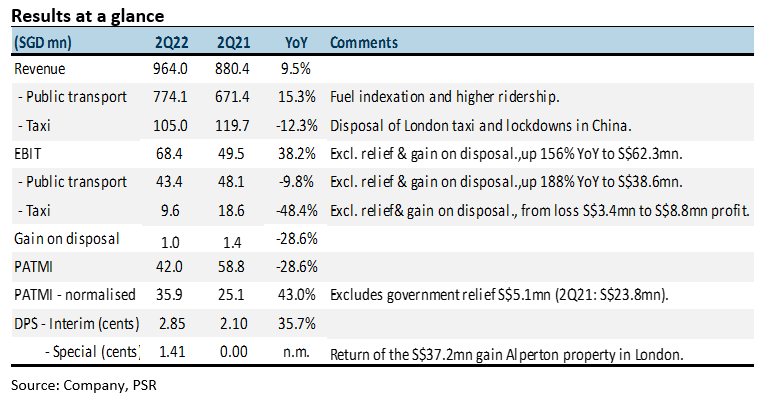 The Positives
+ Operating leverage on display. 2Q22 revenue rose S$84mn YoY, due to the huge fixed cost underlying the business, around S$38mn (or 45%) flowed to earnings. Operating profit before government relief and non-recurring items jumped 156% to S$62mn.
+ Higher dividends and healthy cash flows. FCF in 1H22 was healthy at S$191mn (1H21: S$288mn). The decline compared to last year was due to higher working capital requirements. The interim dividend was increased 36% to 2.85 cents but still far from the pre-pandemic level of 4.5 cents. A special dividend of 1.41 cents (S$30mn) was declared to return the gain from the disposal of Alperton property in London. Net cash on the balance sheet is now S$643mn (1H21: S$493mn).
The Negative
– China rebates a major drag. Due to the lockdown in China, there was a need to provide $10mn rebates to taxi drivers in various cities. Comfort operates taxis in Beijing, Shanghai, Jilin City, Shenyang, Chengdu, etc. China suffered an operating loss of S$3.2mn in 2Q22 (2Q21: S$2.9mn). Taxi revenue for the group also declined due to the divestment of London (Jul21) and Ho Chi Minh (Mar22) taxi businesses.
Outlook
We expect the recovery to pick up in 2H22. Removal of restrictions in Singapore was largely only from 29 April. Taxi and ride-hailing trips registered a 20% YoY rise in May and June (Figure 1). The booking fee of 4% on drivers using its CDC Zig app from 1 May will contribute more meaningfully in 2H22. Taxi rental rebate of 15% will end in September 2022. With taxi driver takings improving, there is potential for rebates to end or decline. Weakness in taxi revenue will stem from the annual 7% decline in taxi fleet.
Public transport will benefit from the resurgence in rail ridership (Figure 2) benefiting from the return to office and increase in social activities. An offset will be a decline in bus contracting revenue effective 1 September 2022. As announced earlier in the transition of the Downtown Line to NRFF 2, the new rate is benchmarked against recent bus tenders and is lower than the current service fee.
On dividends, we model a 70% payout ratio. There is room for dividends to grow with earnings recovery. The dividend per share pre-pandemic was 9.8 cents.
Maintain BUY with unchanged TP of S$1.80
ComfortDelgro pays a 5% dividend yield, net cash balance sheet of S$643mn and its share price is still around 40% below pre-pandemic levels.
Source: Phillip Capital Research - 16 Aug 2022