Singapore Telecommunications Ltd – Australia and India Mobile the Outperformers
Date:
17/11/2021
Source
:
PHILLIP CAPITAL
Stock
:
SingTel
Price Target
:
2.86
|
Price Call
:
BUY
Last Price
:
2.58
|
Upside/Downside
:

+0.28 (10.85%)
---
1H22 EBITDA / PATMI met our expectations at 48%/47% of FY22e estimates.
Australia consumer EBITDA rebounded 28% YoY in 1H22 to A$918mn (excl. NBN). Mobile service revenue expanded almost 10% to A$1.84bn, supported by a 12% rise in ARPU.
Interim dividend was cut for the 2nd consecutive year to 4.5 cents (1H21: 5.1 cents, 1H20: 6.8 cents). Dividend guidance is 60%-80% payout of underlying net profit.
Our FY22e forecast is unchanged. Operationally, we expect earnings to further expand in 2H22. Associate earnings will recover as lockdowns ease and economic conditions improve. Border re-openings will also support Singapore and Australia consumer divisions. We maintain our ACCUMULATE recommendation. Our SOTP TP is raised to S$2.86 from S$2.52 with higher associate market valuations.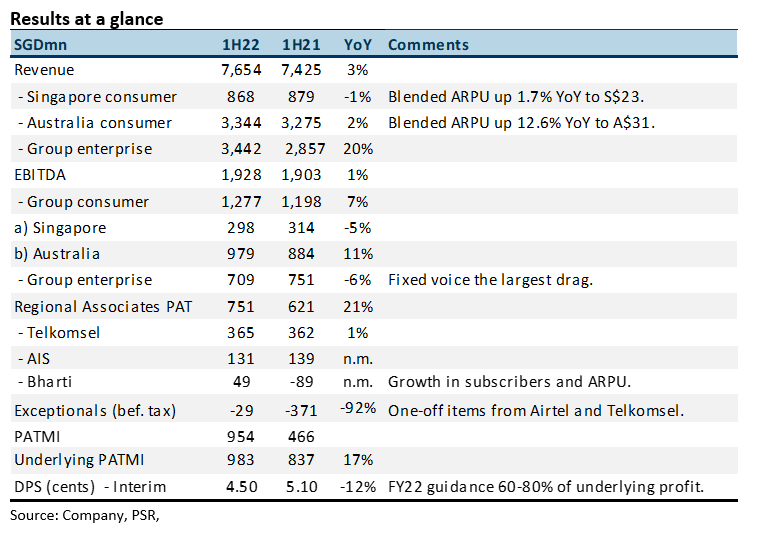 The Positives
+ Resurgent Australia mobile. Mobile service revenue expanded almost 10% to A$1.84bn. Blended ARPU increased 12.6% to A$32, close to pre-pandemic levels. Optus 5G plans have been capturing market share in SME and consumer segments.
+ Bharti turnaround is intact. Despite the pandemic, Bharti Airtel (BHARTI IN, Not Rated) enjoyed a major S$138mn YoY turnaround in 1H22 net profit. Earnings growth is driven by a 10% increase in subscribers and a 7% YoY rise in ARPU. Following the rights issue in October, Singtel's stake in Bharti nudged up from 31.72% to 31.76%.
The Negative
– Cut in interim dividends. Despite improving earnings, the interim dividend was cut for the 2nd year to 4.5 cents. 1H22 free cash flow at S$1.7bn was similar to last year. When compared to 1H19, there is a shortfall of S$200mn due to higher capital expenditure needs for 5G. Our FY22e DPS is 9 cents (or 70% payout).
Outlook
Earnings should recover further in 2H22. More economic sensitive associate earnings will rebound as lockdowns ease and economic conditions improve. Singapore and Australia mobile will enjoy a lift in revenues as borders re-open. Improvement will be from higher roaming revenue and equipment and re-contracting sales as shops re-open. We are neutral on the disposal of infrastructure assets. It appears more a refinancing exercise unless cost savings or new revenue opportunities are achieved through the disposal.
In terms of FY22 guidance, Singtel reaffirmed capital expenditure of around S$2.4bn (FY21: S$2.2bn), dividends from associates of at least S$1.3bn (FY21: S$1.3bn) and dividend payout of between 60% and 80% of underlying net profit (FY21: 71%).
Maintain ACCUMULATE with a higher TP of S$2.86, from S$2.52
Our SOTP valuation is based on 6x EV/EBITDA for Singtel's core Singapore and Australia businesses, at S$0.77/share. Associates are marked to market at S$2.09/share with a 20% discount to reflect volatility in their share prices.
Source: Phillip Capital Research - 17 Nov 2021