Keppel Corporation Operations Picked Up
Date:
26/04/2021
Source
:
PHILLIP CAPITAL
Stock
:
Keppel Corp
Price Target
:
6.12
|
Price Call
:
BUY
Last Price
:
6.73
|
Upside/Downside
:

-0.61 (9.06%)
---
1Q21 revenue came in at S$1.9bn (26.6% of FY21e) with net profit also stronger on a YoY basis. Results are in-line with our expectations.
Keppel O&M's net orderbook could double to S$6bn if it secures the P-78 FPSO project with Petrobras.
Keppel Logistics divestment into Phase 2 of the strategic review process, final offer could come in 3Q21.
Maintain BUY and SOTP TP of S$6.12, with a 10% holding-company discount. Our TP translate to about 1.0x FY21e book value, a slight discount to its 5-year average of 1.05x.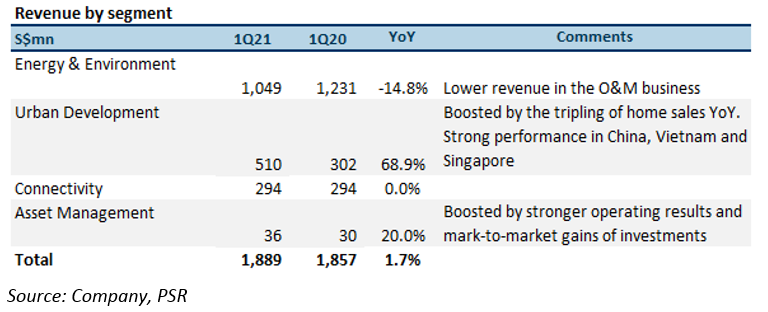 Positives
+ Revenue was stable YoY, with higher contributions from Urban Development – which was strong in China, Vietnam and Singapore – and Asset Management, boosted by stronger operating results and marked-to-market investment gains. Keppel O&M's EBITDA also turned positive with narrower losses, we believe they will look to breakeven by the end of the year. In the Connectivity segment, M1's EBITDA declined 25% YoY to S$55mn due to lower roaming and prepaid revenues.
+ Keppel O&M's net order book could double to about S$6bn should it clinch the Petrobras P-78 Floating Production Storage and Offloading (FPSO) project worth about S$3bn. It is currently in advanced discussions with Petrobras, but no definitive agreements have been entered into yet. As at end-March 2021, Keppel O&M's net orderbook stood at S$3.0bn, about 80% of which comprised renewables and gas-related solutions.
+ Keppel has completed previously announced divestments of three projects in China, Vietnam and the UK. Gains realised totalled S$108mn. It's net gearing improved to 0.88x in the quarter, compared to 0.90x as at end-December 2020. Had the divestment of Keppel Bay Tower been completed in 1Q21, it would have further reduced the Group's net gearing to 0.81x. We expect the Group to realise additional gains in 1H21 as they finalise the sale of a commercial and residential plot in Tianjin Eco-City, which was sold for RMB1.5bn in Mar 2021.
+ Keppel T&T made progress in its plan to divest its loss-making logistics and channel management business. It is in Phase 2 of the strategic review process. Potential bidders are conducting due diligence and a final offer could come in 3Q21.
Negatives
– We believe Keppel will recognise an impairment for KrisEnergy in the coming quarters. KrisEnergy recently announced that due to the unexpected underperformance of the Apsara Mini Phase 1A oil field in the Block A concession offshore Cambodia (CBA), contrary to earlier projections, the consensual restructuring is no longer viable. As no alternative restructuring plan has been presented by KrisEnergy, there remains material uncertainty over KrisEnergy's ability to continue operating as a going concern.
Carrying values of Keppel's investment, contract asset and loan receivable, as well as the amount outstanding under the revolving credit facility (RCF) to which Keppel has provided a guarantee via a bilateral contract with DBS Bank amounting to US$318.3mn as at 31 March 2021 are set out in the table below.
Source: Phillip Capital Research - 26 Apr 2021