Keppel Corporation – O&M Unit Restructured
Date:
01/02/2021
Source
:
PHILLIP CAPITAL
Stock
:
Keppel Corp
Price Target
:
6.12
|
Price Call
:
BUY
Last Price
:
5.28
|
Upside/Downside
:

+0.84 (15.91%)
---
FY20 revenue and profit came in at S$435mn and S$15mn above our expectations.
Keppel O&M restructured into three units (Op co, Rig co and Dev co) with Rigco eyed for potential divestment/monetisation.
Remains on track to unlock S$3 – 5bn of assets in the next three years with S$1.2bn already announced. ROE target of 15% affirmed.
Maintained BUY and SOTP TP of S$6.12, with a 10% holding-company discount. Our TP translate to about 1.0x FY21e book value, a slight discount to their 5-year average of 1.05x.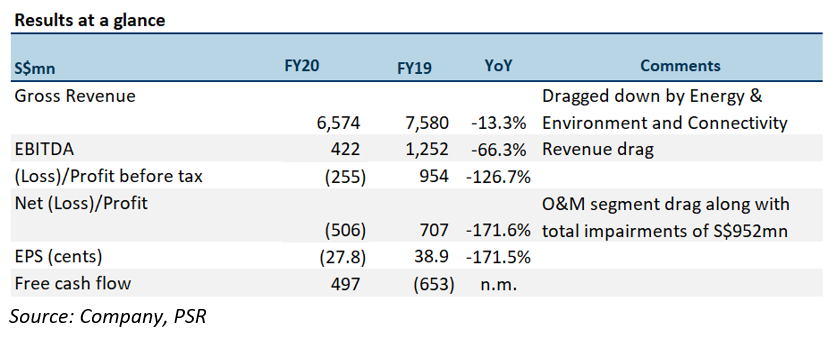 Positives
+ Keppel O&M will be restructured into three units (Op co, Rig Co and Dev Co), with two transient entities created to hold their legacy completed and uncompleted rigs valued at S$2.9bn. The path to the divestment of these transient entities (Rig Co and Dev Co) – the offshore rig building business has become clearer. Management expects cost savings of S$90mn in FY21e from the O&M restructuring through right-sizing of the workforce.
+ Keppel remain on track to unlock value from S$3 – 5bn of assets, and have already announced S$1.2bn of assets since October last year, they remain well on-track to reach their target. We expect this to come in at the upper bound of the range and have pencilled this in our FY21 – FY22e forecasts.
+ Strategic review of logistics business completed with Keppel T&T looking to fully divest or maintain a minority stake in their loss-making logistics unit. Despite benefiting from rising demand for e-commerce accelerated by COVID-19 pandemic, the Group has decided to exit the business to focus on other units.
Negatives
– We think the market will be disappointed by the absence of a clear and immediate exit plan from the O&M business while retaining their higher value added renewable energy division. We are cognisant however that an immediate exit might not be feasible given the challenging landscape, with the restructuring, we note that a merger/full divestment remains a possibility.
Outlook
We expect Keppel to speed up the divestment of non-core assets tracking the S$3 – 5bn target in three years. Keppel has identified S$17.5bn of assets to be monetised over time, specifically S$3 – 5bn within three years. They have already divested S$1.2bn of assets, realising an estimated gain of S$120mn. We see the successful divestment of Rigco as a potential catalyst for the Company.
Restructuring Keppel O&M
Keppel's O&M unit will be restructured into three units (Op co, Rig co and Dev co). Operating company ("Op co"), less the legacy rig assets, will be transformed into an agile, asset-light Op co focused on developing and integrating offshore energy and infrastructure assets. It will focus on higher value-adding design, engineering and procurement, with fabrication subcontracted to third parties. Rig co is focused on putting completed rigs to work or selling them. Rig co will sell the rigs through a merger or spin-off. Development company ("Dev co") is focused on completing rigs under construction, prioritising projects with firm contracts. Completed rigs will be delivered to customers or transferred to Rig co.
With the latest restructuring, Keppel's Op co will be unencumbered by the historical legacy rig assets and can focus on opportunities in floating infrastructure and collaborate with other Keppel business units to provide solutions for sustainable urbanisation, such as data centre parks. The new Op co will be focused on higher value-adding work as developer and integrator. It is expected to be self-financing and profitable over time. Management has guided for cost savings of S$90mn in FY21e from the O&M restructuring.
Rig co, which will hold Keppel O&M's completed rigs will be put to work or sold if the opportunities arise. The rigs expected to be injected into Rig co include the five jack-up rigs from Decon, TS Offshore, Clearwater and its Can-do drillship. The intention is to divest this over time, and the management expects this to require limited initial funding
Dev co will see the two semi-subs for Sete Brasil and Awilco and five jack-up rigs for Borr Drilling injected into Dev co. This structure will be dissolved once the rigs have been completed and delivered to customers or transferred to Rig co. Both Rig co and Dev co are collectively expected to require about S$500mn in net funding, mainly for Dev co to complete the rigs.
Keppel has started reclassifying its businesses under Energy & Environment, Urban Development, Connectivity and Asset Management. It has started reporting its financials under these new segments.
Results summary
For 2H20, revenue declined 20% to S$3.4bn compared to the same period last year. The drag came from lower revenue in the Energy & Environment and Connectivity segment partly offset by higher revenues from Urban Development and Asset Management. For FY20, Group revenue declined by 13% y-y to S$6.6bn, coming ahead of our estimates by S$435mn helped by better than expected results from the Urban Development segment. All key business units were also profitable except for their O&M unit. Excluding impairments in both years, FY20 net profit was S$446mn vs. S$828mn in FY19.

Energy & Environment: Revenue from this segment declined by 32% in 2H20 due to significantly lower revenue in the offshore & marine business as a result of slower progress from certain on-going projects due to COVID-19 related disruptions, suspension of revenue recognition from Awilco contracts, and deferment of some projects. For FY20, revenue in this segment declined an overall 20.6%.
Urban Development: Revenue increased 8% in 2H20 vs. the same period last year mainly due to higher contribution from property trading projects led by a higher number of units handed over for Waterfront Residences in Wuxi, Seasons Residences in Wuxi, Sheshan Riviera in Shanghai and Seasons Residences in Shanghai, which were partly offset by fewer units handed over in Riviera Point in Ho Chi Minh city, Park Avenue Heights in Wuxi, 8 Park Avenue in Shanghai, as well as lower contribution from the Reflections & Corals at Keppel Bay in Singapore. For FY20, this segment saw a 4.6% decline in revenue compared to last year.
Connectivity: Revenue saw a 5% drop in 2H20 vs the same period last year due to lower roaming service revenue as a result of COVID-19 and lower handset and equipment sales in M1, as well as lower contribution from their logistics business following the divestment of certain China logistics assets in November 2019. For FY20, revenue from this segment increased 8.2% vs. the same period last year, boosted by full year contribution from M1.
Asset Management: Revenue increased 3% in 2H20 vs. the same period last year largely due to higher asset management fees, partly offset by lower acquisition fees. For FY20, this segment saw a 7% decline in revenue due to lower acquisition and divestment fees.
For 2H20, the Group reported a net profit of S$31mn, as compared to S$351mn for the same period last year. Profits from Urban Development, Asset Management and Connectivity were partly offset by losses at Energy & Environment. For FY20, net loss was S$506mn vs. net profit of S$707mn for FY2019, excluding impairments, mainly from the O&M business, net profit would have been S$446mn. Net gearing was 0.91x as at end-Dec 2020, had the Keppel Tower transaction been completed in Dec 2020 however, net gearing would have moved to 0.81x on a pro-forma basis.
Maintain BUY with unchanged target price of S$6.12
We maintain our SOTP valuations at S$6.12 based on FY21e segments and maintain our BUY recommendation. Our TP is based on sum-of-the-parts (SOTP) valuation with a 10% holding-company discount. We value its Offshore & Marine division at 0.6x book value, about a 16% discount to peers (Figure 2). We value its Property segment at a 40% discount to RNAV and Infrastructure division at 12x FY21e earnings, in-line with peers. We also value M1 at 12x FY21e earnings, a slight discount to listed peers' average of 13x. We value Keppel's stake in Sino-Singapore Tianjin Eco-city at 1.5x book value.
Risks to our view include 1) a prolonged resolution for Rig co, 2) a further weakening of oil prices and 3) a worsenin of economic uncertainties.
We estimate the book value of Keppel for FY20e and FY21e at S$10.7bn and S$11.2bn respectively or S$5.90 and S$6.14 per share. Our TP of S$6.12 translates to about ~1.0x FY21e book value (a slight discount to their 5-year average of 1.05x).
Keppel has been promoting intra-company collaboration for some time. To this end, it has introduced OneKeppel. Collaboration initiatives may include but are not limited to large-scale urban developments or floating data-centre parks. The development of these projects will involve different capabilities within the Group. But as we think OneKeppel will take time to materialise, we have ascribed a 10% hold-company discount to arrive at our target price of S$6.12. Over time, as management continues to break down the silos, we see the potential for this discount to narrow, leading to higher valuations.
Source: Phillip Capital Research - 1 Feb 2021