CapitaLand Limited – a Temporal Blip in the Grand Scheme of Things
Date:
02/05/2019
Source
:
PHILLIP CAPITAL
Stock
:
CapitaLand
Price Target
:
4.00
|
Price Call
:
BUY
Last Price
:
3.51
|
Upside/Downside
:

+0.49 (13.96%)
---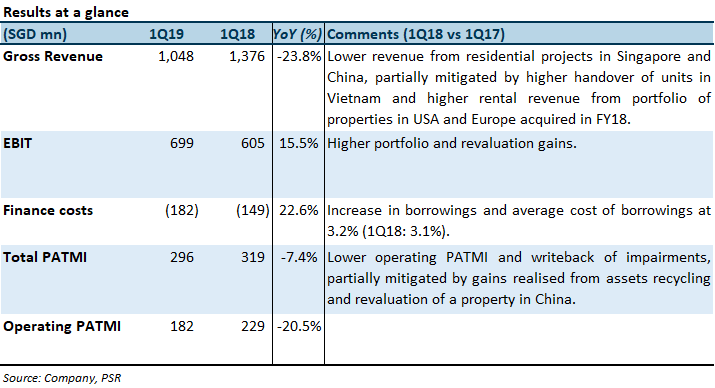 The Positives
+ Lodging segment shining with resilience. CapitaLand Lodging was the sole segment that reported YoY growth for both revenue (+14.4%) and EBIT (+328%), mainly on the back of higher revenue from Synergy Global Housing and contribution from Tauzia (acquired in 3Q18). EBIT from this segment was propped up by gains from the divestment of Ascott Raffles Place Singapore in Jan 2019. Excluding this one-time gain, EBIT from this segment would still have risen c.31%. In addition, The Ascott Ltd had in April secured 14 contracts to manage over 2k units across eight countries and is on track to achieve its targeted 160k units by 2023 (YTD 2019: 101.5k).
+ Solid sales for China projects. Projects launched in 1Q19 achieved a high sell-through rate of c.90%. It sold out the launches of Chengdu Century Park (East) (99% sold) and La Botanica developments (fully sold), with the latter only being launched in March 2019. >5k units are to be ready for the rest of 2019, with more than a quarter coming from the La Botanica development alone.
The Negatives
– Lower handover of units this quarter due to timing differences. 1Q19 saw lower handover of units for both Singapore and China. To juxtapose, 1Q18 saw significant completion of a phase from The Metropolis in Kunshan – which comprised c.85% of the units handed over that quarter. We note that these are just timing differences and the Group is still on schedule for the completion and handover of existing projects in China. The Management communicated that bulk of the units handover will be back-ended into 2H19.
Outlook
Outlook is positive. Healthy momentum is still expected to persist for the 5.2k residential units expected to be launched for the rest of the year. There had been a recent easing of residency requirements in China (also known as the hukou system), with certain cities encouraged to scrap the system altogether or to lower the requirements. CAPL's Management expects a gradual relaxation of the price caps in light of this, albeit in a gradual and controlled manner.
In Singapore, CAPL is set to launch the former Pearl Bank Apartments development in 2Q19 and the Sengkang Central mixed-use development in 3Q19. The Group also has a development in Malaysia launching in 2Q19. Residential launches in Vietnam on the other hand are likely to see a slowdown due to initial curbs from certain new Government policies – where approvals for new developments will likely also see delays. However, the Management clarified that demand is still robust for Vietnam residential and much of the units handover will be back-ended into 2H19.
CAPL's recurring income portfolio continues to be grounded on healthy operating metrics and will increasingly be the bedrock of its earnings. Its fund management platform had been bearing fruits – in April, the Group successfully set up its maiden discretionary equity fund, CapitaLand Asia Partners I (CAP I), which would invest primary in value-add and transitional pan-asian commercial assets. CAP I secured US$391.3mn (c.S$528.3mn) for its first closing. During the quarter, the Group also launched its first discretionary real estate debt fund, CREDO I China, which will invest in offshore US dollar-denominated subordinated instruments for real estate in China's first- and second-tier cities. CREDO I China has to-date raised 70% of the target capital raise of US$750mn (c.S$1bn) – CapitaLand has a 10% stake in this fund.
Figure 1: CapitaLand's upcoming project launches in Singapore and Malaysia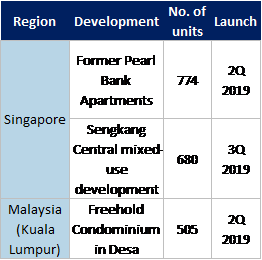 Maintain Accumulate with unchanged TP of S$4.00
We maintain our Accumulate rating with an unchanged target price of S$4.00. Our target price translates to a FY19e P/NAV ratio of 0.78x.
Figure 2: RNAV Table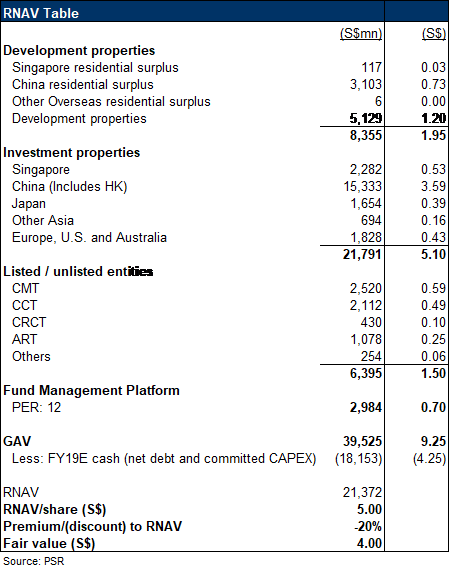 Our RNAV figures do not include components that would arise from the proposed acquisition of Ascendas-Singbridge (ASB).
The proposed acquisition of ASB was approved by its shareholders at an EGM held on 12 April 2019. Subject to obtaining regulatory approval, the acquisition is expected to complete by 30 June 2019.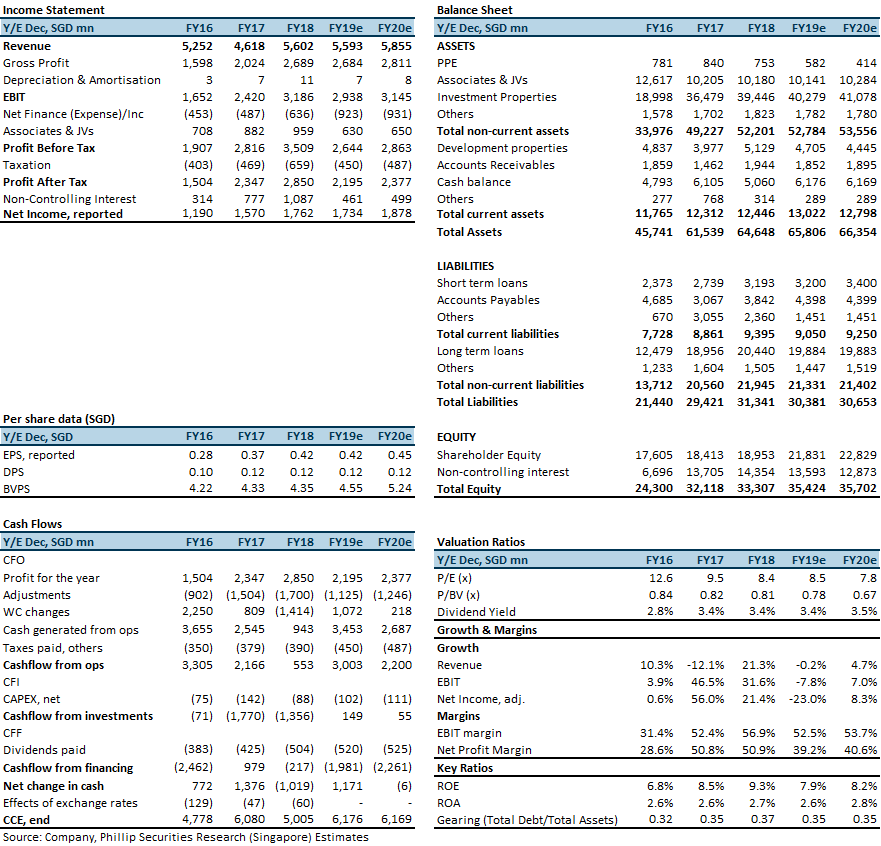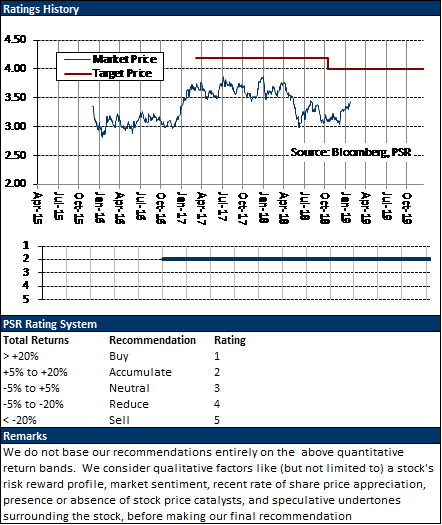 Source: Phillip Capital Research - 2 May 2019