FY22 results exceeded expectations. FY22 revenue and PATMI were 109%/118% of our forecasts. Revenue jumped across all segments in 2H22, in part driven by pent-up demand after the re-opening. Dividends surged by 66% to 1.11 cents.
We believe the re-opening saw the return of surgeries deferred during the pandemic, and increased visits drove specialty pharma revenue. Around 86% of FY22 earnings is from specialty pharma.
We raise FY23e earnings by 31% to S$13.2mn and the DCF target price is nudged up to S$0.445 (prev. S$0.43). Our BUY recommendation is maintained. We underestimated the rebound in sales post re-opening. Hyphens has assembled multi-franchise drivers in the medium term, namely DocMed, proprietary skincare brands and specialty pharma distribution into public sector verticals. A near-term headwind is the upfront costs to develop the DocMed healthcare platform.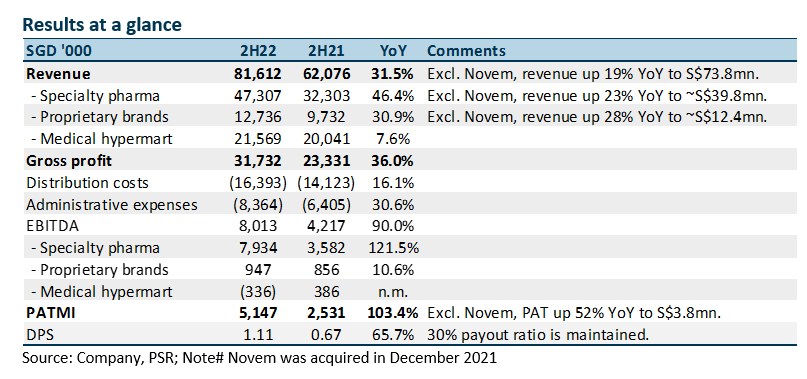 The Positive
+ Strong growth in specialty pharma. The largest earning driver was specialty pharma. EBITDA more than doubled to S$7.9mn with the inclusion of recently acquired Novem. We believe the re-opening has increased surgeries and visits to hospitals and specialists, thereby driving up revenue.
The Negative
– Softer proprietary margins. EBITDA margins for proprietary brands declined by 1.4% points YoY to 7.4% in 2H22. We believe higher production and product development costs contributed to the weakness in margins.
Outlook
We expect slower growth post the pent-up demand after the re-opening. New products launched will support sales, such as Nabota® (botox), Meradan® (steroid eczema cream) and Winlevi® (acne cream). Hyphens continue to build medium-term franchises: (i) DocMed – a platform for doctors, drug companies and other healthcare providers; (ii) Proprietary brands in skin health products; (iii) Novem – expand specialty products distribution into the public sector.
Source: Phillip Capital Research - 9 Mar 2023