Revenue was in line, but EBITDA was marginally below our estimates. Expenses such as content and staff cost were higher than modelled.
Broadband reported record net additions of 9,000 subscribers in 3Q19. But revenue was still down 5% due to weaker ARPU .
Falling revenue is still the biggest challenge. We estimate revenues will fall S$9mn in FY20e (FY19e down S$25mn). The annual dividend pay-out of S$17.4mn per annum is well funded by adjusted FCF of $46m. Nevertheless, it will be challenging for the stock to outperform until investors get some visibility of revenue stabilising. We believe the rollout of data backhaul services for 5G in 2021 will be the opportunity for revenue to stabilise or even grow. We peg APTT at around 9.5x EV/EBITDA. This is a 20% discount (prev. 15%) to their much larger Taiwanese peer valuations. We maintain NEUTRAL and keep our target price unchanged at S$0.165.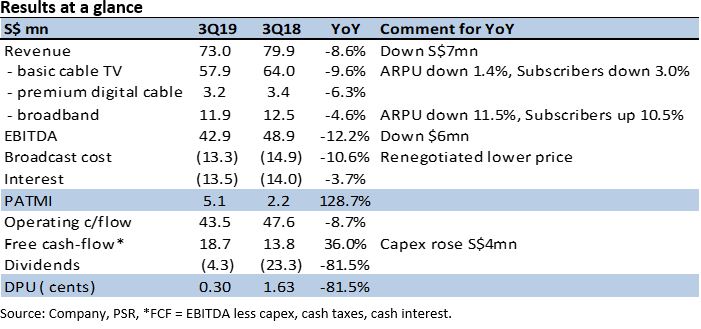 The Positives
+ Record additions in broadband subscribers. Broadband subscribers rose by 9,000 to 232,000 in 3Q19. A post-IPO high. Nevertheless, revenue still declined due to an 11.5% YoY contraction in ARPU.
+ Content cost re-contracting helps. Most of the operating cost for APTT is relatively stable. A lever to offset falling revenue has been content cost. The content cost has been renegotiated lower since last quarter.
The Negatives
– Core cable TV subscribers still dropping. Subscribers have been declining since 1Q18 and lowering prices had little impact on stemming this declining. A positive is that ARPU contracted NT$2 per quarter this year, compared to NT$5 per quarter in FY18.
– Capex sticky and not helping revenue. APTT is investing upfront in deploying more fibre into their network. So far there has not been a significant return on this investment, judging by the lacklustre rise in broadband revenue. The bulk of the returns on this investment should materialise when APTT sells data backhaul service to 5G mobile operators in Taiwan.
Outlook
We believe FY20e will follow similar trends of weak revenue, EBITDA and subscribers. The headwinds facing cable TV such as video piracy, IPTV competition and lower regional pricing is unlikely to tapper down anytime soon.
A positive next year should come from capital expenditure where management expects to trend downwards from FY20e. The improvement in FCF can be deployed to pare down debt.
Maintained NEUTRAL and target price unchanged at S$0.165
We maintained our target price at S$0.165. We cut our FY20e EBITDA by 4% as we lowered revenue by 3%. We peg APTT at around 9.5x EV/EBITDA. This is a 20% valuation discount (prev. 15%) to its much larger Taiwanese peers (Figure 2).
The committed two-year (FY19e and FY20e) DPU of 1.2 cents per year will provide some stability to the share price. Any upside or re-rating can only come when revenues begin to stabilise, in our opinion.
Figure 1: Core business decline started in 2018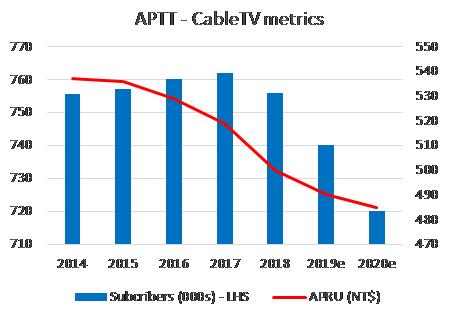 Figure 2: Taiwanese peers pay a dividend yield of 4.2% and trade at 11.5x EV/EBITDA.

Source: Phillip Capital Research - 12 Nov 2019