Both 1Q19 revenue and PATMI met our expectations.
Two projects secured, 14 projects under construction and one project commenced operation during 1Q19. Seven WWT projects hiked tariff in 1Q19
10% price difference between HK and SG market post-dual-listing
We raise our target price to S$0.50 (previously SG$0.48) based on FY19e EPS of 5.5 SG cents and the slightly higher peers' PER of 9.0x (previously 8.9x), and we maintain our BUY recommendation.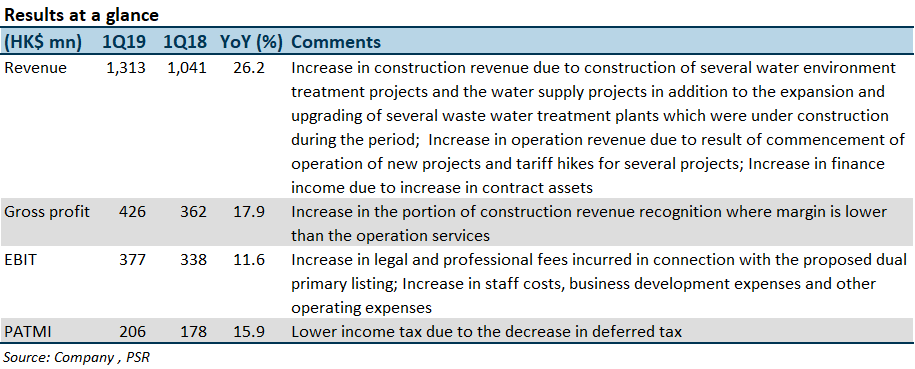 The Positives
+ Ongoing project expansion and tariff hike. In 1Q19, CEWL secured two more projects, including an operation and management project and a sludge treatment project. During the period, 14 projects were under construction, and one project commenced operation. Meanwhile, seven waste water treatment (WWT) projects had tariff hikes ranging from 21% to 56%. There is still room for the group to hike the tariff with the upgrading of domestic waste water discharge standard. Currently, the average G1A tariff ranges between RMB1.1-1.3/tonne, and more than 90% of the operating WWT projects have reached the standard.
+ Successful dual primary listing on the main board of stock exchange of Hong Kong. On 8-May, CEWL allotted and issued 103.97mn share with an offer price of HK$2.99 (equivalent to S$0.52). The total number of shares increased from 2,676mn to 2,780mn. As of 16-May, the Singapore and Hong Kong closed price was S$0.37 and HK$2.37 respectively, and the price difference after conversion was S$0.04 or 10.8%.
Outlook
CEWL has been solidifying its footprint in Jiangsu and Shandong provinces. In the foreseeable future, we look forward to the new business expansion to other densely populated regions such as Pearl River Delta and Great Bay Area.
Recently, Ministry of Housing and Urban-Rural Development, Ministry of Ecology and Environment, and National Development and Reform Commission jointly published the upgrade of urban waste water treatment quality action plan 2019- 2021, specifying areas demanding WWT and reinforcing the fiscal and social financing support. Accordingly, we believe CEWL will continue to be benefit from the benign business environment.
Meanwhile, the 3ppt lower in value-added tax (from 16% to 13%) that kicked in in Apr-19 is expected to provide some relief to the group's tax burden by RMB40mn in FY19. In a nutshell, we remain upbeat on the outlook.
Source: Phillip Capital Research - 21 May 2019