Overall results were within our expectations. Management lowered their guidance for FY19e EBITDA by 1-5%
Associates dragged down earnings especially from Airtel, recovery in Telkomsel is moderate and at the lower end of our expectations
We revised our FY19e EBITDA and net profit downwards by 8% and 6% respectively in light of the change in guidance. Downgrade to ACCUMULATE with a lower TP of S$3.27 (prev. S$3.40)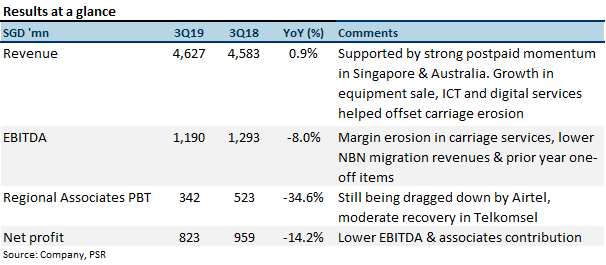 The Positives
+ Strong post-paid momentum in Singapore & Australia. Post-paid subscription increased 112,000 (4.6%) YoY and 129,000 (6.8%) YoY respectively for the Singapore and Australian market. The increase is driven by the conversion of pre-paid customer into SIM – Only plans and existing customers taking up secondary post-paid plans. Management shared that the mobile post-paid market in Australia commands the highest value as consumers are shifting to premium network such as Optus and Telstra. Equipment sales are up 31% YoY due to higher take-up of premium handsets.
+ Enterprise gaining traction. Group enterprise revenue increased 1% YoY compared to a decline in the previous 4 quarters. Improving managed services revenues and cyber security business help offset legacy revenues.
The Negatives
– Weak regional associates' performance. Airtel's reported their 4th consecutive quarter of losses at S$129mn this quarter (3Q18: S$38mn). India is facing prolonged pricing pressure from Reliance Jio. Recovery of Telkomsel (TSEL) was modest and at the lower end of our expectations. We expect TSEL to tap on growth of data use in Indonesia as subscribers begin to convert from traditional voice services to data. TSEL grew on a sequential quarter basis.
Outlook
We continue to be optimistic on Singtel because of their earnings diversity and its stable dividend yield of 5.9%. Although data revenue growth is not expected to offset the decline in traditional voice revenue, we expect other business segments to contribute positively. We expect group enterprise and ICT services revenues to remain healthy with the S$2.9bn order book.
Downgrade to ACCUMULATE with a lower TP of S$3.27 (prev. S$3.40)
We revised our FY19e EBITDA and net profit downwards by 8% and 6% respectively in light of the change in guidance. Downgrade to ACCUMULATE with a lower TP of S$3.27 (prev. S$3.40).
Source: Phillip Capital Research - 15 Feb 2019