Investment Thesis:
Impact of TPG's entrance into Singapore is contained. TPG is slated to become Singapore's 4th mobile network operator (MNO). Due to a delay indoor network rollout, commercial launch should commence 2H19 rather than the targeted end FY18 launch. TPG has announced a 5% market share target in mobile subscribers (~ 260k subs). This also equates to less than S$50mn in EBITDA. TPG announced CAPEX of S$200-300mn for the mobile network rollout and had thus far spent less than S$100mn. As a comparison, StarHub to date has spent approximately $600mn in maintaining and improving its 4G network. We believe this low level of CAPEX will affect coverage, reliability and overall quality of the network. It will prevent consumers from switching completely away from incumbent networks. Also, TPG Singapore will have much less financial resources to tap on once merger of TPG Australia and VHA results in segregation of balance sheets. TPG is offering free trials for the first 20k customers that register interest with them. We do not view this as a major threat to the incumbents. It only represents38% of total post-paid customers and even less significant on revenue, as these are the most price-sensitive segment.
Enterprise provides a growth driver for the telcos. The enterprise segment is benefitting from the resumption of smart nation projects and demand from businesses especially from small & medium enterprise (SME), hospitality and financial services. Companies are requiring more connectivity, data centre and cloud solution, managed security and network services. We believe Singtel and StarHub is well positioned to take advantage of this growth.
CAPEX for 5G not a cause for concern. There is much anticipation over the commencement of the 5th generation network. We estimate that this rollout will take place in 2020. However, we do not expect a nationwide rollout by individual operators. There is little incentive or applications available for consumers to pay for such an upgrade. We expect the network rollout to be in phases and tailored to enterprise customers. As a result, CAPEX activities should be gradual. Spectrum rights bidding should be at rational levels, we do not expect an intense bidding process like what we observed for the bidding of 3G spectrum rights.
Investment Actions
Singtel: (i) We expect a turnaround in associates largely driven by a recovery in Telkomsel, (ii) TPG Telecom is unlikely to pose a serious threat to the incumbents, (iii) Enterprise business will benefit from resumption of smart nation initiatives. We initiate coverage on Singtel with a BUY rating and a target price of S$3.40.
StarHub Limited: (i) Pay-tv business cost structure could improve; (ii) Anticipating growth in enterprise fixed, (iii) S$210mn restructuring exercise will help cushion decline in mobile and pay-tv; (iv) TPG Telecom is unlikely to pose a serious threat to the incumbents. We initiate coverage on StarHub with an ACCUMULATE rating and a target price of S$1.88.
M1 Limited: (i) Shareholders should accept the VGO; (ii) M1 is most exposed to TPG Telecom's entrance to the Singapore market; (iii) Mobile postpaid & fixed services revenue is growing at healthy numbers. We initiate coverage on M1 with an ACCEPTANCE OF OFFER to the VGO of S$2.06
Singapore Mobile Sector
At present there are two underlying trends in the mobile sector:
Emergence of MVNOs: In total there are 4 MVNOs, Circles.Life collaborates with M1, Zero and Zero1 are working with Singtel, MyRepublic is partnered with StarHub. These MVNOs lease the mobile network from the MNO. As a result, they have the same network quality and reliability as the MNO. These MVNOs compete in the price-sensitive space and generally offer competitive price The MNO charges the MVNO at a wholesale rate for using their network (Figure 3). Circles.Life intends to grab a market share of 5%.
Higher adoption of SIM-only plans: We expect a higher rate of adoption of SIM-only plans due to the longer replacement lifecycle of smartphones. Traditional bundled plans normally command a higher premium the introduction of SIM-only plans reduces profitability (Figure 5).
Figure 1: Singapore Mobile revenues already declining pre-TPG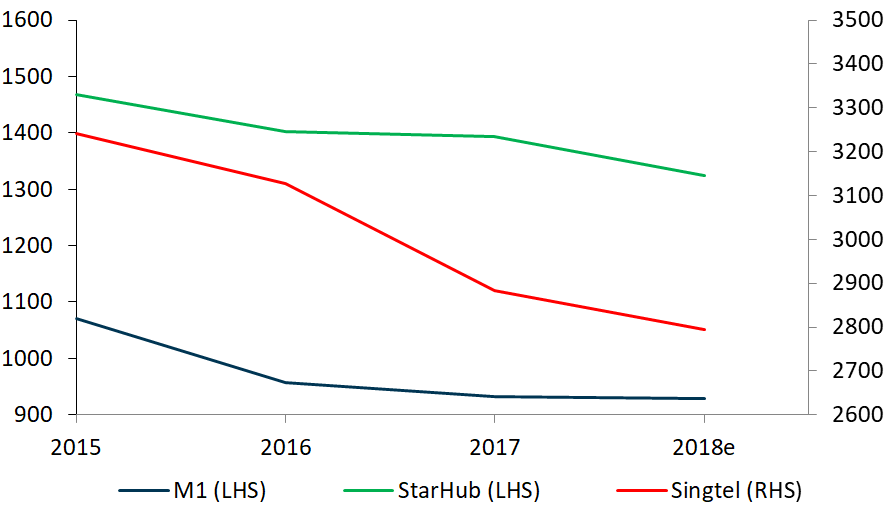 Source: PSR, Company
Figure 2: Post-paid ARPU (SFRS 15 impact)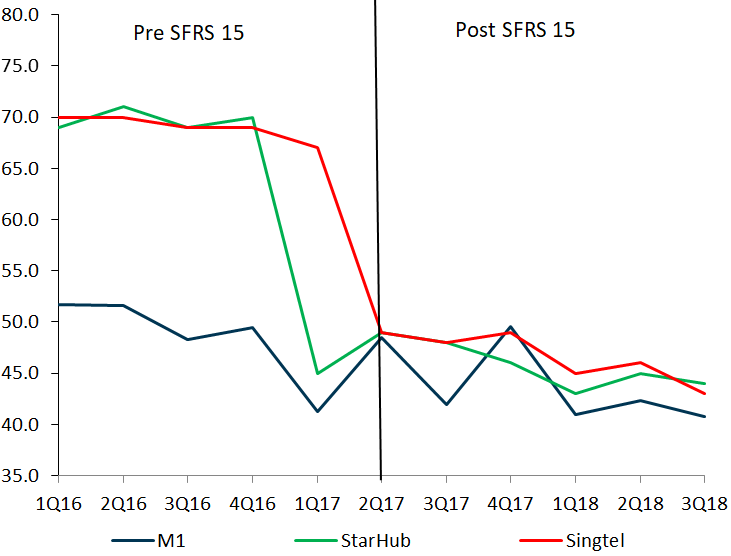 Source: PSR, Company
Figure 3: MVNOs in Singapore

Source: PSR, Company
The MVNOs strategy is to target niche markets in Singapore. It essentially targets the most price-sensitive segments. Their presence has undoubtedly weighed down on the telco sector with their competitive pricing strategy and by offering larger data plans to its customers. However some earnings will flow back to their MNO partner. Zero & Zero1 targets consumers who are always on the move with their large amount of data. Circles.Life being the oldest MVNO in town has managed to add subscriber base to its MVNO partner M1. MyRepublic, the newest operator, has managed to increase postpaid subscriber for StarHub since its launch in early 2018. MNOs do not disclose the commercial arrangements with MVNO partner.
SIM- Only Plans vs traditional bundled plans
As seen in figure 5, customer spend is substantially lower in the lifetime of a contract under the SIM-Only plan as compared to traditional handset plans. As such, net revenue will be weighed down by the higher adoption of SIM-Only plans.
The telcos have reacted to these shifts by offering greater options in the SIM-Only space and handset leasing services to cope with the change in consumer preference. We expect continued weakness from the mobile segment in the medium term.
Source: Phillip Capital Research - 04 Jan 2019