Gross revenue 4.7% higher than expected
DPU 7.5% higher than expected, partially due to capital distribution of 0.036 cents/unit; DPU from operations 4.9% higher than our forecast
WALE by NLA has shortened QoQ from 3.5 years to 3.3 years
Proposed divestment of Jinshan Chemical Warehouse
Maintain Neutral; new target price of $0.75 (previously $0.82), as we raise the discount rate in view of multiple risks in 2019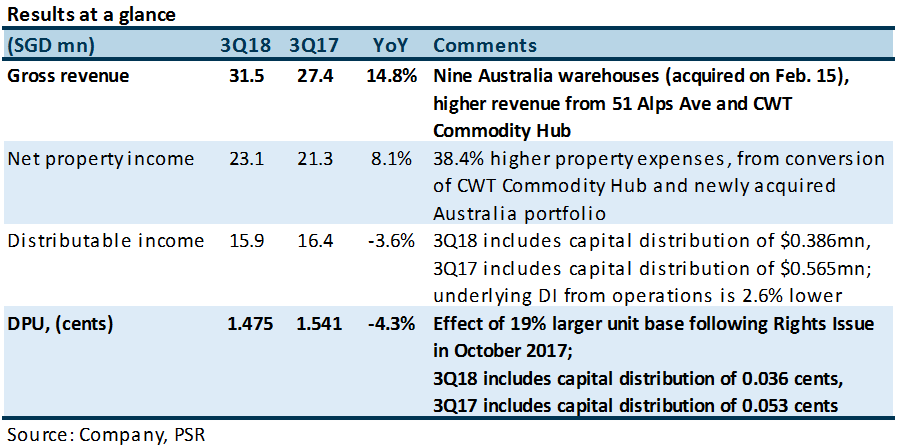 The Positives

+ Prudent debt capital management. Gearing remains stable at 35.6%, only 0.3pp higher QoQ. We estimate a debt headroom of ~S$101mn, which can be used to growth the AUM by 8%. Subsequent to end-Sept., the manager has refinanced all 2018 and 2019 SGD-debt to a 5.5-year loan, thus extending the weighted average debt maturity from 2.2 years to 4.1 years.
+Committed occupancy at CWT Commodity Hub inched higher to 94% from 92.7%. Recall that the property was converted to a multi-tenancy lease structure in April this year at 86% occupancy. Total portfolio committed occupancy is also higher QoQ by 0.1ppt to 96.9%.
+Limited vacancy risk remains for 4Q 2018. Only 2.0% of leases by rental income is expiring in 2H 2018.
+Divestment gains from JCW, minimal impact to DPU as JCW is non-core. Jinshan Chemical Warehouse (JCW) to be divested for RMB 87mn. It was acquired in June 2011 for RMB 71mn, and recently valued at RMB 77.3mn. JCW contributed 1.4% of total gross rental income in FY17; and would have contributed only 0.8% in FY18e, by our estimate.
The Negatives

– Underlying DI and DPU from operations are lower YoY, despite the enlarged portfolio and increased gross revenue. Underlying distributable income (DI) is S$0.411mn or 2.6% lower YoY, in part due to S$1.39mn payable to perpetual securities holders. There was no payment to perpetual securities holders in 3Q17, as they were issued in January 2018 in relation to the acquisition of nine Australian properties. Capital structure of using perpetual securities for the acquisition does not show evidence of DPU accretion to unitholders.
-Portfolio rental reversion of -6.6% for 24,900 sq ft of space from two renewals. We expect negative reversions to persist into 2019, as overhang of space continues to be absorbed.
-Significant vacancy risk in 2019 on 28.2% of portfolio by rental income. Almost half of this comes from CWT Commodity Hub. There are also three single-tenanted leases expiring: Precise Two, Air Market Logistics Centre and one of the smaller Australia assets. There is scope for negative reversions for the CWT Commodity Hub leases as there were signed at better than market.
Outlook

The outlook is negative. Negative rent reversions expected to persist into 2019; and the expiry of 28.2% of portfolio leases by rental income poses a significant renewal risk. Non-renewal of other master leases in 2019 could put additional pressure on distributable income.
Maintain Neutral; new target price of $0.75 (previous $0.82)
We are expecting 8.2% yield on next-twelve-month distributions. We raise our discount rate to 7.8% in view of the various conversion, renewal and reversion risks in 2019. Long-term growth rate remains unchanged at 1%. Our target price represents an implied 1.06x FY18e P/NAV multiple.
Relative valuation
Cache Logistics Trust trades at a lower P/NAV multiple than its logistics peers and higher yield. We believe the market is pricing in the risk and expectation of YoY lower DPU in 2019.
Source: Phillip Capital Research - 29 Oct 2018