1H23 earnings was within expectations. Revenue and adjusted PATMI were 45%/48% of our FY23e forecasts. 1H23 adjusted PATMI declined 11% YoY to S$14.1mn due to the completion of a worker dormitory contract in May22.
Co-living and car park revenues jumped 50% and 28% YoY respectively in 1H23. The interim dividend was raised 67% to 1 cent, implying an annualised yield of 6%.
2H23e earnings growth will be supported by: 1) additional 516 keys of co-living capacity; and 2) Expansion of 2,800 car park lots. Meanwhile, FY24e will benefit from 3) commencement of a new ISO Tank Depot; 4) launch of food factory development project. Our FY23e earnings is unchanged. We maintain a BUY with an unchanged TP of S$0.47. Core business valuations are pegged to 6.5x FY23e P/E, while the industry is trading around 13x. LHN is trading at 4x PE and a 28% discount to book value of S$0.487.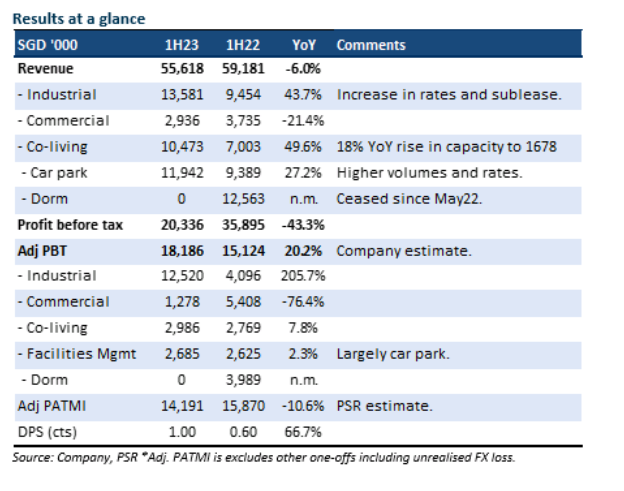 The Positive
+ Growth in co-living and car park. Co-living revenue surged 50% to S$10.4mn. The improvement came largely from higher room rates and a new 105 keys Coliwoo Lavender (opened in Sep22). The 411 key Coliwoo Orchard started only in Feb23. And contribution in 1H23 has been minimal. Car park revenue rose on the back of increased volumes. This was despite the number of car parks remaining flat at 74 (or ~21,500 vehicle parking lots).
The Negative
– Higher interest expense due to expansion. Interest expense almost doubled to S$4.4mn in 1H23 due to higher interest rates and an increase in net debt to S$144mn (1H22: S$98mn). The rise in net debt was for the acquisition of GSM Building for S$80mn. The property will be converted into 187 Coliwoo keys with two floors of retail. Other options for LHN to de-gear include monetising its 22 commercial and industrial properties. A further source of recycling capital is the completion of the 55 Tuas food factory project, where strata units will be sold.
Source: Phillip Capital Research - 25 May 2023