1Q23 earnings of S$1.88bn were slightly above our estimates. It came from higher net interest income and a reversal of fee income decline offset by lower insurance income. 1Q23 PATMI was 28% of our FY23e forecast.
NII grew 56% YoY as NIM surged 75bps YoY to 2.30% and loan growth remained flat YoY. Total non-interest income dipped 11% YoY from lower fees and insurance, but fee income momentum was building up with a 65% QoQ rise. Allowance remained subdued with credit costs at 12bps.
Maintain BUY with an unchanged target price of S$14.96. We maintain FY23e earnings as we increase NII estimates for FY23e due to higher NIMs, offset by lower other non-interest income and higher allowance estimates. We assume 1.29x FY22e P/BV and ROE estimate of 10.8% in our GGM valuation. Catalysts include continued interest income growth and fee income recovery as economic conditions improve. OCBC is our preferred pick among the three banks due to attractive valuations and dividend yield of 6.5%, buffered by a well-capitalised 15.9% CET 1, and fee income recovery from China's re-opening.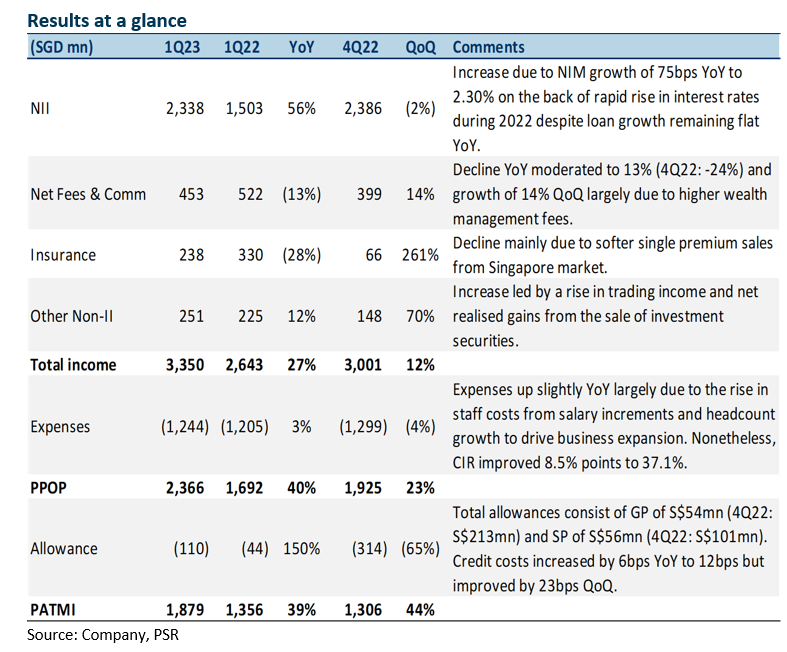 The Positives
– Fee income YoY decline moderated, up 14% QoQ. Fee income YoY decline of 14% moderated from the previous quarter (4Q22: -24%) and dipped to S$453mn mainly due to a drop in wealth management fees as customer activities were subdued amid risk-off investment sentiments globally. Nonetheless, it saw its first QoQ increase in 6 quarters, growing 14% QoQ mainly driven by higher wealth management fees. The Group's wealth management income was S$1.10 billion, 33% higher QoQ, and contributed 33% to the Group's total income. OCBC's wealth management AUM was higher at S$270bn (1Q22: S$251bn) mainly driven by sustained growth in net new money inflows and positive market valuation.
+ Net interest income surged 56% YoY. NII grew 56% YoY led by NIM improvement of 75bps YoY to 2.30% despite loan growth remaining flat YoY. NIM expansion was mainly due to loan yields rising faster than the increase in funding costs on the back of the rapid rise in interest rates during the year. However, both NII and NIM declined QoQ, the first decline in 6 quarters. This was mainly due to a rise in asset yields being offset by higher funding costs, as well as lower loans-to-deposits ratio as the increase in deposits outpaced that of loans. Nonetheless, OCBC has increased their NIM guidance for FY23e from 2.10% to 2.20%.
+ Trading income up 12% YoY. Trading income grew 12% YoY and 69% QoQ. YoY growth was largely driven by higher non-customer flow income as customer flow income remained flat. QoQ growth was driven by both higher customer and non-customer flow income, as well as higher net realised gains from the sale of investment securities of S$24mn (4Q22: loss of S$67mn).
The Negatives
– Allowances up 151% YoY, credit costs at 12bps. Total allowances fell 65% QoQ but were up 151% YoY to S$110mn. GPs of S$54mn (4Q22: S$213mn) and SPs of S$56mn (4Q22: S$101mn) were made during the quarter. The YoY increase was mainly due to higher allowances set aside for non-impaired assets. Total NPAs were down 5% QoQ and 23% YoY to S$3.33bn, and the NPL ratio improved by 30bps YoY to 1.1%. Credit costs increased by 6bps YoY but improved by 23bps QoQ to 12bps.
– CASA ratio continues to dip. Current Account Savings Accounts (CASA) ratio fell 15.6% points YoY to 47.1% due to the high interest rate environment and a move towards fixed deposits (FD). Nonetheless, total customer deposits increased 5% YoY to S$367bn underpinned by strong growth in FDs. The Group's funding composition remained stable with customer deposits comprising more than 80% of total funding.
Source: Phillip Capital Research - 12 May 2023