FY22 revenue was within expectation, but PATMI was a massive beat. FY22 revenue and PATMI were 102%/143% of our estimates. The jump in healthcare services earnings was higher than expected.
The drop in COVID-19-related revenue was offset by higher margin foreign patients, more elective surgeries, increased GP clinic visitations and additional bed capacity in Changi under the Transitional Care Facilities (TCF).
The re-opening of borders and relaxation of social restrictions triggered the return of medical tourists. There was a wave of other infections raising the volumes at GP clinics and TCFs. We expect the TCF to be operational until public hospital capacity is meaningfully increased. Our BUY recommendation is maintained. FY23e earnings forecast is increased by 50% to S$142mn and our DCF target price raised to S$1.76 (prev. $1.46) with a higher discount rate to 8.0% (prev. 7.6%) as the risk-free rate was lifted.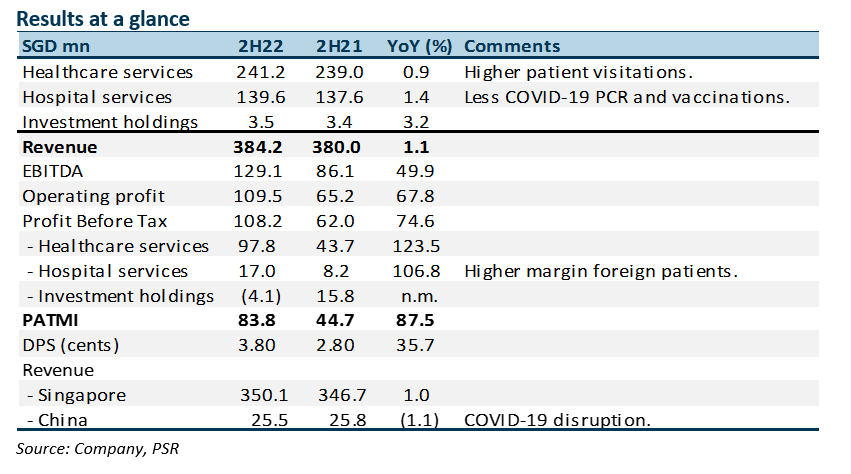 The Positives
+ Spike in healthcare services earnings. 2H22 PBT for healthcare services more than doubled to S$97.8mn. The jump was due to higher GP visits as re-opening saw a jump in non-COVID infections. In addition, patients with COVID-19 symptoms preferred GP visits rather than hospitals. Increased volumes boosted operating leverage for the business.
+ Return of foreign patients. With borders re-opening, revenue from foreign patients has returned to close to pre-pandemic levels. Such patients have higher revenue intensity and better margins. We expect the return of foreign patients to continue into 1H23. We believe foreign patient revenue has surged back to around 20% of revenue. This is below the estimated 25-30% pre-pandemic.
+ Jump in FCF*. In line with the record earnings, FCF rose 51% to a record S$183mn for FY22. Capital expenditure should normalise to S$30mn-35mn after the major ramp-up of the past 3 years for the new hospitals in China. Net cash has doubled from S$90.7mn to S$180mn. FY22 dividend was increased by 36% to 3.8 cents.
*Free cash flow = Operating cash-flow less Capex less Lease payments
The Negative
+ Losses in China hospitals. EBITDA losses in China were larger than expected due to the lockdown. There was vaccination work, but revenue was low. The decline in foreigners was another negative, especially for the Beijing hospital. We expect S$10mn EBITDA loss per hospital for Chongqing and Shanghai.
Source: Phillip Capital Research - 6 Mar 2023