January's 3M-SORA was down by 3bps MoM to 3.05%, the first decline since August 2021.
Singapore domestic loans dipped 0.30% YoY in December, below our estimates, while Hong Kong's domestic loans declined 2.99% YoY in December. CASA balance dipped slightly to 20.4%.
Our 4Q22e PATMI estimates are: DBS (S$2.02bn); UOB (S$1.59bn) and OCBC (S$2.03bn). We expect bank NIMs to rise another 34bps in 4Q22. Valuations for OCBC are the most attractive and could offer largest upside surprise from dividends.
Maintain OVERWEIGHT. We remain positive on banks. Bank dividend yields are attractive at 5% with possible upside surprise due to excess capital ratios and push towards higher ROEs. SGX is another major beneficiary of higher interest rates [SGX SP, BUY, TP S$11.71].
3M-SOR and 3M-SIBOR growth flattens in January
Interest rates started to flatten in January. The 3M-SORA was down 3bps MoM to 3.05%, while the 3M-SIBOR was up 1bps MoM to 4.25%. The SORA MoM decrease was the first since August 2021 and came after 8 months of double-digit MoM growth, while the SIBOR MoM increase was 22bps lower than the previous month's increase of 23bps. January's 3M-SORA improved by 285bps YoY and was 37bps higher than the 4Q22 3M-SORA average of 2.68%. January's 3M-SIBOR improved by 381bps YoY and was 29bps higher than 4Q22 3M-SIBOR average of 3.96% (Figure 1).
Figure 1: Interest rates flatten in January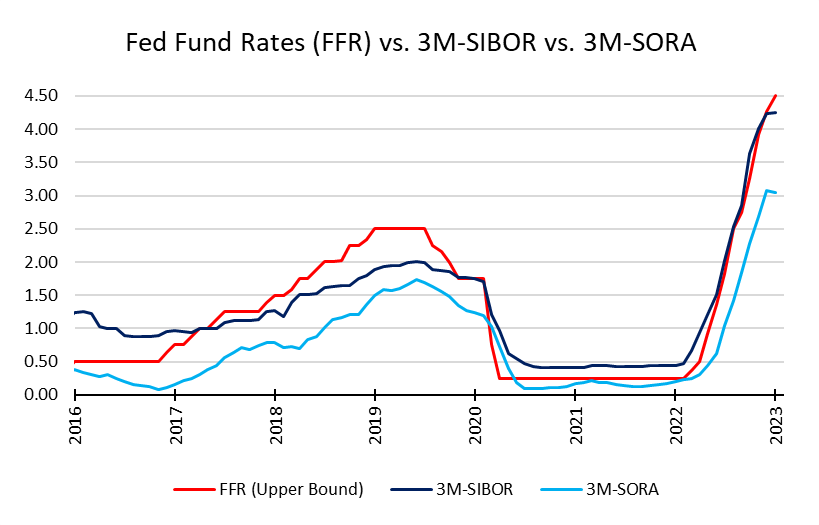 Source: Bloomberg, PSR
Singapore loans growth declined in December
Overall loans to Singapore residents – which captured lending in all currencies to residents in Singapore – fell by 0.3% YoY in December to S$814bn. This was below our estimate of mid-single digit growth for 2022 as the rise in interest rates started to be more fully felt by consumers. However, 4Q22 loans grew by 0.8% YoY, as growth in October and November pulled up the decline in December.
Business loans fell by 0.82% YoY in December, as business loans dipped by 1.49% for the month. Loans to the building and construction segment, the single largest business segment, grew 0.74% YoY to S$169bn, while loans to the manufacturing segment fell 1.01% YoY in December to S$25.9bn.
Consumer loans were up 0.56% YoY in December to S$312.9bn, aided by strong loan demand in the housing segment. Housing loans, which make up ~70% of consumer lending, grew 3.60% YoY in December to S$222.5bn for the month.
Total deposits and balances – which captured deposits in all currencies to non-bank customers – grew by 7.32% YoY in December to S$1,716bn. The Current Account and Savings Account (CASA) proportion dipped slightly to 20.4% (Oct22: 20.7%) of total deposits, or S$351bn, as there was a continued move towards Fixed Deposits due to the high interest rate environment.
Source: Phillip Capital Research - 6 Feb 2023