FY22 revenue and adjusted PATMI was 91%/100% of our FY22e forecasts. 2H22 adjusted PATMI declined 45% YoY to S$13.4mn due to the absence of worker dormitory earnings.
Co-living revenue continues to grow strongly with 38% YoY growth in 2H22. Growth was driven by an estimated 25% growth in rooms and a mid-teens rise in room rates.
Earnings in FY23e will be supported by an estimated 60% expansion in co-living capacity (under Coliwoo brand) by 600 rooms to around 1,600. The new 411 units in Mount Elizabeth will be one of the largest sites for Coliwoo. The absence of dorm earnings will be a drag in 1H23. We maintain a BUY with lower TP of S$0.47 (prev. S$0.51) due to decline in valuations of listed LHN Logistics (LHNL SP, Not Rated). Core business valuations are pegged to 6.5x FY23e P/E, while the industry is trading at 13x. Stock is also trading at 35% discount to book value of S$0.455 with a dividend yield of around 6%.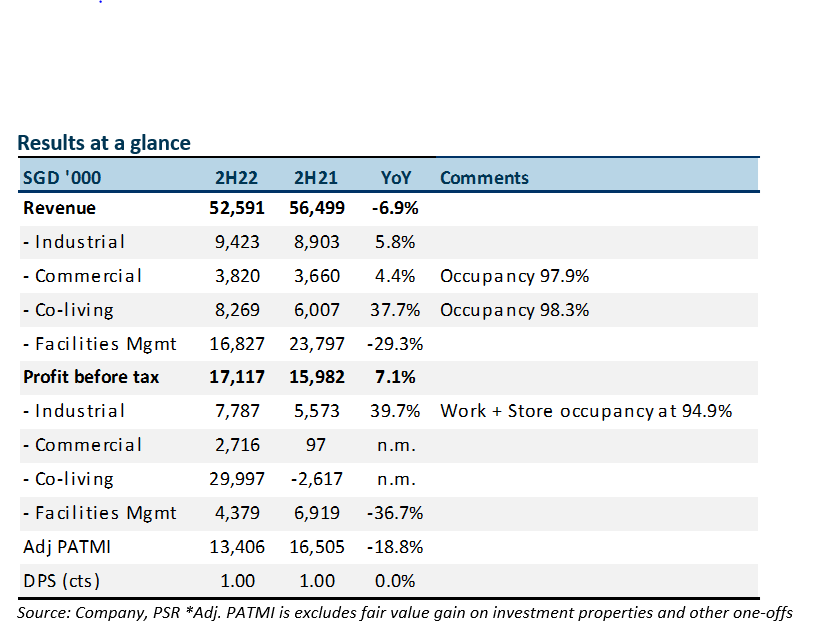 The Positive
+ Co-living riding on surge in rental rates and capacity. Co-living revenue jumped 38% YoY from higher rental rates and a 25% rise in room capacity in FY22e. New capacity additions were 320 Balestier Road, 75 Beach Road, 115 Geylang Road and a JV properties at 40 and 42 Amber Road and 471 Balestier Road. Fair value gains caused a spike in PBT for co-living.
The Negatives
– Facilities management dragged down by dormitory. Facilities management earnings dropped 37% YoY in 2H22 to S$4.4mn. The decline was due to the exit of the dormitory business in mid-2022. The drag from dorm earnings will persist into 1H23.
– Rise in net debt from investment properties. Net debt has risen from S$63mn to S$107mn in FY22. The increase in net debt was due to S$53mn invested in investment properties. We expect stability in FY23e cash-flows, as the focus will be on launching and raising occupancy levels of Mount Elizabeth Coliwoo. Bulk of the debt is on fixed rates for the next two years.
Source: Phillip Capital Research - 12 Dec 2022