Securities volume softening while derivatives volumes trending at 10% growth rate, and derivatives pricing climbing to record levels.
Pick up in treasury income to accelerate in FY23 as higher interest rates kick in. We estimate Treasury income to rise at least 8% YoY in FY23.
We maintain BUY with an unchanged target price of S$11.71. Our estimates remain unchanged, and our target price remains pegged to +2SD of its 5-year mean or 26x P/E. Catalysts include continued growth from derivatives volumes and fees, and higher treasury income as the higher interest rates start to kick in.
Securities volumes dip while derivatives volumes trend upwards
SGX's securities volume is trending downwards, with the 5MFY23 securities daily average volume (SDAV) down 10.5% YoY at 1,095mn contracts as the market sentiment remained subdued due to macroeconomic factors, and the volumes moderated from a record year in FY22. However, SGX's derivatives volume is trending upwards, with the 5MFY23 derivatives daily average volume (DDAV) up 9.4% YoY. As market volatility continues to rise, derivatives volume can climb for the rest of FY23e.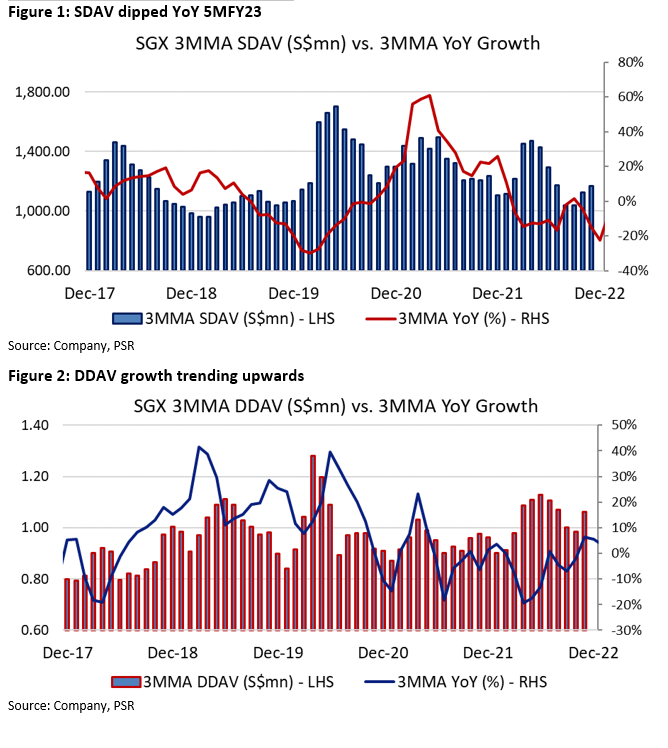 Treasury income to tick up in FY23
Treasury income dipped in FY21 and FY22 due to the low interest rate environment (Figure 3). However, we expect a rebound in treasury income in FY23e by 8%. Looking at the chart below, we can see that SGX's treasury income is lagging behind the Fed Fund Rates. As a majority of SGX's collateral balances (FY22: S$13.9bn) are placed in Fixed Deposits (FDs) with the tenure spread out, certain deposits have not matured yet and the interest rates have not been refreshed. Nonetheless, moving into FY23 we should expect the treasury income to recover to pre-pandemic levels as they get placed into higher interest FDs. In FY20, SGX earned a yield of 98 basis points on collateral balances when Fed fund rate peaked at 2.50%.
Source: Phillip Capital Research - 8 Dec 2022