Under StarHub's DARE+ transformation (2022-26) to reduce cost and create new revenue streams, S$310mn of investments are required from FY22-24e. Around S$75mn has been spent with the bulk (est. S$150mn) to be spent in FY23e.
EBITDA is expected to return to the FY21 baseline of S$500mn by FY24 (FY22e: S$415mn).
The 3-5 month delay in project implementation and higher cost in cloud infrastructure will elevate the operating cost and Capex in FY23e. We have not modelled the higher cost pending FY23e guidance, but there is upside risk. Our FY22e and FY23e forecasts are unchanged, but the target price is maintained at S$1.15, pegged at 7x FY22e EV/EBITDA, in line with other mobile peers. We maintain an ACCUMULATE recommendation.
Key Highlights
Higher cost expected in FY23e. The investments in StarHub's DARE+ transformation (2022-26) is raised by S$40mn to S$310mn due to increased investments in cloud infinity. Around 24% or S$75mn (Figure 1) has been spent in FY22e including EPL costs, 5G and start-up costs of new businesses. Another S$150mn is expected to be spent in FY23e. The doubling of investments over FY22e is due to the 3-5 month delay in implementation plus an increase in budgeted investments.
Figure 1: Huge opex coming in FY23e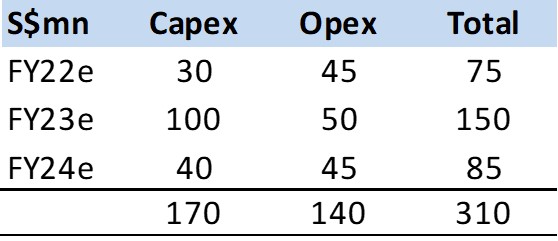 Source: PSR
Bulk of the cost savings in IT. Based on the DARE+ transformation roadmap, cost saving and profit growth of S$105mn will materialise in FY24. Around 90% are cost savings. We expect the bulk of the cost savings from FY24 to come from lower maintenance cost and software license fees of legacy systems. Another area of cost saving will be the reduced footprint of physical stores as the business model turns more digital.
Revenue opportunities are less visible. We were less clear on the revenue opportunities post the DARE+ transformation. In consumer mobile, new verticals are being introduced including Gamehub (allowing consumers to play games with expensive hardware with the use of cloud), Protecthub+ (device security and hardware replacement) and Lifehub (mobile health services partnering Alexandra Hospital). The priorities for Ensign are to expand regionally and proprietary solutions (e.g. AI cyber detection).
Source: Phillip Capital Research - 8 Dec 2022