Earnings were above expectations due to higher associate earnings. FY22 revenue and PATMI at 101%/109% of our FY22e forecasts. Associate earnings almost doubled from a gain on disposal and reversal of write-down on properties held for sale.
Beer volumes recovered strongly post-lockdown in Vietnam. Total volumes jumped 54% YoY with EBITDA doubling. Final dividend up 20% YoY to Bt0.60 (S$0.023).
We maintain our BUY recommendation with an unchanged target price of S$0.80. Our target is pegged at 18x FY23e earnings for the core operations, its 5-year average. And listed associates valued at market valuations. We expect FY23e to be a year of growth as the re-opening of borders and entertainment outlets resume; increased selling prices; and demand further spurred by multiple events including the World Cup and upcoming elections. Gross margins are expected to improve as commodity prices taper down but higher marketing spend will dampen the margin improvements.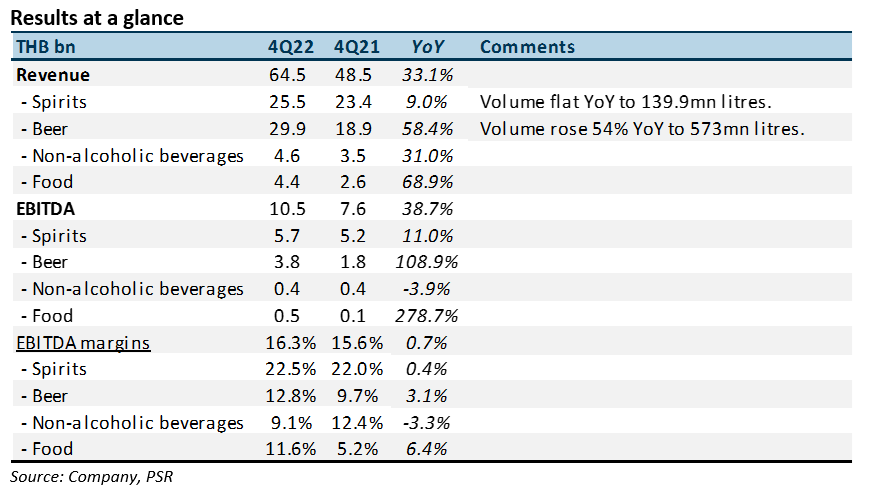 The Positive
+ Surge in beer volume. Beer sales revenue rebounded with a 54% YoY jump in volumes following the lockdown in Vietnam. 4Q21 beer volumes were down almost 40% YoY. There were price increases in October 2022 for beer in Thailand and Vietnam; and longer drinking hours for the World Cup and 80% of on-trade premises re-opened will support sales in 1Q23. Distribution expenses will climb from increased marketing activities due to the return of more events.
The Negative
– Spirits volumes remain sluggish. Volumes in 4Q22 were flat at 139.9mn litres. Revenue improved from higher selling prices in white spirits. Brown spirit volumes are recovering from the re-opening of entertainment outlets and on-trade sales.
Source: Phillip Capital Research - 5 Dec 2022