3Q22 earnings were below expectations. YTD22 revenue and PATMI were 77%/61% of our FY22e forecast. Employee expenses were higher than expected due to Acumen losses, software development expenses and higher opex from new clinics.
Sharp 62% drop in earnings due to the absence of COVID-19 test revenue from Acumen. Acumen swung from PAT of S$4.4mn to an estimated S$0.1mn loss.
We cut our FY22e PATMI by 30% to S$22mn. Expenses are running higher than expected. We expect employee expense to revenue to trend downwards as new clinics start to ramp up visitations. Our target price is lowered to S$0.52 (prev. S$0.60). We value core dental operations at 25x PE FY22 earnings, in line with industry peers. Listed associate, Aoxin Q & M Dental (S$0.169, Not Rated), is valued at market price with a 20% discount.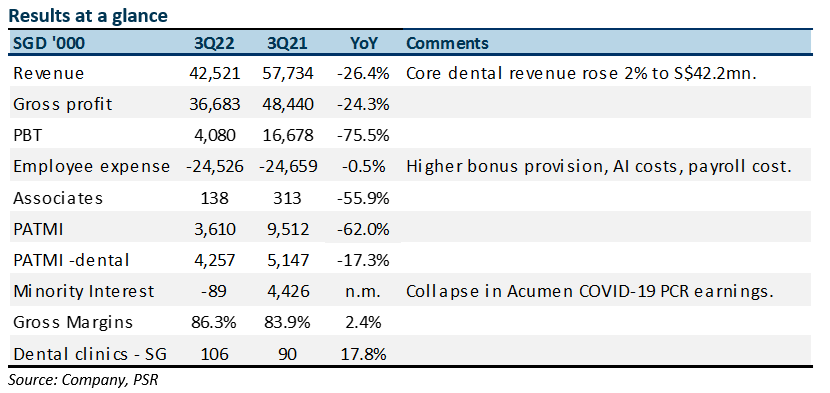 The Positive
+ Franchise is still expanding. There were three new clinics opened in 3Q22 (2Q22: 8). Another two clinics are planned in November. There has been a change in strategy in clinic openings. The priority is to fill existing capacity in current clinics before new locations are open. Other efforts are to build larger dental centres where profitability is higher from economies of scale.
The Negative
– Sluggish dental earnings and other expenses. Net profit from core dental operations declined 17% YoY to S$4.2mn. Performance of new clinics has been softer since border re-opening as visits have declined. Other expenses causing a drag in earnings have been the development cost of the AI guided dental software, recruitment cost for new dentists and start-up costs from new clinics. The record expansion of 24 clinics in Singapore and Malaysia over the past 12 months has been a burden on profitability in the near term.
Source: Phillip Capital Research - 17 Nov 2022