3Q22 earnings were below expectations. YTD22 revenue and PATMI were 74%/50% respectively of our FY22e forecast. UK and Australia earnings disappointed due to lags in repricing higher bus fuel and wages. A performance worse than the pandemic.
Operating profit in Singapore recovered significantly from S$1.8mn to S$46.7mn. Recovery is from the surge in rail ridership and lower taxi rental rebates plus maiden booking commissions.
We cut our FY22e PATMI by 24% to S$207.3mn. The recovery in Singapore from the surge in rail ridership and lower taxi rebates will continue in 4Q22. However, the time lag to pass through higher labour and fuel costs in Australia and UK will place pressure on operating margins. We lowered our DCF target price from S$1.80 to S$1.75.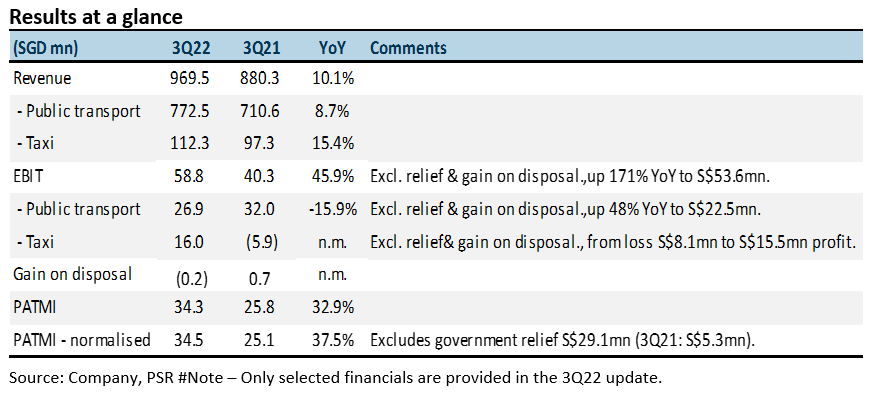 The Positives
+ Surge in Singapore profitability. 3Q22 operating profit in Singapore (excluding disposals/grants) recovered strongly to S$46.7mn, from $1.8mn a year ago. The turnaround was driven by a recovery in rail traffic plus lower taxi rebates. Daily ridership for SBS Transit is up 52% YoY in 3Q22. Rebound in taxi earnings is from lower rebates of 15% (3Q21: 25%) plus booking commissions of 4%.
+ Healthy free cash flows. FCF in 3Q22 improved from S$95.2mn to S$193.7mn. Net CAPEX for the year was moderately higher at S$150.7mn (YTD21: S$136.1mn). CAPEX will not return to pre-pandemic S$400mn-500mn levels as the conversion of the fleet to hybrid and EV is almost complete. Furthermore, higher COEs negatively impact the return profile of vehicle investments.
The Negative
– Multiple bumps overseas. The combined operating profit of overseas operations (Australia, China, UK) collapsed 63% YoY to S$6.7mn. The worse performer was the UK with a S$6.5mn loss (3Q21: S$0.9mn profit). UK bus operations to pass on the higher fuel and labour cost. In the UK, the pass-through of higher cost occurs on the anniversary of each bus route. The wage cost has sharply risen due to a shortage of bus drivers. To manage the shortage, higher priced agency bus drivers were deployed and more overtime billings were made. In China, rebates continued in undisclosed millions but lower than the $10mn in 2Q22.
Source: Phillip Capital Research - 17 Nov 2022