YTD22 revenue and EBITDA were in line with expectations at 73%/83% of our FY22e estimates. 3Q22 revenue was up 14% YoY with the acquisition of MyRepublic, but EBITDA was down 18% YoY to S$109mn from higher costs in EPL content and IT infrastructure spending.
Guidance for 4Q22 is bleak. EBITDA margins are to collapse to 14% (vs YTD 23%) and write-offs are expected from Strateq healthcare business and legacy IT systems.
Mobile revenues have recovered strongly from growth in both post-paid prices and subscribers. Decline in EBITDA was due to a surge in operating expenses due to pre-announced investments into new growth areas under the DARE+ transformation. Such costs include EPL content and IT. Our FY22e forecast is unchanged but the target price lowered to S$1.15 (prev. S$1.35), pegged at 7x FY22e EV/EBITDA, in line with other mobile peers. We maintain ACCUMULATE recommendation.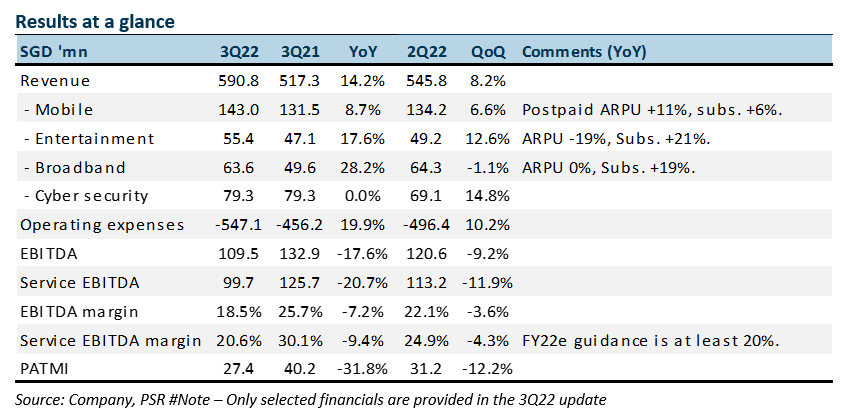 The Positive
+ Volume and price rebound in mobile revenue. 3Q22 mobile revenue rose 8.7% YoY, the fastest rate of growth since FY07. The rebound in ARPU from roaming was expected as borders re-open but the rise in subscribers by 26,000 was above expectations. Subscriber growth was from no-contract SIM-only giga! plans.
The Negative
– Surge in operating expenses. 3Q22 operating expenses jumped almost 20% YoY to S$547mn. Higher cost from EPL content and IT investments. These costs are expected to continue into 4Q22 as part of the DARE+ transformation roadmap.
Outlook
Management lifted FY22e revenue guidance by 2-5% points to 12-15% revenue growth (PSR +11.8%). Capex for FY22e was also lowered by 2% points to 5-7% of revenue, but the service EBITDA margin was unchanged at least 20% (PSR: 20.6%). This implies a 14% margin in 4Q22. Higher costs in 4Q22 will stem from marketing and promotion, especially for the World Cup and new services in 2023 plus the full impact of EPL content cost. There are possible write-offs from the Strateq healthcare business and legacy IT systems.
Source: Phillip Capital Research - 14 Nov 2022