3Q22 result was a huge earnings beat. YTD22 revenue and PATMI were 96%/96% of our FY22e forecast (excluding one-offs). We underestimated PropNex's market share gains especially in private resale, the increase in agent size and rise in selling prices.
Rental remained the fastest growing category. Revenue jumped 76% YoY to $48mn. The rental market has been extremely tight this year with borders reopening.
We raise our FY22e PATMI forecast by 34%. Our FY22e target price is raised from S$1.74 to S$2.00. The NEUTRAL recommendation is upgraded to BUY. We expect earnings growth to return in FY23e. New home sales will rebound with the expected 11,300 new launches (FY22: 4,500). Resale recovery will be from widening prices compared to new launches. The upside in volumes will be determined by foreign demand. Rental volumes will be supported by the expected surge of TOP units in FY23.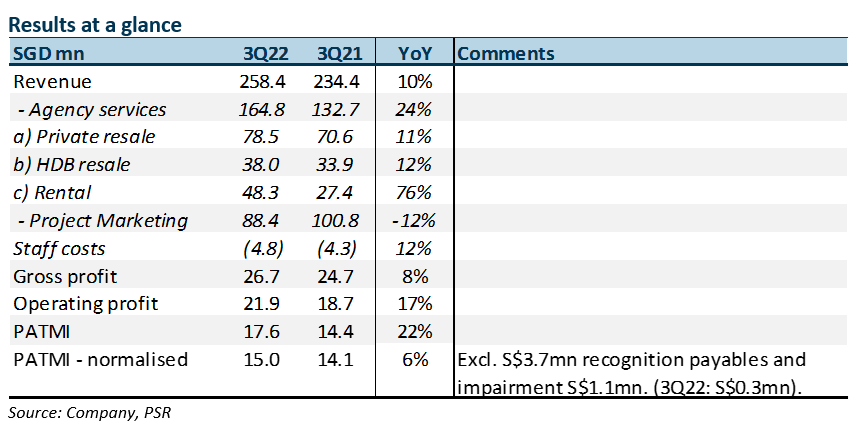 The Positive
+ Resale bucked the trend. Despite the 28% YoY drop to 3,961 in total private resale volumes in 3Q22, PropNex managed to grow revenue by 11% to S$785mn. Reasons for the market share gains include the growth in the sales force and deliberate efforts to focus on resale. The price difference and lack of available units between new launches and resale helped stimulate resale volumes.
The Negative
– New launches are still a drag. Revenue from project marketing declined 12% YoY to S$88mn. The dearth of new launches and inventory has been a drag to revenue. New units transacted in Singapore (excluding EC) are down 38% to 2,187 units in 3Q22. With a balloting process, market share will also be determined by random chance.
Outlook
After two cooling measures and higher interest rates, we do expect some softening in buying interest from euphoric levels. Nevertheless, we remain upbeat that the key drivers supporting selling prices and demand are intact, namely rising residential population, low unemployment rates, new household formations (e.g. 25k marriages), rising land and construction cost, attractive HDB grants, low inventory level (1.5 years vs 3 year average) and return of foreign buyers. On the transaction volumes, the rebound in new launches for FY23 will support project market sales.
Source: Phillip Capital Research - 14 Nov 2022