3Q22 earnings of S$1,403mn were in line with our estimates due to higher net interest margin (NIM) and healthy net interest income (NII) growth. 9M22 PATMI is 72% of our FY22e forecast.
NII was up 39% YoY from a NIM increase of 40bps YoY to 1.95% and loan growth of 6% YoY. Fee income fell 10% YoY while other non-interest income was up 58% YoY. Management is guiding mid-single digit loan growth with higher NIMs, stable cost-to-income ratio and stable credit costs.
UOB has guided NIM to continue to expand each quarter and to reach an exit NIM of 2.5% to 3.0% by the end of 2022. We estimate 4Q22 NII to jump 65% YoY. Management is guiding for ROE of 13% in FY23 and 14% for FY24 from this year's 11%.
Maintain BUY with an unchanged target price of S$35.70. We raise FY22e earnings by 6% as we increase NII estimates for FY22e. We assume 1.45x FY22e P/BV and ROE estimate of 12.1% in our GGM valuation. We raised FY23e earnings by 12% as we increased NII estimates for FY23e. Our ROE estimate for FY23e is raised from 11.5% to 12.7%. Every 25bps rise in interest rates can raise NIM by 0.04% and PATMI by 4.3%.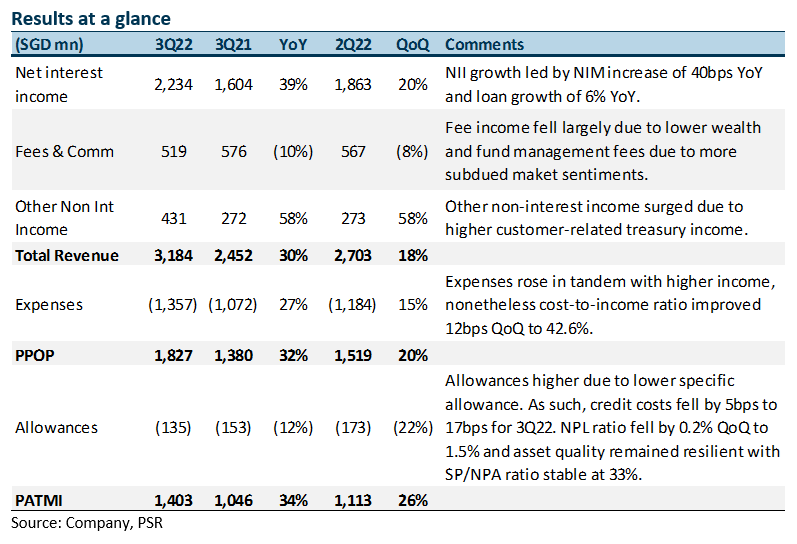 The Positives
+ NII increased 39% YoY, led by steady loan growth. NII grew 39% YoY, led by continued loans growth of 6% YoY, while NIM surged 40bps YoY to 1.95% (QoQ: 1Q22: +2bps, 2Q22: +9bps, 3Q22: +28bps). Loan growth QoQ was mainly from term and trade loans, while YoY loan growth was broad-based across Singapore, Greater China and the Western world as business regained momentum. UOB has maintained its guidance of mid-single digit loan growth for FY22e.
+ Other non-interest income increased by 58%. Other NII increased 58% YoY largely due to the higher customer-related treasury income. A similar QoQ increase of 58% was due to record high customer-related treasury income, as well as improved performance from trading and liquidity management activities amid market volatilities.
+ Credit costs improve due to lower SPs. Total allowances fell by 12% YoY to S$135mn resulting in credit costs improving by 3bps YoY to 17bps. This was mainly due to specific allowance decreasing by 18% YoY to S$127mn. Total general allowance for loans, including RLARs, was prudently maintained at 0.9% of performing loans. UOB has lowered its credit cost guidance to 20bps for FY22e (previously 25bps).
+ New NPAs fall 15% YoY. New NPA formation fell by 15% YoY and 68% QoQ to S$214mn as asset quality stabilised during the quarter. Resultantly, the NPL ratio fell by 0.2% QoQ to 1.5%. Asset quality remained resilient with SP/NPA stable at 33%. 3Q22 NPA coverage is at 98% and unsecured NPA coverage at 207%.
The Negatives
– Fee income continues to decline. Fees fell 10% YoY largely due to lower wealth and fund management fees. The decline of 8% QoQ was mainly due to loan-related fees moderating from last quarter's high, while wealth management fees remained soft amid subdued market sentiment. However, loan-related fees continued to show stable growth of 5% YoY, spurred by trade and investment growth, while credit card fees were higher 6% YoY as customer spending rebounded with borders reopening.
– CASA ratio declined YoY. Current Account Savings Accounts (CASA) ratio fell 6% YoY to 49.8% mainly due to the high interest rate environment and a move towards fixed deposits (FD). Nonetheless, total customer deposits increased 6% YoY to S$375bn. Management has mentioned that they are concentrating on increasing FD campaigns and that the increase in FDs was higher than the drop in CASA.
Source: Phillip Capital Research - 31 Oct 2022