Earnings were below expectations. 1H22 revenue and PATMI were 52%/37% of our FY22e forecast. Additional cost from investments in AI project and change in recognition of bonus provision. Earnings from COVID-19 PCR tests swung from $3mn net profit a year ago to S$50k net loss.
During the quarter, the number of clinics increased by 8 during to 149, a 19% YoY jump. Together with Malaysia, Q &M has 350 dentists.
We lower our FY22e PATMI by 16% to S$22mn. We are incorporating additional cost for the AI project and even weaker earnings from Acumen. The target price is lowered to S$0.60 (prev. S$0.71). We value core dental operations at 25x PE FY22 earnings, in line with industry peers. Listed associate, Aoxin Q & M Dental (S$0.17, Not Rated), is valued at market price with a 20% discount. The company is expanding its dental clinics at the fastest pace since inception. We estimate CAGR of 18% over the next two years.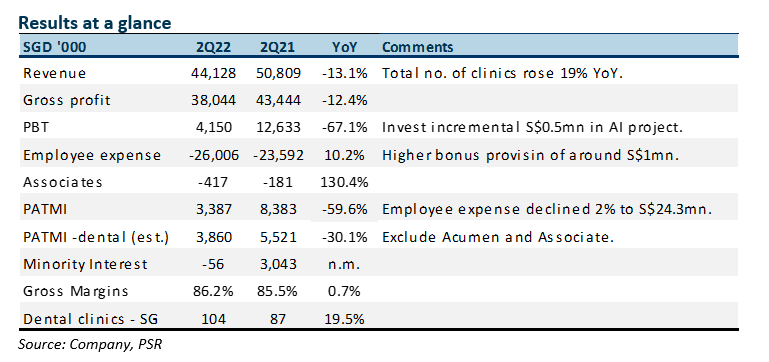 The Positive
+ Surge in number of clinics. There were 8 new clinics opened in 2Q22. It is a 19% YoY jump to 149. 1H22 has seen the opening of 13 new clinics, tracking our modelled 25 new clinics this year. Headcount especially nurses is a major bottleneck in the expansion of clinics. Despite the rise in the clinics, revenue rose by only 5%. Revenue per average clinic has declined to 10% YoY to S$293k. We believe it will take time for new clinics to ramp up. Group utilisation rate is still at 60-70%.
The Negative
– Rise in expenses. 2Q22 staff cost and depreciation jumped by 12% YoY to S$30mn despite the decline in revenue. We attribute the rise in expenses due to additional $0.5mn spent on the AI project, $1mn in bonus provision and S$0.7mn in equipment. AI expense was higher than expected. Bonus provision is allocated evenly across each quarter compared to a lumpy 4Q recognition.
Outlook
Investment into Artificial Intelligence (AI) project will continue into 2H22. Revenue per clinic should improve as clinics mature. Further, the company aims to raise the utilisation of current chain of clinics by adding new dentists in existing clinics rather than adding new clinics. AI software has received approval as a Class B medical device. It is being rolled out across Q & M's dental clinics to independently generate dental plans for patients. Next phase is to deploy to other clinics in Singapore. Acumen's focus is on sepsis, colon cancer and pharmacogenetics screening.
Maintain BUY with lower TP of S$0.60 (prev. S$0.71)
2022 is a transition year as the company invests in the AI project, accelerates the roll-out of more clinics and Acumen pivots away from the COVID-19 PCR test to other test kits.
Source: Phillip Capital Research - 22 Aug 2022