1H22 revenue and PATMI were within expectations at 62%/62% of our FY22e forecast. We expect further weakness in earnings, especially from new project revenue.
Rental was the fastest growing segment in 2Q22, rising 23% YoY, followed by HDB. Project marketing revenue fell 29% YoY due to a decline in new launches.
We maintain our FY22e forecast. Our expectations are a further decline in earnings in 2H22 due to a lagged revenue recognition from limited project marketing sales in 1H22 of around 1,548 units. New launches planned in 2H22 are expected to pick up to 5,183 units. Rising HDB prices and interest rates may lead to some additional tightening measures. We worry the current TDSR stress test interest rate of 3.5% may be raised. Without a BTO supply lever to dampen prices, other direct intervention by HDB is also possible. Our FY22e target price of S$1.74 and NEUTRAL recommendation is maintained.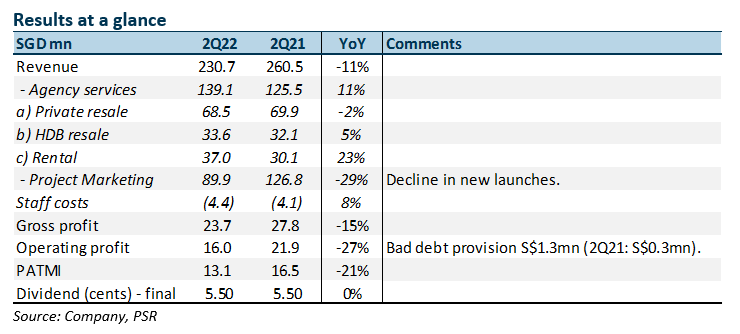 The Positive
+ Resilient revenue. Despite the weakness in new launches, other segments of the business managed to grow, less impacted by the December 2021 cooling measure. Rental income jumped 23%, followed by HDB resale.
The Negative
– Sluggish new launch revenue. There were only an estimated 1,548 new residential units launched in 1H22, a decline of 70% YoY from 5,222 units 1H21. As revenue from new launches are recognised typically six months after completion of the home sale, new launches may recover from a planned 5,183 units earmarked for 2H22.
Outlook
Property prices will remain elevated. We believe there is a virtuous cycle underway. HDB owners may enjoy gains that are used as equity (est. S$300k) to upgrade into the private residential market. Meanwhile, buyers of HDB resale include private property owners looking to cash out and move into HDB units. Other macro tailwinds include rising income levels, low supply, healthy developer balance sheet and higher priced land bids.
In terms of transaction volumes, new home sales are expected to decline more than expected in 2022, from a decline of 20-30% to 30-40%. No change in PropNex volume expectations for the other segments – private resale (decline 20-25%) and HDB resale (decline 5-10%).
Source: Phillip Capital Research - 15 Aug 2022