1H22 revenue/PATMI beat our estimates at 60%/95% of our FY22e forecast. 1H22 PATMI rose 51% YoY to $60mn. Earnings beat came from the recovery in foreign patients, return of elective treatments and more resilient COVID-19 related revenue.
Revenue in China rose 5%, driven by Chongqing hospital, while Shanghai was negatively impacted by a two-month lock-down in 1H22. Raffles has also received approval to set up an In-Vitro Fertilisation centre in Hainan, to be operational in 1Q23.
We raised our FY22e earnings earning by 60% to S$100mn. The uncertainty and lack of visibility in COVID-19-related services will cause the largest swing in our forecast. The major earnings drivers in 2H22 will be foreign patients, elective surgeries from local patients, increased visits at the GP clinics and higher prices. Weakness will come from lower COVID-19 testing and vaccination and fewer patients in COVID-19 treatment facility (CTF). With the increased earnings, our DCF is raised from S$1.27 to S$1.46. We also raised our discount rate to 7.5% from higher risk-free assumptions. Our recommendation is raised from NEUTRAL to BUY.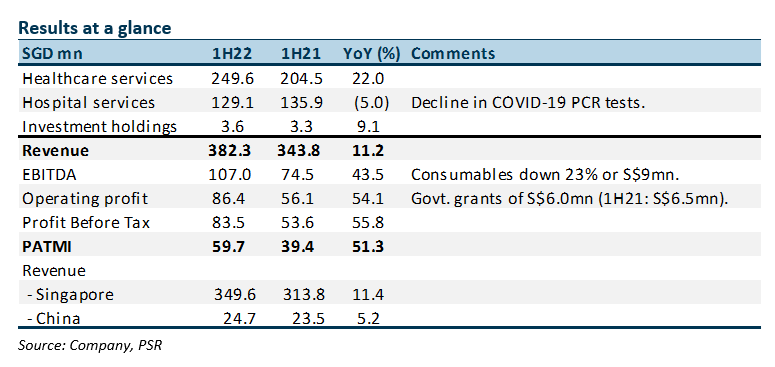 The Positives
+ Resilient revenue despite less COVID related revenue. Revenue expanded 11% YoY despite the decline in PCR testing services. Growth in 1H22 was driven by (i) higher foreign patients, now 60% of pre-pandemic levels; (ii) return of elective treatments especially from elderly patients that had avoided hospitals during the pandemic; (iii) more GP clinic visits from more unmasked events and greater brand awareness. The number of GP visits exceeds pre-pandemic levels; (iv) COVID-19 related revenue was resilient with vaccinations still underway and higher patient load at the CTFs.
+ Surge in operating margins. Operating margins surged 6% bps to 22.6%. Staff cost rose a slower 7% YoY and purchasing cost was down 23%. We believe the margin pick-up was due to higher revenue intensity from foreign patients.
+ Growth in China despite lockdown. Revenue in China rose 5% supported by Chongqing hospital volumes. Raffles hospitals in China are gaining more recognition, especially from the targeted upper middle income households. The Shanghai hospital was opened but lockdown affected the flow of patients and staff availability.
+ Surge in operating cash flow. 1H22 free cash flow jumped S$80mn YoY to S123mn, due to higher profits, a decline in receivables and lower CAPEX. Net cash improved by S$100mn YoY to S$134mn as of June 2022.
The Negative
– Nil.
Outlook
We expect 2H22 revenue to be resilient, supported by foreign patient admissions, return of elective treatments, price increases and increased visits to GP clinics. The revenue drag will come from lower COVID-19 related services such as vaccination, testing and CTF. We believe losses in China will persist as Shanghai operations ramp up capacity and cost.
Upgrade to BUY with a higher TP of S$1.46 (prev. S$1.27)
We raised our FY22e earnings by 60%, with an 18% increase in revenue and a 5% point increase in margins. Our WACC was also nudged up by 0.4% points to 7.5% to account for the higher risk-free rate.
Source: Phillip Capital Research - 3 Aug 2022