1H22 revenue and PATMI beat our expectations, at 55%/62% of our FY22e forecasts. 2Q22 PATMI rose 20% YoY to THB7.1bn. Interim dividend was unchanged at THB0.15.
Driving earnings growth was a 3-fold recovery in beer and associates PATMI. Spirits earnings were down 3% YoY to THB5.4bn due to a higher mix of white spirits. Spirits accounted for 75% of group PATMI.
We maintain our ACCUMULATE recommendation. Our FY22e earnings is raised 5% to THB27.6bn. The target price is raised from S$0.765 to S$0.80. Valuation is based on 18x earnings, its 5-year average. FY22e will be a recovery from pandemic lockdowns last year. The pace of the recovery will depend on entertainment outlets reopening in Thailand.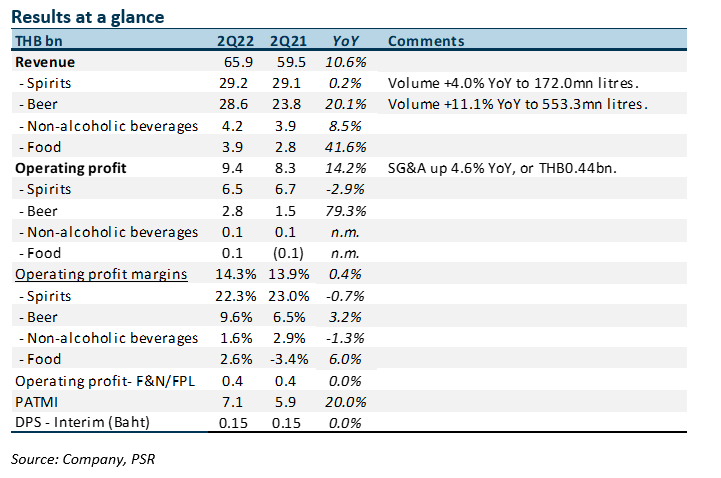 The Positives
+ Beer bounces back. Beer earnings surged as volumes jumped 11% YoY to 553mn litres. Volumes remain 24% below pre-pandemic levels in 2Q19. Another driver of revenue growth was the low (Thailand) to high (Vietnam) single-digit price increases on beer during the quarter. Sabeco raised prices in December 2021 and April 2022.
+ Margins stable despite cost pressure. THBEV continues to keep a lid on operating expenses. 2Q22 administration expenses declined 2.6% YoY to THB3.8bn or 5.8% revenue (2Q21: 6.5%). This is below the pre-pandemic run-rate of around 11%. Despite the raw material cost pressures, gross margins were stable at around 29.7%. The price increase and higher volumes supported margins.
The Negative
– Weaker spirits revenue. 2Q22 spirit volumes expanded for the second consecutive quarter, rising 4% YoY to 172mn litres (1Q22: +8.6% YoY). Volume this quarter jumped from forward loading by distributors ahead of a price increase of white spirits in February. Consequently, revenue was flat YoY due to a higher mix of white spirit sales.
Outlook
The re-opening of entertainment outlets in Thailand will determine the pace of recovery for THBEV. A complete re-opening will boost beer and brown spirits consumption for the company. Sabeco beer volumes will rebound from the lockdowns a year ago.
We expect spirits earnings to grow modestly in 2H22, supported by price increases in November 2021 and February 2022 of 4-6%. Margins could creep up from lower molasses cost. The sugar cane crop in Thailand is up around 40% from a year ago, helping to lower prices.
Source: Phillip Capital Research - 17 May 2022