1Q22 PATMI and revenue were within expectations at 32%/32% of our FY22e forecast. We expect a deeper decline in earnings in the following quarters.
Private residential resale and new launch volume declined around 30% YoY in 1Q22. PropNex's 1Q22 results were supported by higher selling prices and recognition of prior quarter transactions.
We expect a 28% YoY decline in earnings for FY22e. Transaction volumes are expected to remain weak in 2022 after the 16 December cooling measures. The recent ruling to impose ABSD on residential property transfers to a living trust is expected to impact less than 5% of property transactions. Our FY22e PATMI and target price of S$1.74 are maintained. We keep our NEUTRAL recommendation. Dividends remain attractive at 5% for FY22e well supported by net cash of S$162mn as at March 2022.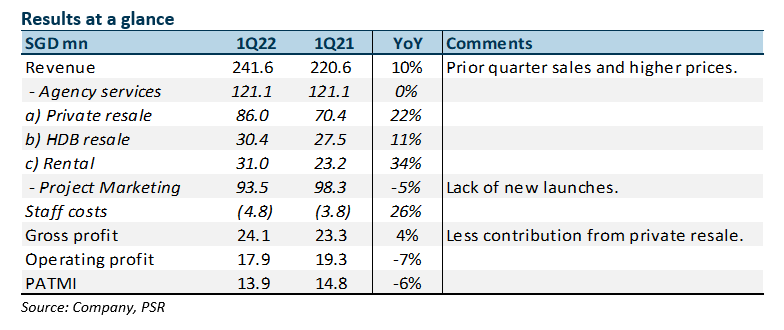 The Positive
+ Strong operating cash-flows. 1Q22 generated free cash flow of S$22mn (1Q21: 13mn). The strength of PropNex's asset light cash generative business model was again on display.
The Negative
– Sluggish new launch revenue. There were only 172 units launched in 1Q22. The unsold inventory of developers is at decade lows of 14,087 units. An expected 6046 residential units are expected to be launched in 2022.
Outlook
No change in PropNex transaction volume expectations in 2022. Private resale volumes are expected to decline by 20-25% to 15-16k. New home sales volume to fall 20-30% to 9k-10k. HDB resale to decline around 5-10%. PropNex's revenue should be better due to market share gains, higher transacted prices and maiden en-bloc revenues. The opening of borders has also seen a higher presence of foreign buyers in the residential market. Market share gains will be driven by the continued expansion of the agency force which increased by around 1900 over the past year to 11,268 salespersons.
Maintain NEUTRAL with an unchanged TP of S$1.74
We keep our FY22e PATMI unchanged.
Source: Phillip Capital Research - 13 May 2022