1Q22 revenue and EBITDA met our expectations at 23/27% of our FY22e estimates. We expect EBITDA margins to contract further in the remaining three quarters of the financial year due to upfront investments in IT and staff costs. EBITDA declined 11% YoY to S$109mn.
Mobile revenue growth was softer than expected despite higher postpaid ARPU and subscribers. Weakness was from a deterioration in prepaid revenue of more than 20% YoY.
We maintain our FY22e forecast. The return of high margin roaming revenue is a major earnings tailwind for the next several quarters as borders reopen. However, with upfront investments (IT and content) as part of the DARE+ transformation roadmap, EBITDA margins are expected to deteriorate over the next three quarters. We upgrade our recommendation to ACCUMULATE from NEUTRAL due to the recent share price weakness. Our target price of S$1.35 is maintained. Valuations are 8x FY22e EV/EBITDA, in-line with other mobile peers.
Results at a glance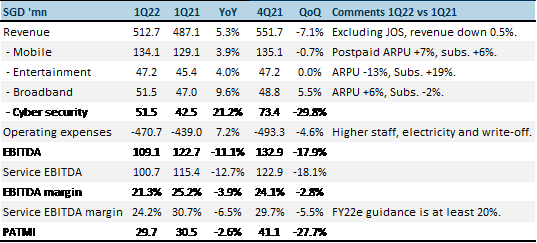 Source: Company, PSR #Note – Only selected financials are provided in the 1Q22 update.
The Positives
+ Broadband revenue at 5-year high. Broadband revenue has been progressively growing through higher prices, lower discounted contracts and upsizing to higher speed 2Gbps plans. Broadband has become an essential service amid the Covid-19 pandemic.
The Negatives
– Costs piling up. Service EBITDA margin was down almost 7% points to 24.2%. It remains above FY22e guidance by at least 20%. We expect higher costs in the coming three quarters. EBITDA margin recovery is only expected in FY23e. Higher cost was incurred on staff, electricity and IT.
Outlook
Roaming will provide an upside surprise in revenue. However, earnings will be bogged by higher cybersecurity staff costs and upfront investments in technology. The purchase of EPL exclusively for six years (pricing details not available) will be an added fixed cost burden. Nevertheless, StarHub said it has strategic initiatives for EPL together with other OTT content. EPL could be the beachhead to enhance its OTT offerings in gaming, entertainment and sports, all bundled into a "super app".
Upgrade to ACCUMULATE from NEUTRAL with an unchanged TP of S$1.35
Our valuation is based on regional peers' 8x FY22e EV/EBITDA.
Source: Phillip Capital Research - 4 May 2022