FY21 results met our expectations. Revenue and EBITDA at 99%/103% of our FY21 forecasts. Quarterly dividend of 0.25 cents is maintained.
4Q21 free cash-flows remain stable at S$24mn. Cash-flows well support the quarterly dividend payout of S$4.5mn or dividend yield of 7.4%.
We leave our FY22e unchanged. The target price of S$0.15 is maintained at 9x FY21e EV/EBITDA are a 20% discount to Taiwanese peers on account of its smaller scale and higher leverage. Our ACCUMULATE recommendation is maintained. APTT free cash-flows of around S$80mn p.a. are sufficient to cover annual dividends of S$18mn. Excess cash will be used to repay loans. Cash-flows are supported by growth in broadband revenue and stable capital expenditure.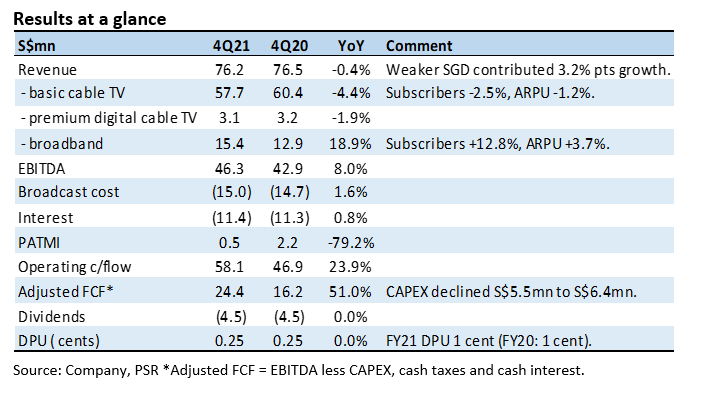 The Positives
+ Broadband ARPU and subscriber numbers expanded. Net adds for broadband rose by 8,000 subscribers (4Q20: +2000). This is a major turnaround from a year ago. ARPU rose around 4% YoY to NT$369. This is also the third consecutive QoQ expansion in ARPU. The reason for the growth has been higher speed plans of 300Mbps to 1Gbps that the wireless operators (Far EasTone and Taiwan Mobile) are successfully signing up.
+ FCF grew. Free cash-flows rose S$8.2mn to $24mn. The jump was due to improvement in EBITDA (+S$3mn) and lower CAPEX (+S$5mn).
The Negative
– Higher interest expense expected. The interest rate hedges for the onshore debt of around NT$28bn (S$1.35bn) expire on 31Dec21. Hedges will be placed this year to lock-in rates for another two to three years until the 2025 refinancing. A 20 bps rise will increase interest expense by around S$2.7mn.
Outlook
The growth in broadband revenue is close to replacing weakness in cable TV. Higher interest rates in FY22 will be offset by lower content costs. The upside catalyst will be maiden revenues from 5G data backhaul from mobile operators.
Maintain ACCUMULATE with an unchanged target price of S$0.15
APTT pays an attractive dividend yield of 7.4% well supported by cash flows.
Source: Phillip Capital Research - 8 Mar 2022