4Q21 PATMI almost doubled to S$14m. FY21 revenue was within our estimates but PATMI was 5% below forecast due to lower margins.
Final dividend was raised 75% YoY to 7 cents. FY21 dividend is up 127% to 12.5 cents.
After cooling measures announced on 16 December, we expect a sharp 28% decline in FY22e. New home sales will bear the brunt of the weakness. Record low inventory of 14.1k, higher stamp duties and TDSR and a more cautious buyer sentiment will keep transactions subdued. In the last two cooling measures of 2013 and 2018, combined new and resale volumes recovered to new highs only after a two- to three-year period. Our FY22e PATMI is cut by 27% to S$43.5mn. Similarly, our DCF target price is lowered from S$2.08 to S$1.74. We downgrade our ACCUMULATE recommendation to NEUTRAL. Dividends are attractive at 5% for FY22e, as the company undergoes a year of consolidation following record earnings last year.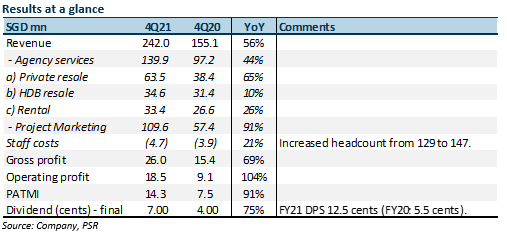 The Positives
+ Surge in revenue with operating leverage. The highest growth was registered in new home sales (+91% YoY) and resale (+65%). HDB resale was resilient with a 10% improvement in revenue. PATMI grew at a faster pace despite the increase in headcount due to operating leverage.
+ Jump in cash flow and dividends. The asset-light and highly cash generative business model was reflected in FY21. Operating cash flow in FY21 was S$83mn (FY20: S$42mn), driving up net cash on the balance sheet to S$146mn (FY20: S$106mn). The dividend of 12.5 cents in FY21 represents S$46mn. CAPEX in FY21 was S$0.5mn. Our DPS estimates for FY22 of 9 cents is based on a 77% payout ratio (FY21: 77%).
The Negative
– Nil.
Outlook
We expect a lull in transactions this year following the introduction of more cooling measures, namely the increase in stamp duties by 5% to 10% points and lowering of Total Debt Servicing Ratio (TDSR) from 60% to 55%. Nevertheless, we believe demand is generally healthy, especially for HDB:
Underlying demand from new household formation: Household formation remain healthy with resident marriages still hovering around 21,000 per annum in 2020.
HDB upgraders equity: Around 35k HDB units are reaching their five-year minimum occupancy period (MOP) in 2022. Potential gains (or equity for upgrading) from such sales range from S$200k to S$300k.
Cooling measures mixed impact. The recent round of cooling measures has no impact on first-time home buyers for citizens and permanent residents. However, the lowering of TDSR to 55% will have a more meaningful impact. It was reported that 41% of private housing buyers in 2021 would have TDSR above 55%, HDB is much lower at 3%*.

Private new homes. New homes sales are expected to decline significantly due to the low unsold inventory, particularly in the popular OCR region. OCR inventory is only 3,972. The lowering of TDSR will cap the ability to leverage and turn pricing even more elastic. Another headwind will be the time lag for upgraders to purchase their units. The incremental 5% points of stamp duty to 17% for 2nd home purchase means an extra S$65-75k** of equity for an upgrader before securing a refund. This implies the upgrader will likely rent premises and collect proceeds before upgrading.
Private resales. The benefit of resale remains the lower price point to new launches. This should allow the decline in volumes to be less dramatic than new launches.
HDB resales. HDB will be the most resilient due to the attractive grants, delay in new units or BTO, healthy household formation and large MOP units available for sale.
Market share gains. An important catalyst to sustain revenue will be to increase PropNex's market share. Since 2019, the number of agents has increased by around 50% to 11,125. PropNex disclosed that its recent market share for new launches post-cooling measures range from 53% to 57%.
Expectations are for prices to rise. Lower supply from developers, delay in HDB BTO units, rising construction costs and improving economic conditions will keep property prices elevated. PropNex expectations are for private residential home prices to rise 3-5% in 2022 (APAC Realty: +1-3%). HDB resale prices are expected to climb higher by 6-8% (APAC Realty: +4-8%).
Downgrade to NEUTRAL from ACCUMULATE with lower TP of S$1.74 (previous S$2.08)
Our FY22e PATMI is cut by 27% to S$43.5mn. Similarly, our DCF target price is lowered from S$2.08 to S$1.74. We raised our WACC modestly from 9.8% to 10% due to higher interest rates. Our terminal growth has expanded from 0% to 2% on our expectations of expanding long-term growth in property transactions.
Source: Phillip Capital Research - 28 Feb 2022