1H21 PATMI rose 7% YoY. Earnings were below at 40% of our FY21e estimate. Interim DPS unchanged at 25 cents.
Rebound from last year's supply-chain disruptions did not materialise. 1H21 revenue around 22% below pre-COVID levels.
Earnings growth has stalled since peaking in FY17/18. Our earnings estimates are unchanged as we look forward to a pick-up in order momentum and operating leverage from life science, instrumentation and medtech in 2H21. Maintain NEUTRAL with unchanged target price of S$19.20, still at 16x FY21e P/E, its 5-year average. Support from decent yields of 4.4%, 10% ROEs and S$922mn net cash.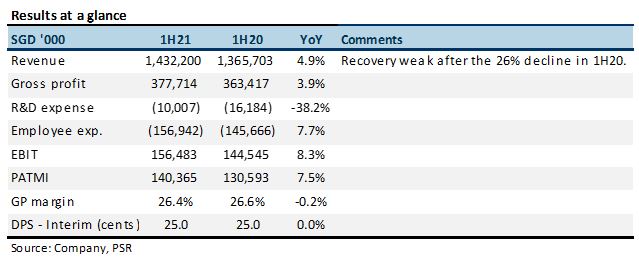 The Positive
+ Rock-solid balance sheet. Despite a need to raise inventories by S$103mn to S$766mn, net cash rose to S$922mn as at June 2021. This was an improvement over the S$833mn net cash a year ago. Cash generated from operations in 1H21 was S$137mn (1H20: S$252mn).
The Negative
– Revenue run rate still weak. After the huge 26% YoY drop in 1H20 revenue, the rebound this year has been weak. 1H21 revenue of S$1.4bn is 22% below pre-COVID 1H19 levels. Life-science and genomics products have yet to reach sufficient scale to drive growth.
Outlook
Venture guided that customer orders remain strong. However, component supplies and operations in Malaysia remain disrupted by lockdowns, creating bottlenecks for the fulfilment of orders.
Maintain NEUTRAL with unchanged TP of S$19.20
Our forecasts are unchanged as we expect stronger revenue momentum in 2H21.
Source: Phillip Capital Research - 10 Aug 2021