Singapore loans were up 0.2% YoY in May. Business loans contracted for ninth straight month by 0.5% YoY. Consumer loans were up for 10th straight month, by 0.3% YoY, aided by housing.
MAS is assessing whether to extend current dividend restrictions on banks. We continue to see the potential for a removal of the dividend cap.
Maintain OVERWEIGHT. Loans remain on path of recovery on stable interest rates. Catalysts to come from a relaxation of dividend caps on banks. We believe MAS could ease the dividend cap as Singapore banks have kept sufficient capital buffers. We prefer DBS (DBS SP, ACCUMULATE, TP: S$31.40) for sector exposure on account of its wealth-management and investment banking franchises.
Local lending rates rebounded in June
Interest rates reversed their decline in May, with 3M-SIBOR and 3M-SOR recovering to 0.43% and 0.24% respectively in June as Singapore transitions out of Phase 2 (Heightened Alert). Current 3M-SIBOR is 1bps higher than the 1Q21 average of 0.42%. 3M-SOR is 2 bps lower than its 1Q21 average of 0.26% (Figure 1).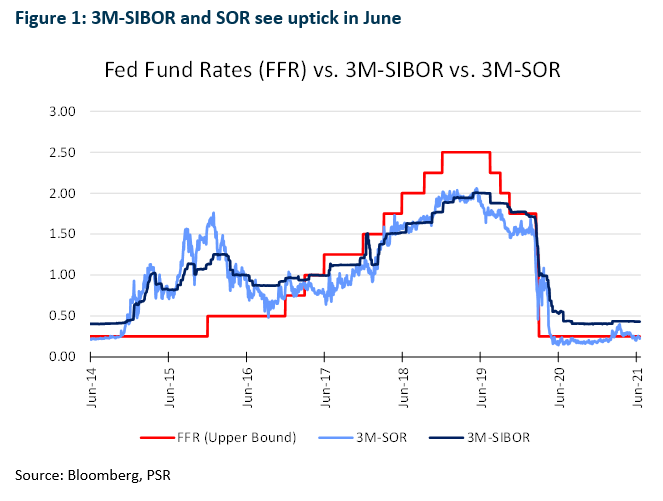 Stress tests on banks for potential lifting of dividend cap
The MAS is running additional stress tests on the local banks to assess whether it is necessary to extend current dividend restrictions on them. It is in close discussions with the banks on their capital management plans and will be advising them on its position "very shortly".
We believe MAS will lift its dividend cap as banks had made significant provisions in FY2020. Earlier concerns that defaults among weaker corporates could strain their capital ratios have not materialised. Systemically-important domestic banks have CET-1 ratio at over 14%, which are higher than their pre-COVID levels. With total allowance coverage over 30% above MAS' regulatory limit, we believe the central bank could lift its dividend cap.
Source: Phillip Capital Research - 8 Jul 2021