Revenue and EBITDA in FY21 modestly below expectations, at 98%/95% of our FY21e forecasts due to write-off of IT assets.
FY21 DPU up 0.6% YoY to 5.08 cents (FY20: 5.05 cents). Current annual distribution of S$198mn backed by operating cash flows of S$264mn.
Core residential revenue expanded 1.5% YoY in 2H21, in tandem with a 1.4% improvement in fibre connections to 1.44mn. Net adds slowed down to 9,424 residentials in 2H21 (1H21 9,915; 2H20 16,818).
ACCUMULATE rating and DCF TP of S$1.03 (WACC 5.9%) unchanged. Dividend yield of 5.2% supported by monthly recurring revenue from 1.44m residential fibre connections. Growth to be sustained by estimated 25,000 new residential homes per year. Company is exploring telecommunication infrastructure opportunities overseas, including emerging countries and minority stakes.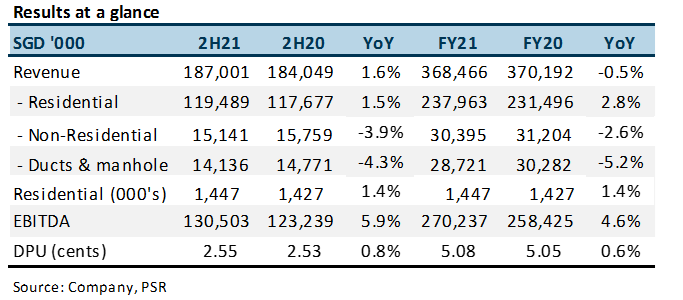 The Positive
+ Core residential revenue stable. Core residential revenue was up 1.5% YoY in 2H21 to S$119.4mn as it added 9,424 residential connections. The impact of the pandemic was indirect, from a slower build-out of homes in the country. Our forecast for FY22e connections is 25,000 net additions (FY21: 19,339).
The Negative
­– Non-residential and ducts & manholes the weaker spots. Non-residential revenue contracted 4% YoY despite a modest 0.9% YoY improvement in connections to 48,108. Competition had resulted in rebates for customers. Ducts are expected to decline further with a drop in customer projects.
Outlook
We expect another stable year in FY22e. Capex should be higher as reflected by a S$12.4mn rise in capital commitments to S$48.7mn. NBAP revenue is likely to gain traction from 5G rollout, although contributions remain marginal at 3% of revenue.
Maintain ACCUMULATE and TP of S$1.03
NetLink generates stable 5.2% distribution yields. Lockdowns will only result in delays in installations, diversions and co-location revenue, which account for a combined 13% of revenue.
Source: Phillip Capital Research - 17 May 2021