1Q21 PATMI of S$56.2mn was 29% of our FY21 expectations. Earnings were supported by government relief of S$33mn.
Public transport EBIT down 47% YoY to S$17mn, excluding government relief. Singapore ridership at 65% of pre-pandemic levels. Australia bus services stable.
FCF surged to S$101.6mn from S$38.6mn in 1Q20. Cash from operations was S$224.9mn (1Q20: S$105.5mn).
No change in our BUY recommendation and DCF target price of S$1.83 (WACC 7.7%). Singapore's return to lockdown is expected to delay Comfort's recovery this year. Lockdown hurts rail revenue and increases the likelihood of more rental relief for taxi drivers. We are still modelling a recovery this year albeit delayed. Another share price driver will be the restructuring of Downtown Line revenue model. In Australia, Comfort is looking to unlock value from its operations via an IPO or partial sale. Australia accounted for 19% of FY19 EBIT.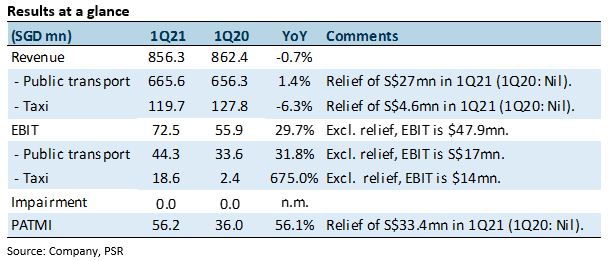 The Positives
+ Improving taxi profitability. Taxi EBIT jumped to S$14mn, excluding relief. This came from lower rebates and operating costs, namely staff costs.
+ Surging cash flows. Operating cash flows more than doubled YoY to S$224.9mn, thanks to better profits and government relief. Net cash spiked to S$338.9mn from S$190.5mn three months earlier.
The Negatives
– Public transport's turnaround weak. Public transport EBIT was down 47% YoY to S$17mn, excluding relief. Rail revenue was weak, with ridership at 65-79% of pre-COVID 19 levels. Australia was stable while the UK remained affected by a lack of tourism travel.
Outlook
The recovery is clouded by a resumption of lockdown and stricter social distancing in Singapore. Lower mobility will hurt rail ridership and also raises the need for higher taxi rental rebates from the current S$10/day.
Maintain BUY and TP of S$1.83
We keep our FY21e forecasts. DCF target price is maintained at S$1.83. While the timing is unclear, any change in the revenue model for the key Downtown Line from fixed fees to risk- sharing with the government could provide stability to its public transport business.
Source: Phillip Capital Research - 17 May 2021