4Q20 net profit declined 10% YoY to S$86.6mn. FY20 profit was in line at 101% of our forecast Revenue was slightly below at 96%.
Net cash piled to a record S$928mn, supported by FCF of S$425mn in FY20.
VMS is pivoting to new growth drivers: electric-vehicle (EV) batteries and wafer-fab equipment. EVs are expected to experience explosive multi-year growth, especially in the Chinese market. VMS intends to expand its manufacturing cluster in China. Equipment for gene sequencing is another exciting area undergoing massive innovation.
Remain NEUTRAL. We nudge up FY21e PATMI by 3%. Accordingly, our target price climbs to S$19.20 from S$18.60, still at 5-year historical average P/E of 16x. Attractive 4% yields are backed by a large cash hoard.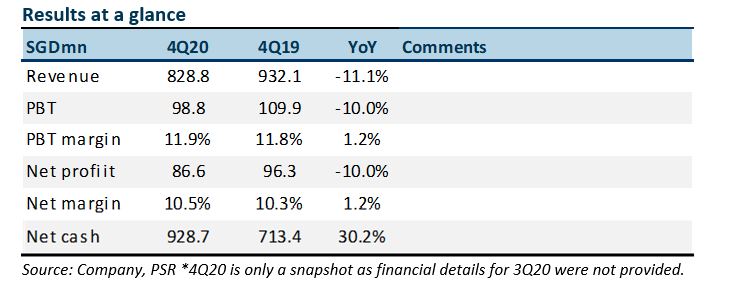 The Positive
+ Margins stable. Despite weaker revenue, VMS managed to contain costs and expand PBT margins by 1.2% points to 11.9%. 2H20 GP margins rose to 26.1% from 25.2% in 2H19 (Figure 1). This was aided by a higher mix of life-science products. Operating expenses such as staff and other expenses fell in line with the weaker revenue.
+ Record operating cash flows. Net cash jumped 30% to a record S$928mn in December 2020. Operating cash flows in FY20 were S$453mn. Positive working-capital generation of S$114mn was largely due to a normalisation of trade debtors in early 2020.
The Negative
+ Revenue softer than expected. Revenue only improved a modest 1% QoQ to S$828mn. Average improvement in the prior two quarters was 12%. We believe the drag came from weaker point-of-sale terminals. A sluggish retail environment due to the pandemic reduced the need for such terminals. On the other hand, demand for ventilators and diagnostic equipment rose.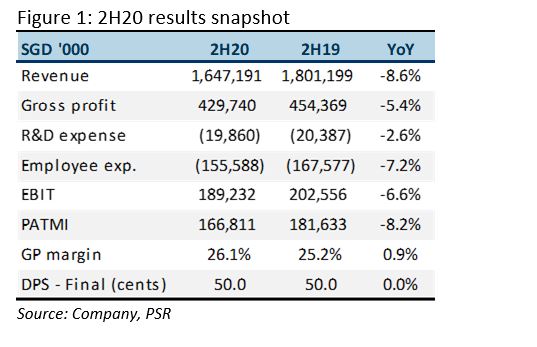 Outlook
FY21 should be a year of recovery from a supply-chain-disrupted 2020. A stronger global economy should, moreover, provide impetus to VMS' earnings growth. To exceed its record earnings of FY17/18, VMS is pivoting to new product categories such as EV batteries, wafer-fab modules and gene-sequencing equipment. Some products are new introductions that will require time to scale up. China is becoming a key market for potentially vast healthcare and EV demand. VMS will raise its manufacturing and engineering presence in China.
Maintain NEUTRAL with a higher TP of S$19.20, from S$18.60
We increase FY21e earnings by a modest 3%. Net cash of S$928mn, dividend yields of 4% and ROEs of 13% remain attractive investment merits of the company.
Source: Phillip Capital Research - 1 Mar 2021