FTSE S-REIT Index fell 4.6% MoM, in line with the Singapore market. Industrial was the only sub-sector in the green (+0.3%). Retail REITs fared the worst, down 4.8%.
Sector yield spread dipped 13bps MoM to 288bps (-0.9 SD), following lower 12-month trailing DPUs and a 23bp MOM increase in 10YSGS yield. 3MSOR was largely unchanged at 0.24%.
Remain OVERWEIGHT on SREITs with catalysts expected from acquisitions fuelled by conducive interest rates. Sub-sector preferences are retail and hospitality. Top picks are Manulife US REIT (MUST SP, BUY, TP US$0.84), Frasers Centrepoint Trust (FCT SP, BUY, TP S$2.93) and Ascendas REIT (AREIT SP, BUY, TP S$3.73).
INVESTMENT RECOMMENDATIONS
Maintain OVERWEIGHT on SREITs
REITs have resumed their quest for acquisitions, spurred by low interest rates and share-price recoveries. The establishment of travel channels with more countries is expected to pave the way for more overseas asset-acquisition negotiations. With interest rates expected to remain low, share prices recovering and confidence returning to capital markets, there could be more M&A opportunities for REITs.
Sub-sector preferences: retail and hospitality
We believe that the retail and hospitality sub-sectors will be the first to benefit from further economic reopening. Vaccine rollout has improved visibility, which is expected to lift the share-price overhang for hospitality REITs.
Retail (OVERWEIGHT). While weaker demand and lower rents are expected as tenants rationalise costs in the near term, F&B sales could be lifted by a relaxation of group size and capacity restrictions under Phase 3 reopening. Central malls are expected to enjoy a more pronounced recovery due to returning office crowds. Suburban malls should, nevertheless, stay resilient, as more firms announce permanent hybrid work arrangements. Dominant central and suburban malls which are located near transport nodes are likely to be prioritised when retailers consolidate stores. Prefer Frasers Centrepoint Trust (FCT SP, BUY, TP S$2.93) for its exposure to resilient, necessity-driven spending at suburban malls and growth in suburban catchments.
Office (NEUTRAL). Lacklustre demand and downsizing from the adoption of permanent hybrid work arrangements will likely result in oversupply in the office market in the near term, despite mitigation from office stock taken offline for redevelopment. Rents could remain under pressure. Still, the long-term outlook of the office market is optimistic as Singapore remains one of the top cities for the location of regional headquarters. This is attributable to its political and operational stability, business-friendly policies and educated workforce. Prefer Manulife US REIT (MUST SP, BUY, TP US$0.84) for its defensive portfolio with a long WALE of 5.7 years and lower downsizing risks in the mature, remote-working-adjusted US office market.
Industrial (NEUTRAL). The outlook for data centres, hi-spec and business parks remains favourable. These asset classes are supported by a growing technology sector and low supply under construction. Warehouses have been benefitting from higher demand from logistics players, given a higher percentage of online sales. Leasing of light industrial factory space may be muted as global demand is still on the mend. The outlook for factory assets remains challenging given considerable new supply. Top pick is Ascendas REIT (AREIT SP, ACCUMULATE, TP S$3.73) for its diversified portfolio. AREIT is also positioned to capture new economy sectors. Some 93% of its assets are hi-spec, logistics and business-park assets catering to the biomedical, hi-tech, e-commerce and knowledge-driven industries.
Hospitality (OVERWEIGHT). We believe the hospitality sector faces a long road to recovery. We estimate that the industry may only return to pre-COVID levels in 2023/24, in line with the Singapore Tourism Board's 3-5-year recovery timeline. We think that international borders will remain largely closed in 1H21. Economies with sizeable domestic demand such as China, the UK, France, Australia and the US will be the first to recover, in our view. Business travel is likely to be less frequent, as companies hold business meetings virtually to save costs.
On the other hand, some MICE demand is expected to return, as certain aspects of business engagement and networking cannot be replicated by virtual meetings. Also, digital adoption has resulted in leaner cost and operating structures for hoteliers, resulting in higher profit margins. COVID-19 has, moreover, set new historical lows for the sector. This may result in lower minimum rents in future master lease negotiations. Hospitality counters are still trading at depressed levels and should be positioned for a recovery. High efficacy rates of approved Moderna and Pfizer-BioNTech vaccines and high participation in the COVAX* programme have lifted the cloud of uncertainty and provided a more visible timeline to recovery. This should lift the price overhang for hospitality REITs. Prefer Ascott Residence Trust (ART SP, BUY, TP S$1.17) as we expect it to make a faster recovery from its 74% exposure to countries with large domestic markets.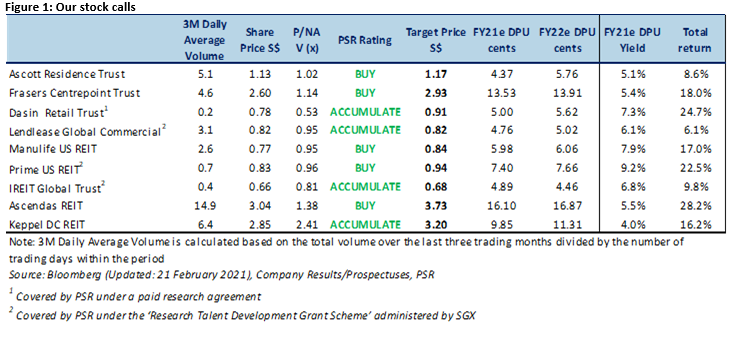 Source: Phillip Capital Research - 22 Feb 2021