4Q20 revenue and earnings were within expectations, with FY20 numbers at 101%/99% of our forecasts. Revenue was up 2%, EBITDA up 31% YoY.
4Q20 spirit revenue rose 11% YoY on an 8.9% rise in volumes.
4Q20 EBITDA jumped 31% from higher sales and lower marketing costs.
Maintain BUY. TP raised to S$0.86 from S$0.82 after we increase FY21e EPS (cents) by 4%. Our TP remains based on 18x earnings, its 5-year average. Operations have defied a challenging economic environment. Company benefitted from consumers' trade-down to white spirits and aggressive cut to marketing spend. THBEV remains dominant in the spirit market and we expect a rebound in volumes in FY21e.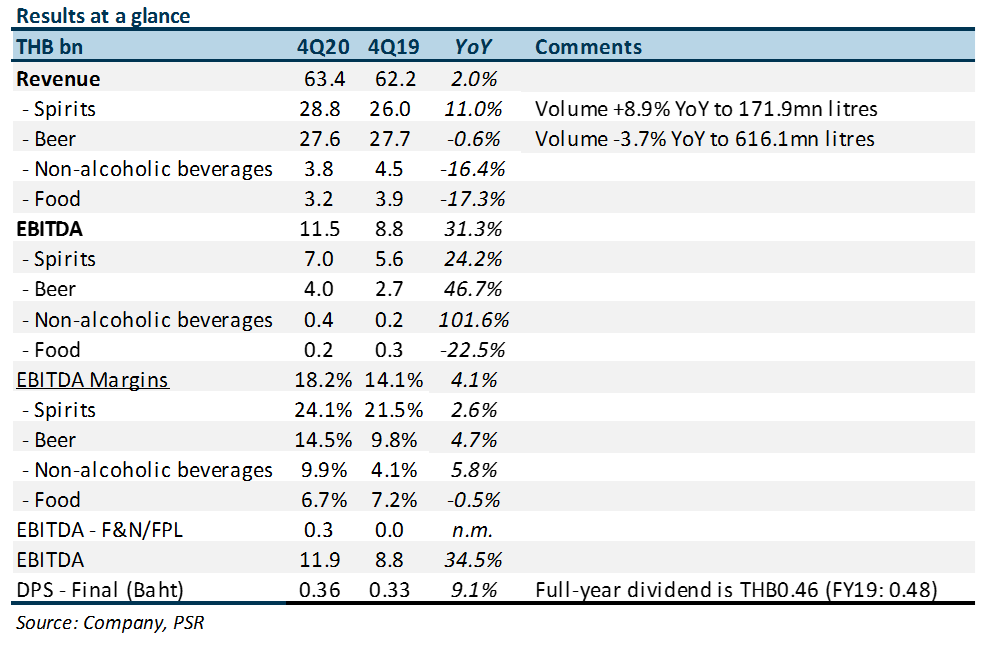 The Positives
+ Recovery in spirit sales. Revenue growth came from price increases earlier this year and better volumes as customers traded down to lower-priced white spirits. Alcohol consumption in major cities was hurt by fewer tourists and migrant workers. But workers returning to their homes – mainly in the north-east – drove consumption in the rural areas. Spirit sales in Myanmar were affected by a second wave of infections which forced about more lockdowns and lower economic activity.
+ Margins spiked for beer. Beer EBITDA margins expanded 4.7% points YoY. The company achieved this by slashing marketing expenses, especially given fewer concerts and events to promote its beer brand. It also pivoted to less-costly digital advertising.
+ Highly cash-generative; raised final dividend. FY20 FCF was THB32bn, virtually unchanged from FY19. A commendable performance given the tough economic backdrop. Final dividend was raised by 9% to THB0.36.
The Negative
– Sabeco volumes still weak. Sales volume contracted 12.7% YoY in FY20. Tight enforcement of new drink-driving regulations in Vietnam, the closure of restaurants and bars and soft consumer sentiment were contributing factors.
Outlook
THBEV managed to increase its earnings in FY20, ex-one-offs, despite lockdowns, economic weakness and tighter regulations on alcohol consumption. To cope with these, it bludgeoned its marketing and distribution spending, which dropped 14% YoY or THB4bn (S$180mn).
For FY21e, we are expecting revenue growth from spirit volume growth of 3% and beer volume growth of 4%. We expect gross margins to improve, primarily from the spirits division. Plans to raise used bottles for white spirits from 30-40% to above 50% should help with packaging costs. These formed 6.7% of FY20 revenue.
EBITDA margins in FY21e could also be aided by a continued tight lid on sales and marketing expenses. We expect THBEV to keep costs at almost the same level as last year: 9.8% of FY21e sales vs 9.7% in FY20. If it increases spending at all, it would be to respond to aggressive promotions by competitors.
Elsewhere, Sabeco is expected to make a soft recovery. Any significant pick-up will depend on: i) the ability of its new Saigon Chill product to compete in the sub-premium category of beers; and ii) the enforcement of regulations on alcohol consumption.

Maintain BUY with higher TP of S$0.86, up from S$0.82
We maintain our BUY, with stock catalysts expected from rebound in spirits volume and beer volumes as economic growth recovers and dine -in activities resume. We raise FY21e EPS (cents) by 4% on account of healthier sales volumes. Our earnings estimates was raised 7% in local currency terms but we dialled back our SGD/THB assumptions by 3% points. Our TP remains based on 18x PE, its average in the past five years.
Source: Phillip Capital Research - 30 Nov 2020