1H21 results were below expectations. Revenue fell 54% YoY to S$440mn, only 30% of our FY20e. Excluding government relief, net loss of S$197.1mn was 128% of our FY21e loss estimate.
Government relief of S$152mn in 1H21 almost equivalent to FY20 PATMI of S$168mn.
SATS managed to cut certain fixed costs to cope with pandemic fallout. Excluding government relief, staff costs declined an estimated S$167mn YoY or 36%.
We expect net losses for the next two years. Our last target price was pegged at its GFC average of 1.35x P/BV – too bearish. We raise this to lower band of SATS' pre-Covid P/BV of 3.3x. Our TP rises to S$4.40 from S$1.95. Upgrade to NEUTRAL from SELL as we believe worst has been priced in. While vaccine progress is a major positive, it remains unclear how quickly vaccines can slow down infection rates and normalise air travel. We expect air traffic to remain muted in FY21.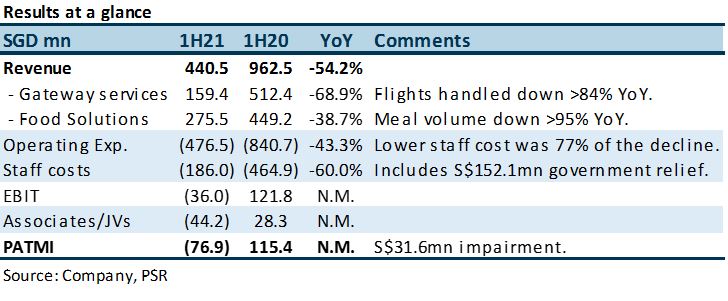 The Positives
+ Driving costs lower. Excluding government relief, operating costs were down S$212mn or 25% YoY. The bulk or S$167mn was from lower staff costs. Headcount dropped 24% YoY to 13,000. Raw-material costs only dropped 13% YoY or S$19mn.
+ Certified to transport vaccines. SATS says it is certified to handle the transportation of vaccines even in extreme environments. It has handled vaccine shipments that require minus 80 degrees. This involves liquid nitrogen cooling with the vaccines inside.
The Negative
– Operating conditions still sluggish. Revenue weakness was due to poor aviation traffic. 1H21 flights handled declined more than 84% YoY. In tandem, meal volumes collapsed 93-97% YoY. Cargo fared better, with tonnage down 45% in Singapore but steadily improving. There are constraints in the supply of planes to ship cargoes. The surge in e-commerce is driving demand for cargo handling.
Outlook
We do not see any meaningful recovery for the aviation sector in 2021. The near-term positive surprise has been the level of government support, with subsidies on track to surpass one year PATME for SATS. The company is making long-term investments to pivot away from aviation to the handling of e-commerce, perishable and pharmaceutical products.
Upgrade to NEUTRAL from SELL with a target price of S$4.40, up from S$1.95
We last pegged our target price at its GFC average of 1.35x P/BV. We now believe this is too bearish as operations have likely bottomed and vaccine-discovery newsflow turns positive. With losses still expected in FY21/22e, we continue to value SATS at historical P/BV. As its 3-year average of 3.5x is too high given its still-fragile recovery and uncertain outlook, we use 3.3x. This is the bottom end of its pre-Covid valuation band or 1SD below average (Figure 1).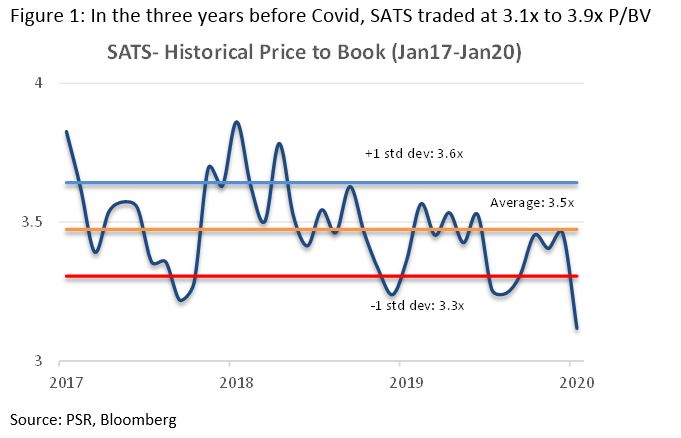 Source: Phillip Capital Research - 19 Nov 2020