Trader Hub

Author: traderhub8 | Latest post: Mon, 17 Jun 2019, 11:43 AM

Trader news and research articles
Author: traderhub8 | Publish date: Mon, 17 Jun 2019, 11:43 AM

---
Regional associates are improving. Telkomsel and Bharti Airtel expect competition to stabilise. Globe says regulation is a hurdle in rolling-out new base stations. AIS is anticipating subscriber growth.
Heavy investments, competitive pricing and sports content helped Optus gain market share.
Window of opportunity for the 4th operator in Singapore has narrowed considerably.
There are plans to monetise the digital business in the next three years.
Maintain BUY with unchanged target price of S$3.66. No changes to our estimates. Singtel remains our top pick in the telecommunication sector.
What is the news?
We attended Singtel's Investors Day 2019. Management gave updates on the various business segments and we had the opportunity to engage with Singtel's regional associates. Singtel also showcased new capabilities through a demonstration tour. These capabilities ranged from payment solutions (Dash is now regional made possible by VIA), Internet of Things (IOT), prepaid Electronic Know Your Customer (eKYC) and Singapore's first 24/7 unmanned pop-up store (UNBOXED).
Key Highlights
Recovery of regional associates on track. Bharti Airtel (Airtel) expects ARPU to revert back to few years ago at approximately Rs200. Reliance Jio (Jio) is unlikely to reduce pricing and it is expected for competition to be more rational as Jio has acquired similar market share to Airtel (Figure 1). Telkomsel (TSEL) expects the competitive dynamics in Indonesia to improve. The decrease in legacy services (SMS, voice) is less impactful. Although competition is ahead of them in this transition. Regulators have limited 5 SIM cards per operator instead of 3. This will help reduce churn. Globe views regulations as a hurdle in the expansion of base stations. Advanced Info Services (AIS) expects core service revenue to grow mid-single digit underpinned by demand for 4G and handset campaigns.
Content offerings and a premium network is key towards subscriber growth for Optus. Optus added 379,000 post-paid subscribers in FY19 owing to a line-up of exclusive content which includes sports (Figure 6) and National Geographic. Management estimated that 20% of customers shift to Optus for its sports content. The subscriber growth is also aided by competitive pricing and heavy capital expenditure on its mobile network. Optus is now regarded as a premium network by Australians.
Window of opportunity for TPG has narrowed considerably. When the license was issued in 2016 there was a huge unaddressed opportunity in the SIM-only segment. Mobile Network operators (MNOs) and Mobile Virtual Network operators (MVNOs) have now closed the gap through recent revisions of their offerings. The revisions have specifically targeted the SIM-only segment which we expect TPG Telecom (TPG) to contest in.
Plans to monetise digital business. Singtel plans to monetise Amobee (digital business) within the next three years either through an IPO or private investors. Management guided for group digital life losses to narrow and for EBITDA to improve. Amobee plans to derive majority of revenues from its scalable programmatic business, drive double digit top line CAGR over the next three years and leverage on access to data to provide best marketing outcome for its clients.
Maintain BUY with unchanged target price of S$3.66.
Our target price is based on FY20e 7X EV/EBITDA of Singtel's Singapore and Australia businesses and the valuation of its listed associates. There are no changes in our estimates. Singtel remains our top pick in the telecommunication sector. We like it because of improving its regional associates (up ~12% YTD) and its stable dividend yield of 5.3%.
Regional Associates
Bharti Airtel (India)
The industry has consolidated to 3 equal sized operators, namely Vodafone Idea (VI), Jio and Airtel. The irrational competition from Jio resulted in a collapse in ARPU which caused a US$30bn industry to shrink to US$23bn. For US$2/mth, users could enjoy unlimited calls and larger data plans. While the higher value consumers were comfortable with the pricing, low value consumers did not move up the price range. VI suffered loss in market share due to network integration after the merger, however is still ranked number one with estimated market share of 35%.
According to Airtel, there is approximately 1bn SIMs in India of which 80% accounts for most of industry revenue. Hence, Airtel is going after quality customers and intends to focus on the post-paid segment as they are anticipating growth and is seeking the sticky nature of post-paid subscribers. Airtel plans to attract quality customers through a program called Airtel Thanks which consist of a host of services, digital programs, content, partnerships, financial services and life insurance through a digitally integrated platform. The program seeks to reward loyal and high revenue generating subscribers and promote stickiness. The launch of Airtel Thanks alongside with the minimum recharge plans has led ARPU to improve 18% QoQ. Airtel expects ARPU to revert back to few years ago at approximately Rs200.
Airtel emphasised that quality of network is important and will not be chasing the number of sites for towers. At present, Airtel owns 180,000 towers which are 4G enabled. Jio boasts 230,000 towers but suffers lower rate of utilisation. Jio gained huge base of customers because of the one-year free trial though mostly made up of price sensitive consumers. Post rights issue Airtel's net debt/EBITDA decreased to 3.16x from 4.12x, industry average industry net debt/EBITDA is at 2x.
Telkomsel (Indonesia)
TSEL believes the dynamics in Indonesia is improving. They expect smaller operators such as Smartfren to cause noise but will not affect the overall recovery of the wireless market. Smartfren had made headway in selling new SIM cards and have invested in their network. The decline in legacy revenues (SMS, voice) is less impactful as the proportion of legacy contribution decreases. Legacy was 35% of total revenues (competitors < 20%). Recently regulators have changed the limit to 5 SIM cards per operator instead of 3, the hassle to de-register and register has stabilised churn rates. TSEL was able to increase prices 10% – 15% pre-Lebaran but warns that it is an establish market practice to do so and price should subsequently revert back. There are around 2mn customers a month migrating from 3G to 4G. This can help improve ARPU.
Globe (Philippines)
Globe says that regulation remains a hurdle as more authority is given to local government. This has led to delays with regards to expansion of base stations. We think this will be a major barrier to any new entrant. The new operator Mislatel have yet to pay a 25.7 billion peso bond for its license. Mislatel have delayed commercial launch to 2021.
The 5G network will be launched soon. Philippines will be the first to launch in South East Asia. The scale of 5G mobile roll-out will be dependent on the price of modems and mobile handset. Huawei previously promised US$300/handset. Broadband modem is in US$700 range expected to decline to US$40 as it achieves scale. Data as % of service revenue increased from 58% to 69% YoY, Globe expects this trend to continue. Globe does not expect increased competition from Philippine Long Distance Telephone (PLDT) as the competition is growing as well. PLDT was aggressive when it launched a free Youtube offer in May last year. However, there was little opportunity to monetise this plan and have since recalibrated its strategy. Overall consumer spend in Philippines is rising and with such growth, PLDT will not try to disrupt it.
AIS (Thailand)
We believe the worse is over for AIS. We are observing lowly priced unlimited data plans being phased out. The intense competition on handset subsidies and unlimited data packages has led to a zero-sum game, competition have since rationalised. Core service revenue is expected to grow mid-single digit. The mobile segment maintained strong post-paid growth of 354,000 QoQ underpinned by demand for 4G and handset campaigns. There is still tactical competition in the pre-paid segment due to aggressive data plans by True and DTAC. AIS is willing buy 700MHz spectrum at the appropriate price. It can be used for 5G rollout and Thailand limited roadmap on spectrum.
Group enterprise
The enterprise segment is seeing an increased shift in revenue towards Information and communications technology (ICT) services. The proportion of ICT revenue in FY19 grew from 46% to 48% of total enterprise revenue. Consequentially enterprise EBITDA margin declined due to the lower margin nature of ICT business compared to the core carriage business. The ICT segment is generally exposed to Singapore with cyber security (22% APAC), Cloud (60% SG), enterprise digital services & IOT (100% SG) and business solutions (80%). Management shared that contracts are taking longer to materialise due to geopolitical uncertainties. Managed services declined 12% YoY (Figure 5) due to repricing of contracts up for renewal and a shift in demand to cloud based services. Contract duration is typically 5 to 7 years.
The nationalised National Broadband Network (NBN) in Australia has created a level playing field with incumbent Telstra where without the NBN Optus would not have certain strategic partnership (e.g. Coles). On group digital life, management guided for losses to narrow and for higher EBITDA contribution in FY20e. Amobee plans to derive majority of revenues from its scalable programmatic business, drive double-digit top line CAGR over the next three years and leverage on access to data to provide best marketing outcome for its clients. Singtel plans to monetise Amobee within the next three years either through an IPO or private investors.
Singapore consumer
Management reemphasised that 5G remains an enterprise use case, this is due to the high fibre broadband penetration rate in Singapore. Fortunately, the 5G spectrum auction is labelled as a beauty contest. Billing mechanism whether cost plus or retail minus is yet to be determined. The decision to launch GOMO was to target millennials which is an underrepresented segment in Singtel's subscriber base, management says there is minimal internal cannibalisation. The digitally self-serving platform allows cost savings which translate into low prices offered to consumers. On the 4th operator, the window of opportunity has substantially narrowed. When the license was issued in 2016 there was a huge unaddressed opportunity in the SIM-only segment. MNOs and MVNOs have now closed the gap through recent revisions of their offerings that are specifically targeting the SIM-Only segment. We also expect TPG to channel more resources in their core market in Australia given that the Australian Competition and Consumer Commission (ACCC) opposed the merger between TPG and VHA (Vodafone Hutchinson Australia).
Optus
Optus is recognised as a premium network in Australia and is able to attract high value customers. Optus added 379,000 post-paid subscribers in FY19 owing to a line-up of exclusive content which includes sports (Figure 6) and National Geographic. These contents are bundled with mobile plans. Management estimated that 20% of customers shift to Optus for its sports content. The outcome of the merger between TPG and VHA has minimal impact on Optus as the price sensitive space is being contested by Amaysim (Optus's MVNO partner). Optus is also planning to change its operating model as the company shift from manual to digital to simplify products. There are plans to deploy 1,200 base stations by March 2020 for the roll out of its 5G network. Optus's strategy on 5G is on Fixed Wireless Access (FWA) given the low broadband penetration in Australia. We expect modem costs for 5G to decrease significantly as volume picks up. Optus raised prices in April and there was little reaction from competitors.
Figure 1: Market share of mobile subscribers post VI merger
Source: CEIC
Figure 2: Market share of mobile subscribers in Indonesia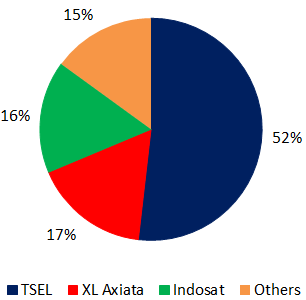 Source: CEIC
Figure 3: Market share of mobile subscribers in Philippines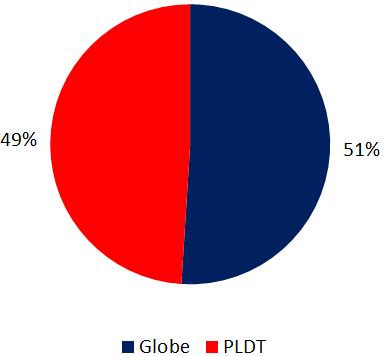 Source: CEIC
Figure 4: AIS maintained 45% market share through the years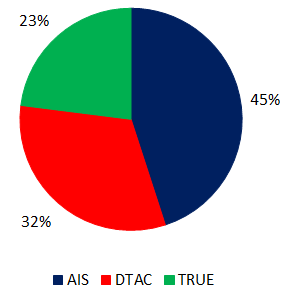 Source: CEIC
Figure 5: ICT revenue (S$mn). Managed services decline due to contract re-pricing and shift towards cloud services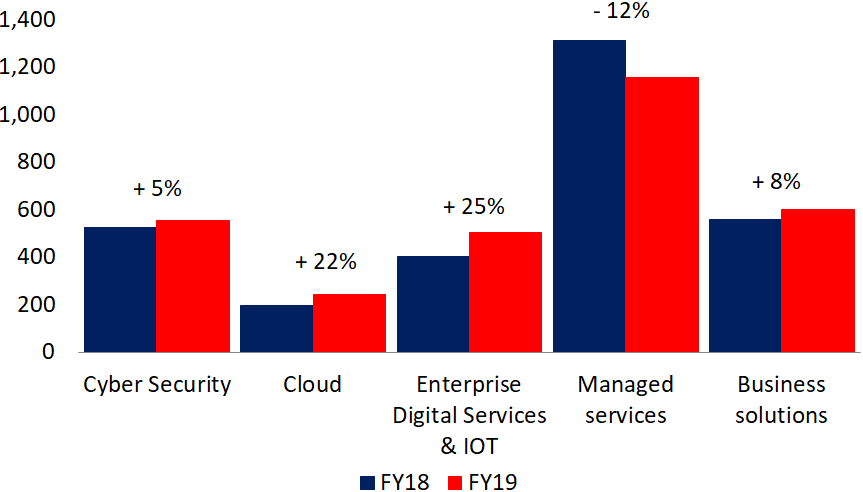 Source: Company, PSR
Figure 6: Exclusive sports content bundled with mobile plans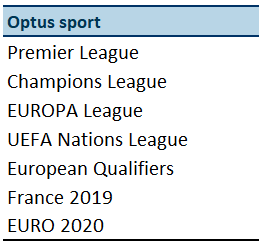 Source: Company, PSR
Source: Phillip Capital Research - 17 Jun 2019
Author: traderhub8 | Publish date: Mon, 17 Jun 2019, 11:41 AM

---
Britain's next prime minister clashed over Brexit strategy at their first debate on Sunday but the frontrunner, Boris Johnson, dodged the confrontation.
A nationwide Fox News poll released on Sunday shows President Donald Trump trailing former vice-president Joe Biden and no fewer than four other Democratic contenders as early campaigning for the 2020 election begins to gain steam.
Huawei's American chip suppliers, including Qualcomm and Intel, are quietly pressing the US government to ease its ban on sales to the Chinese tech giant, even as Huawei itself avoids typical government lobbying, people familiar with the situation said.
MERCURIUS Capital Investment is proposing to raise S$6 million by placing out shares to 12 individuals, including some existing shareholders.
Allied Tech on Friday said it has appointed PwC as its special auditor to investigate the circumstances surrounding certain transactions, including the placing of some S$33 million of funds with law firm JLC Advisors under escrow that reportedly went missing.
Source: SGX Masnet, The Business Times, Bloomberg, Channel NewsAsia, Reuters, PSR
Author: traderhub8 | Publish date: Fri, 14 Jun 2019, 9:16 AM

---
Astrea V is the second PE bond opened to retail investors. Launched by Azalea Asset Management, Temasek's wholly-owned subsidiary with a Private Equity (PE) focus, this issue comes one year after the launch of Astrea IV, the first retail PE bond.
Structure of the Note
Astrea V offers three classes of bonds – Class A-1 is the retail tranche (smaller quantum of S$1,000), while Class A-2 and Class B are for Accredited Investors (par value of US$100,000).
Total bond issuance of US$600m has a LTV ratio of 45.3% and is secured by cash flows from investments in 38 PE Funds with 862 investee companies. S$180m of the Class A-1 tranche will be available to retail investors for subscription through ATMs (minimum S$2,000).
Astrea V's direct comparable is Astrea IV, the first retail bond. Figure 1 summarises existing bonds and their yield. Clause 8 requires cash to be reserved in the Reserve Accounts for redemption of Class A-1 bonds on their Scheduled Called Date. As Class A-1 bonds are very likely to be called in 2024, we have included bonds that have similar call or maturity dates.
Historical Astrea Issuances
Astrea III PE bond for Acceredited Investors was issued in June 2016. As of their fifth distribution date, 7 January 2019, the cash received by the Sponsor exceeded the Bonus Redemption Threshold (Performance Threshold equivalent for Astrea V). As such, bondholders are entitled the Bonus Redemption Premium should the bonds be called (July 2019).
Astrea IV, the first retail PE bond made its first distrubution payment in January 2019. During the distrubution peroid, liquidity facilities were not drawn on and scheduled payments for the period to the Reserved Accounts were made in full.
Quality of Underlying Portfolio
Cash flows are backed by a portfolio consisting of 38 PE funds with 862 investee companies. The transaction portfolio has a Net Asset Value (NAV) of US$1,324.4m and total exposure of US$1,539.4m, enlarged by Undrawn Capital Commitments of US$215.0m. Undrawn Capital Commitments refers to the unfunded capital committed to fund the operational and/or expansion needs of the investee companies. PE cash flows follow a J-Curve pattern in which they experience negative cash flows in the early years due to capital being drawn down for investmnets, and positive cash flow in later years (usually 5 yers) when divestments are made (figure 2). Due to the nature of cash flows, the portfolio has been constructed with funds with vintages ranging 3 to 8 years. The portfolio has a weighted average vintage of c.5.4 years and is diversified by fund strategy, geography and industry (figure 3 and 5).
The portfolio contains 81% buyout funds and 19% growth funds. Funds that fall under the buyout category are typically established companies with a an operating track record and while growth equity funds are companies that are still in their rapid expansion phase. Apart form better performance by buyout and growth strategy funds (figure 4), this asset allocation provides the cash flow required to match the periodic interest and principal repayment and the due to the higher composition of mature and stable companies that are likely to be in the positive cash flow generating stage.
Cash flow, NAV, Capital Drawdowns, and Distributions
NAV of the portfolio will fluctuate over the life of the bond. NAV is increased by the drawn down of Committed Capital by invested companies (additional capital injected) and reduced by distributions (return in capital) and disposal of invested companies.
Cash inflows are generated mainly through the liquidation of or exit from investments by the PE Funds. After fulfilling capital calls, remaining cash flow will flow through the Priority of Payments (Clause 1 – 13). Liquidity and Capital Call Facilities are in place to meet any shortfall in cash flow (outlined below).
In the event of any disposal of investee companies, Clause 7 ensures that proceeds from such sale flow back through the Priority of Payments.
Structural Safeguards
Reserved Accounts for Class A-1 and A-2 bonds (Clause 8)
After operational expenses and interest payments have been made in each distribution period (Clause 1 – 6), excess cash balances will be channeled into the Reserves Accounts for redemption of all Class A-1 and Class A- 2 Bonds on their Scheduled Call dates. The progressive build-up of capital in the Reserves Accounts provides visibility to the cash flows for bond principal repayment in 2024.
Maximum Loan-to-Value (LTV) Ratio of 50% (Clause 10)
The maximum LTV of 50% ensures that the debt is over collateralised. Should LTV breach the threshold, 100% of the remaining cash flow after Clause 1-9 are satisfied will flow to the Reserved Accounts until the Account Cap is met. Remaining cash flows will be used to redeem the outstanding Class B bonds (lowering the debt liability).
Credit Facility
Credit Facility (CF) not exceeding US$300m is available to fund operational needs and interest payment on bonds (Clause 1 – 6), or any shortfall in relation to Capital Calls. The CF comprises 2 parts, A and B, the sum of which should not exceed US$300m.
Part A is structured to step down as the bonds mature due to the decreasing cash flow needs (when Reserved Accounts are fully reserved or Class A bonds are redeemed). The step-down schedule for part A is as follows:
Year 1 – 3: US$130m
Year 3 – 6: US$100m
Year 6 – 10: US$40m
Part B will be US$150m, 50% of the maximum loan amount of US$300m.
Sponsor Sharing
If and after the Performance Threshold is met, instead of the Sponsor retaining all of the cash flow remaining after payment of Clause 1 – 12, 50% of such cash flow is allocated to the Reserves Accounts (until the Reserves Accounts Cap is met) to enable a faster build-up of reserves for redeeming the Class A-1 Bonds on their Scheduled Call Date.
Performance Threshold and Bonus Payment on Scheduled Call Date
Once the Sponsor receives 50% of the total equity injected, c.US$406.6m (the Performance Threshold), Class A-1 and A-2 bonds are eligible to a bonus payment of 0.5% of principal when bonds are redeemed on the Scheduled Call Date.
Source: Phillip Capital Research - 14 Jun 2019
Author: traderhub8 | Publish date: Fri, 14 Jun 2019, 9:10 AM

---
Two oil tankers were attacked on Thursday and left adrift in the Gulf of Oman, driving up oil prices and stoking fears of a new confrontation between Iran and the United States, which blamed Tehran for the incident.
Allies of Hong Kong leader Carrie Lam began questioning her tactics as lingering tensions prompted lawmakers to postpone debate on a controversial extradition bill until at least next week.
Facebook has curbed access to a controversial feature allowing searches of the vast content within the social network - a tool which raised privacy concerns but was also used for research and investigative journalism.
Trading platform developer Ayondo announced on Thursday night that its chief operating officer (COO) Edward Drake has left his position effective June 13, following the completion of the disposal of unit Ayondo Markets Limited.
Geo Energy Resources Limited announced on Thursday that a flood is affecting the production and delivery of coal from the mine of its subsidiary PT Tanah Bumbu Resources in Indonesia.
Source: Business Times
Author: traderhub8 | Publish date: Thu, 13 Jun 2019, 10:10 AM

---
Oil prices tumbled 4 per cent on Wednesday to their lowest settlements in nearly five months, weakened by another unexpected rise in US crude stockpiles and by a dimming outlook for global oil demand.
Hong Kong authorities were shutting government offices in the city's financial district for the rest of the week after a day of violence over an extradition bill that would allow people to be sent to mainland China for trial.
Salesforce.com, which makes America's dominant sales-tracking software, agreed to buy Tableau Software in an all-stock deal valued at US$15.3 billion that it said will help give customers more ways to analyze data.
JEP Holdings announced on Wednesday that its wholly-owned subsidiary JEP Industrades was served a letter of demand dated June 7 by the solicitors acting for Korean-domiciled company YG-1 Co for a sum of US$219,284.25.
Author: traderhub8 | Publish date: Wed, 12 Jun 2019, 3:33 PM

---
Company Background
The Straits Trading Company (STC) has a history dating back to 1887 when it started out as a tin smelter. In the 1960s, it began developing and constructing multiple prestigious property projects around Singapore. 2008 was a major turning point when privately held investment group, Tecity, acquired a controlling stake in the company. This began STC's journey of transformation from a mere passive owner of low-yielding assets into an active financial investor and developer of real estate.
STC had since successfully divested S$1bn of non-core assets, refocusing on its resource business and restructured its hospitality operations. It now has three core businesses:
Real estate: Straits Real Estate (89.5%), ARA Asset Management (21%) and Suntec REIT (9.8% deemed);
Hospitality: Far East Hospitality Holdings (30%);
Resources:8% stake of Bursa-listed Malaysia Smelting Corp (MSC), the third-largest tin smelter in the world.
Outlook
Laying the foundation for a real estate franchise

. STC is building a financial real-estate franchise through its in-house arm, Straits Trading Real Estate (SRE). In a span of four years, SRE has monetised capital in Australia and Japan and tripled its assets under management (AUM). Its competitive strength is its nimbleness in investing in multiple forms, from direct investments to private equity real estate funds. SRE sold an Australian prime office building at an IRR of almost 25% in 2017. In 2018, it divested a Japan office fund after disposing seven office assets at an IRR of 19%. AUM grew at a 36% CAGR over the past four years. Its target is to add S$1bn in AUM within the next four years (Figure 8).
Several assets to be unlocked. Assets for potential value-unlocking include 1) S$316mn of non-core properties, including eight good-class bungalows and several townhouses in Singapore; 2) a 21% associate stake in ARA now carried at S$353mn on its books. If ARA were to be re-listed on the SGX, STC's 21% stake could be worth S$673mn. ARA plans to grow gross assets by another S$20bn in the next three years (Figure 7); and 3) the redevelopment of a 40.1-acre mixed-development project in Penang with a GDV of RM3bn (S$1bn).
Tin to benefit the most from new technologies among metals. In a study by Massachusetts Institute of Technology commissioned by Rio Tinto in 2018 (Figure 15), tin is expected to be the most sought-after metal by evolving technologies. Demand will come from new technologies incorporated in autonomous and electric vehicles, advanced robotics, renewable energy and advanced computing & IT. MSC is well placed to take advantage with their new plant in Klang that will raise output capacity by 50%.
Attractive valuations and yield STC trades at a 50% discount to its RNAV of S$4.40 (Figure 18). Since 2008, it has tripled its dividends. Current yield of 3% (or S$25mn) is supported by recurring income of S$25mn from rentals, dividends and associate income.
BACKGROUND
The Straits Trading Company has a history dating back to 1887 when it started out a tin smelter. Straits Trading formed its property division in 1960. It developed and constructed many prestigious projects around Singapore, including the first iconic 21-storey Straits Trading Building (1972), Great Eastern Centre and China Square Central (2002), and good class bungalows at Cable Road and Nathan Road (2006).
2008 was a major turning point when privately held investment group, Tecity, acquired a controlling stake in the company. This began STC's journey of transformation from a mere passive owner of low-yielding assets into an active financial investor and developer of real estate.
Figure 1: STC's three core pillars are real estate, hospitality and resources

Source: Company. * Aggregate interest in Suntec REIT held by STC Group of companies
REAL ESTATE
1. Straits Real Estate (89.5%): This is STC's in-house real estate investment business. The remaining 10.5% is owned by the John Lim Family Office. The objective of SRE is to build a geographically diversified portfolio of property assets that will generate attractive recurrent earnings or returns and capital upside. It may invest directly in real estate or via real estate funds. SRE's modus operandi is to invest in projects with value-add opportunity and manage them to drive capital upside.
Operating since 2014, SRE has been building its scale and track record. Assets under management have grown at a 36% CAGR from S$358mn in 2014 to S$1.4bn in 2018. 114 William Street (Melbourne) is an example of a property that SRE invested in and enhanced, eventually increasing its occupancy and WALE, repositioning it as an institutional-grade asset for sale. SRE later successfully monetised it for a profit of A$21.7, at an IRR of 25%.
Another successful investment was the divestment of the Greater Tokyo Office Fund, with its four office buildings, for an IRR of 19%. The direct real estate portfolio of SRE is now spread across three key geographies – namely, Australia, Japan and China. There are also three property funds under SRE that invest in Japan, Malaysia and Australia.
Figure 2: 320 Pitt Street, Sydney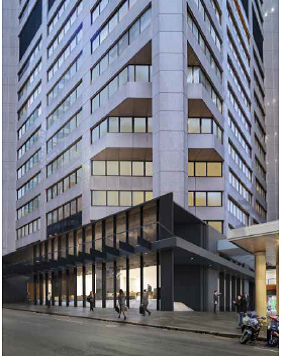 Source: Company
Figure 3: SRE portfolio of direct investments and funds

Source: Company *SRE ha 80% stake in five assets. Tenants include Coca-Cola Amatil, Incitec Pivot Centre and Siemens
Private Equity Funds
ARA Harmony Fund III (40%): owns a portfolio of five commercial properties in Malaysia. The income-generating properties include Ipoh Parade Mall in Perak, Klang Parade Mall and Citta Mall in Selangor, 1 Mont Kiara Retail Mall and Office Tower in Kuala Lumpur, and AEON Bandaraya in Malacca.
Japan Value Fund II (40.82%): the objective is to acquire assets in the Greater Tokyo area and other cities in Japan. The fund is managed by Savills Investment Management.
ARA Summit Development Fund (89%) (substantially exited in end 2018): co-invest with developers in projects in South East Asia and Australia. The fund may invest as an equity partner to share a project's development risk and returns, or participate in a project as a mezzanine loan lender for lower risk.
Figure 4: 45 St Georges Terrace, Perth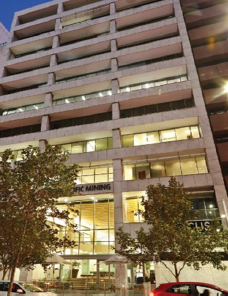 Figure 5: My Place Mall, Chongqing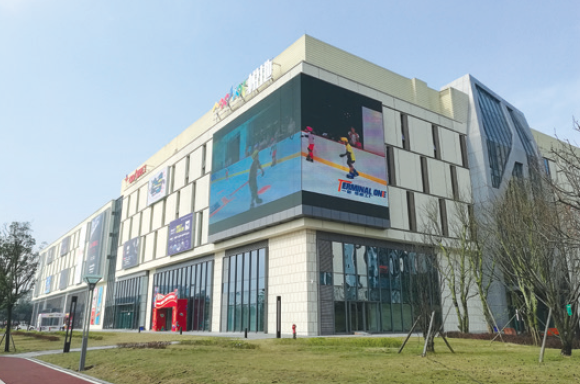 Source: Company, PSR
Figure 6: Residential properties in Japan expanded to 1,016 units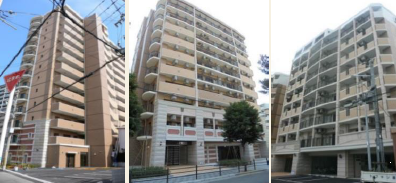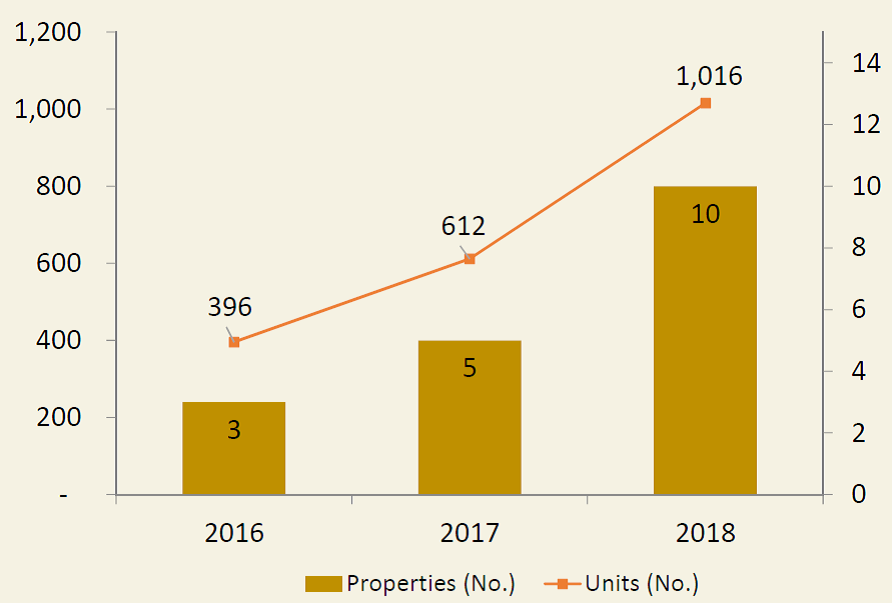 Source: Company
Figure 7: To hit S$100bn AUM by 2021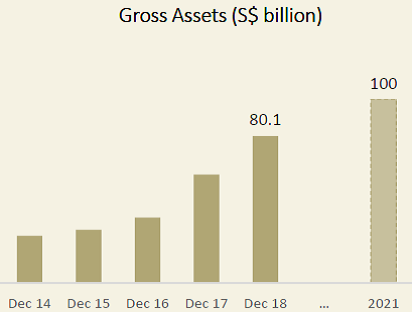 Source: Company
Figure 8: SRE's target is to expand AUM by another S$1bn within 4 years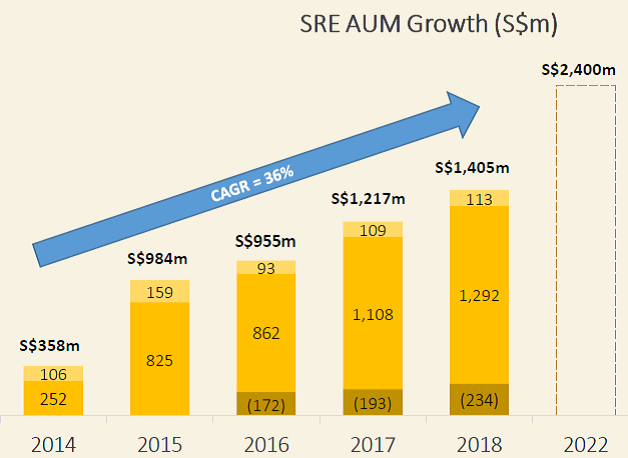 Source: Company
2. ARA Asset Management (20.95%): In October 2013, STC acquired a 20% stake in ARA from Cheung Kong for S$294.4mn. Established in 2002, ARA is one of the largest real estate fund managers in the region with assets under management of S$80bn. ARA was established in 2002 and listed on the SGX in 2007. In November 2016, together with a consortium that included STC, ARA was privatised for S$1.8bn (of 5% equity value to AUM).
Gross assets managed by the ARA Group is currently c.S$80.1bn across over 100 cities in 23 countries. ARA plans to grow gross assets by another S$20bn in the next three years (Figure 7). ARA is focused on the management of REITs, private real estate funds, infrastructure funds and operates country desks in China, Korea, Japan, Malaysia, Australia, Europe and the United States. ARA manages 20 REITs, six of which are listed – these are Fortune REIT, Suntec REIT, Cache Logistics Trust, Prosperity REIT, Hui Xuan REIT and ARA US Hospitality Trust.
3. Suntec REIT (9.8%): STC first acquired a stake in Suntec REIT in 2014. Suntec owns seven assets, four of which are in Singapore, one in Sydney and two in Melbourne. Assets under management is S$9.9bn. STC's stake in SGX-listed Suntec REIT is recorded as investment securities. STC recognises dividend income from this REIT.
4. Singapore and Malaysia properties available for sale (100%): A S$317mn portfolio of legacy investment properties in Singapore and Malaysia is available to be monetised and for capital to be redeployed towards. These include (i) apartments/ townhouses in Gallop Green development; (ii) good class bungalows in Cable and Nathan road; (iii) several parcels of land and shophouses in Malaysia.
HOSPITALITY
Far East Hospitality Holdings (FEHH) (30%): In November 2013, STC formed a 30:70 joint venture, FEHH, with SGX-listed Far East Orchard. STC injected three hotel properties and 13 management contracts into this joint venture. FEHH currently owns and operates a combined portfolio of 94 properties with over 14,700 rooms across seven countries and 25 cities. FEHH also operates nine hotel brands such as Rendezvous, Oasia, Quincy, Village, Far East Collection, Adina Apartment Hotels and Adina Serviced Apartments, Vibe Hotels, Travelodge Hotels and TFE Hotels Collection. Targets to double the rooms under management from 14,700 to 30,000 in 2023.
Figure 9: Far East room count target is to double in five years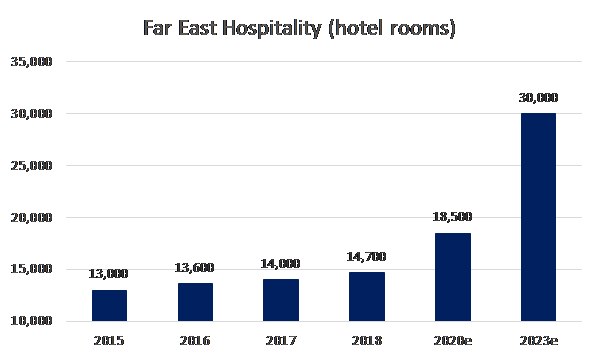 Source: Company, PSR
RESOURCES
Malaysia Smelting Corporation (MSC) (54.8%): MSC is the largest tin mining company in Malaysia and the third largest globally, in terms of output (Figure 10). The company is listed on both Bursa Malaysia and SGX.
MSC's end-product is refined tin bars. It has a tin mine in Perak – Rahman Hydraulic – with an annual production of around 2,300MT per annum. It is considered the largest operating open-pit hard rock tin mine in Malaysia (Figure 14). Tin ore extracted from this mine is processed into tin-in-concentrates which are then converted into refined tin metal products at the smelter in Butterworth, Penang. The mine meets 10% of MSC requirements, with the remaining raw materials sourced locally or overseas.
Figure 10: Top 5 largest tin producers in the world

Source: International Tin Association, PT Timah, PSR
Figure 11: The nine brands under Far East Hospitality Holdings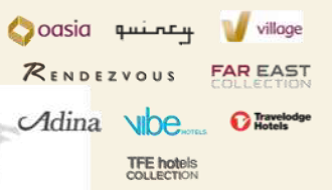 Source: Company
Figure 12: The newly opened 606 room Village hotel at Sentosa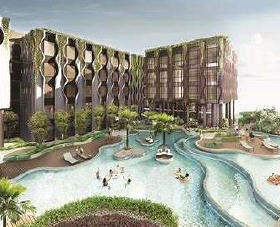 Source: Company
Figure 13: Types of demand for tin (2018)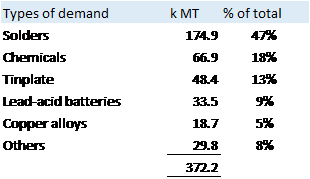 Source: ITA, PT Timah, PSR
Figure 14: Rahman Hydraulic operates largest open pit tin min in Malaysia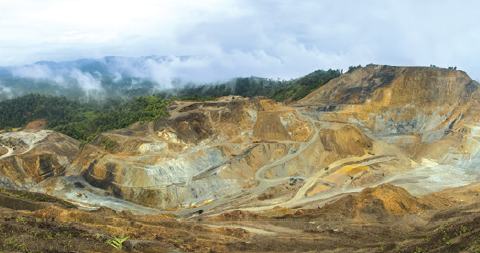 Source: Company
Figure 15: Tin would be the most positively impacted metal by new technologies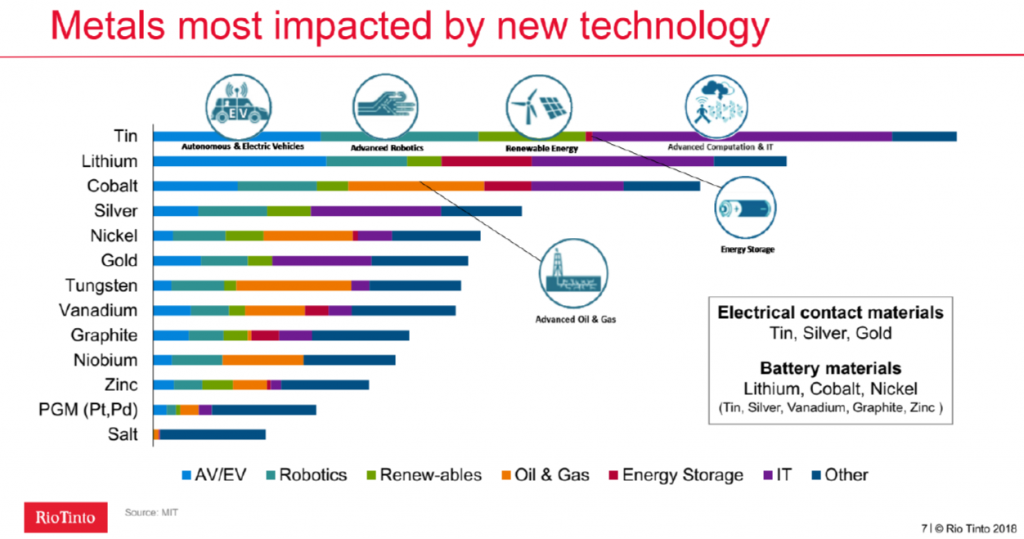 Source: Rio Tinto
MSC will be relocating from its current plant in Butterworth (operational since 1902) to a new smelter in Pulau Indah, Port Klang. The new facility will be using a more efficient smelting process – Top Submerged Lance furnace. The new plant will boost maximum production capacity by 50% or up to 60,000 tonnes p.a.
In view of the relocation, MSC and STC signed a Memorandum of Understanding (MOU) to jointly redevelop a 40.1 acre land site comprising the current factory land (13.9 acres) and adjacent land (26.2 acres) into a integrated waterfront development. The site is freehold and is near the new Penang Sentral, which will be the new transport hub of Penang (Figure 16).
Figure 16: The upcoming mixed-development (~RM3bn GDV) is near the new Penang Sentral transport hub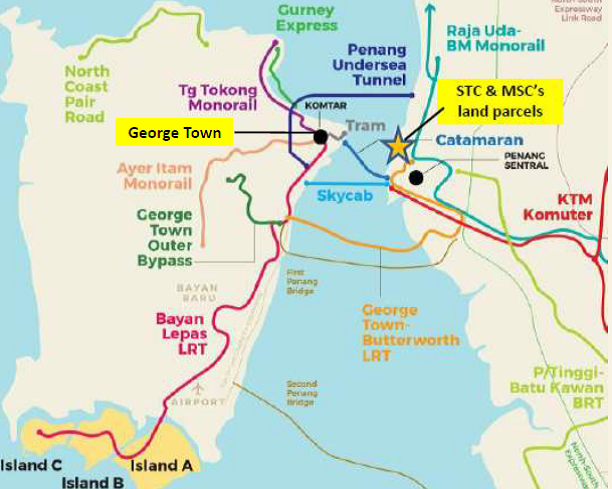 Source: Company
Figure 17: Dividend per share has tripled since 2008

Source: Company
RNAV
Our RNAV of STC is S$4.40 (Figure 18).
Investment properties and private equity real estate are valuedas at end FY18.
We added an incremental ARA market valuation to the FY18 book value. We valued ARA's equity valuation at 4% equity value* to the S$80bn AUM, or 18.2x PE. This gives us a S$3.2bn equity value for ARA, with STC's 21% stake being S$673mn.
We adjusted MSC's valuation upwards marginally to match its latest market value.
We excluded the potential development gains from the RM3bn Penang project, as it is several years away and we have insufficient information to reasonably forecast the development gains.
We also excluded potential upside from divesting STC's legacy S$317mn investment properties.
Figure 18: STC RNAV Estimates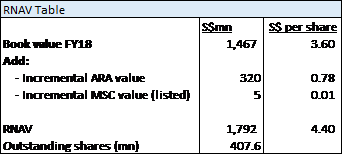 Source: Company, PSR
Figure 19: FY18 recurrent income of around S$25mn from the real estate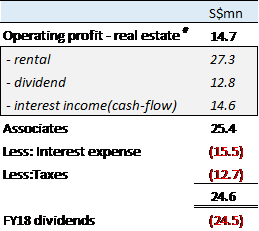 Source: Company, PSR
#Excludes income from resources business where net profit was S$6.7mn.
Our estimate of real estate operating profit is S$46mn less implied fair value gain within interest income of S$31.3mn.
*Based on data provided in 22Mar19 Circular on Capitaland acquisition of Ascendas and Singbridge. Some of the equity to AUM valuations used were Blackstone 4.8% and Cohen and Steers 3.2%. Incidentally, ARA was privatised at 5% equity to AUM or PE of 17.9x.
APPENDIX 1: Understanding the financials
Revenue
STC has multiple sources of revenue and income.
Revenue is derived from MSC tin mining operations (94% in FY18) and real estate rental income (6% in FY18). Rental income is from the real estate owned directly under SRE or STC. These include 45 St. Georges, the five logistics assets in Australia, Chongqing mall, the ten properties in Japan and the portfolio of good class bungalows, apartments, townhouses and shop lots in Singapore and Malaysia.
Other income is another large part of group earnings, which includes:
Dividend income: Sourced from the 9.8% stake in Suntec REIT.
Interest income: Earned from A$119.2mn (S$125mn) shareholder note issued by 320P Trust. The trust holds 320 Pitt Street real estate.
Fair value changes in investment properties
Other income
Associate income: The associate income for STC is from ARA and FEH (Figure 20).
Figure 20: PBT break-down (2018)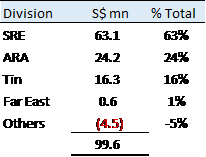 Source: Company, PSR
Cost
Biggest component of operating cost relates to the tin mining operations. Excluding mining cost, the largest expense are employee and finance costs (Figure 21).
Figure 21: Expense breakdown (2018)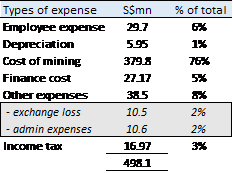 Source: Company, PSR
Balance Sheet
Assets: Around one-third of STC's assets are investment properties. The largest investment properties are the Singapore bungalows and apartments, and the 10 Japan residential apartment blocks, followed by the associates -the single largest asset being the 21% stake in ARA (Figure 22).
Figure 22: Break-down of total assets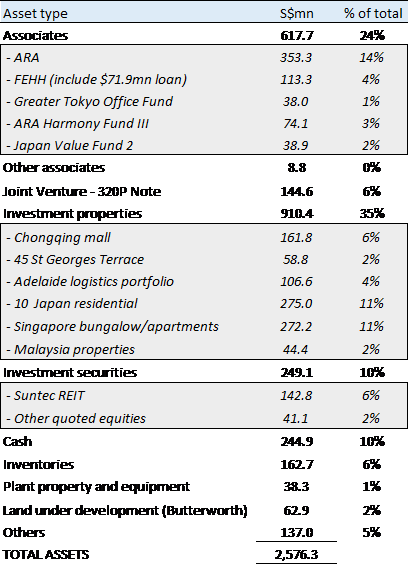 Source: Company, PSR
Liabilities: STC's gross debt is around S$864.5mn. Bulk of the debt is secured bank loans. The interest rates are 0.5% to 5.2% for floating rate debt and 3.7% for fixed rate notes.
Figure 23: Bulk of the liabilities are secured bank loans (as at FY18)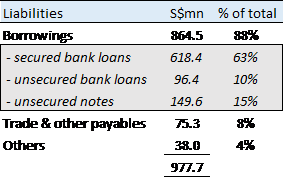 Source: Company, PSR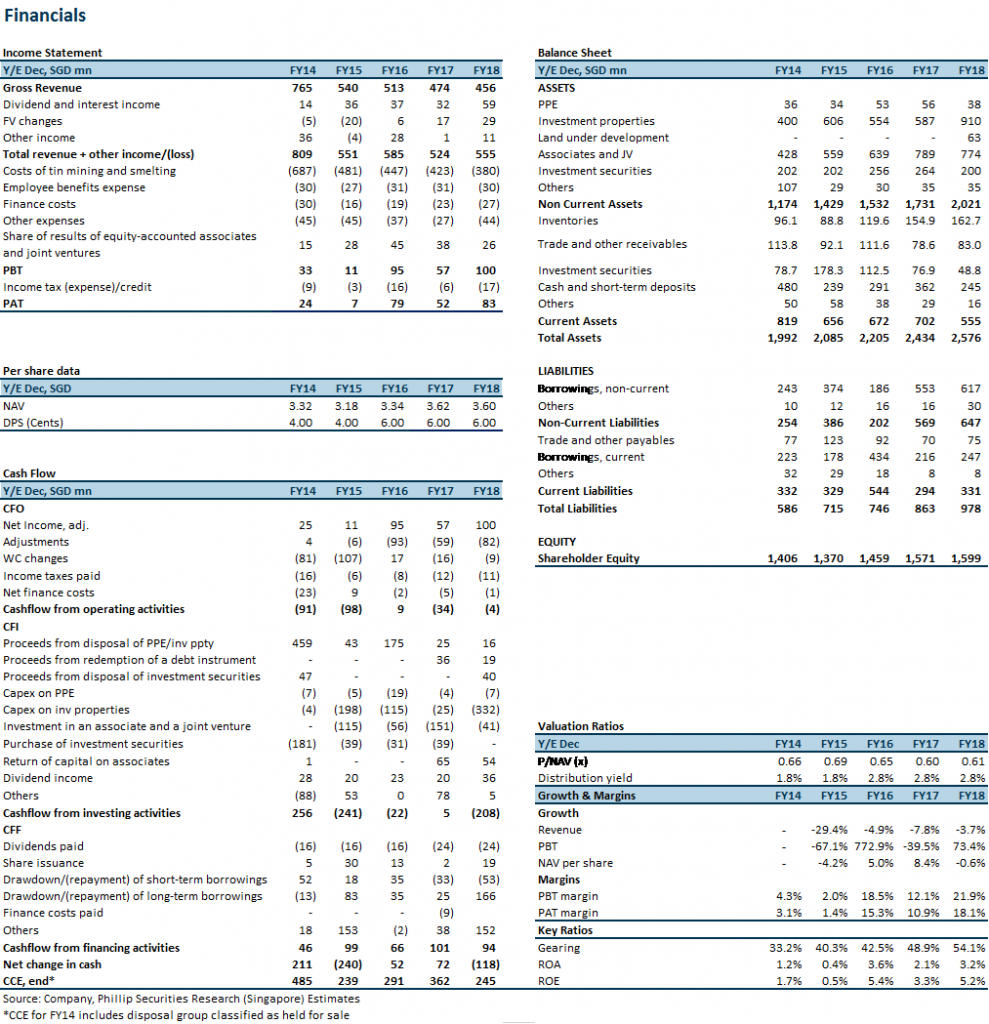 Source: Phillip Capital Research - 12 Jun 2019