Trader Hub

Author: traderhub8 | Latest post: Thu, 21 Jan 2021, 9:21 AM

Trader news and research articles
Author: traderhub8
| Publish date: Thu, 21 Jan 2021, 9:21 AM

---
Wall Street greeted new US President Joe Biden by climbing even higher on Wednesday, closing at records amid promises of big economic stimulus and relief that the inauguration was uneventful. All three major indices ended at all-time highs after Biden was inaugurated as the 46th president of the United States in a peaceful ceremony just two weeks after supporters of former president Donald Trump stormed the US Capitol in an effort to overturn the results of the November election. The tech-rich Nasdaq Composite Index led the charge, jumping 2.0 per cent to end the day at 13,457.25, fueled in part by a huge gain Netflix shares following a strong earnings report. The benchmark Dow Jones Industrial Average rose 0.8 per cent to close at 31,188.38, while the broad-based S&P 500 climbed 1.4 per cent to 3,851.85.
Singapore Exchange (SGX) has raised queries regarding New Silkroutes Group's wholly-owned oil-trading subsidiary, International Energy Group (IEG), which the group has not been successful in winding up. The agreement for the disposal of IEG to TK Energy lapsed on June 30 last year, after the buyer failed to disburse loans to New Silkroutes Capital and IEG. In a regulatory filing on Wednesday, New Silkroutes said that in view of the global pandemic and the challenging energy market, the management and the board believe that the energy business is not sustainable and that IEG will not be able to fulfil its debt obligations - and this is after taking into account the cash flow projections commencing in the second quarter of 2021.
SIIC Environment Holdings announced on Wednesday that it has been awarded a project involving the expansion of a wastewater-treatment plant. The water-treatment and environmental-protection company's indirectly owned subsidiaries, SIIC Environment Holdings (Weifang) Co and S.I. United Water Holdings, have signed a concessionary arrangement with the government of Zaozhuang City in Shandong province for a wastewater-treatment plant expansion project called the Yicheng Expansion Project.
Entertainment and content provider G.H.Y Culture & Media (GHY) announced on Wednesday that its indirect associate company has incorporated a firm in China through a joint venture (JV) limited partnership. The associate company, Tianjin Changxin Film & Media Co, has a 48.9 per cent stake in the incorporated firm known as Xiamen Kaimen Jianjun Film & Television Industry Investment.
ICP said in a regulatory update on Wednesday that it has terminated plans to acquire a 5 per cent trust-beneficiary interest in the b Osaka Midosuji Hotel in Japan. This comes as the conditions for the purchase-and-sale agreement could not be fulfilled in its entirety, said ICP. There is no financial impact on the company, because, according to the terms of the agreement, the deposit will be refunded in full. ICP added that it will continue to engage with the vendor in respect of revising the terms of the proposed acquisition.
SP Group has acquired Engie's stake in Sino-French Energy Services (SFES) in Chongqing for an undisclosed sum, the company said on Wednesday evening. Under the agreement, SP is acquiring Engie's 40-per-cent stake in the company, making this the group's first acquisition of energy assets in China, it said in a statement.
Source: SGX Masnet, The Business Times, Bloomberg, Channel NewsAsia, Reuters, PSR
Author: traderhub8
| Publish date: Wed, 20 Jan 2021, 11:22 AM

---
Wall Street stocks won solid gains on Tuesday as markets anticipated the presidential inauguration of Joe Biden while Mr Biden's Treasury secretary nominee reiterated a call for aggressive stimulus spending. Janet Yellen, the former Federal Reserve Chair nominated to lead economic policy, during her Senate confirmation hearing called for Washington to "act big" to support the coronavirus-ravaged US economy. The Dow Jones Industrial Average gained 0.4 per cent to finish at 30,930.52. The broad-based S&P 500 rose 0.8 per cent to end at 3,798.91, while the tech-rich Nasdaq Composite Index jumped 1.5 per cent to 13,197.18.
A Wholly-Owned subsidiary of Riverstone Holdings has acquired a piece of industrial land in Malaysia for a total consideration of RM5 million (S$1.6 million) in a bid to expand the group's production capacity for cleanroom gloves and other operations. The land acquired by the subsidiary, Riverstone Resources, spans about 6,741 square metres, and is in the Bukit Beruntung industrial area in Selangor, Malaysia.
Entities of troubled Eagle Hospitality Trust (EHT) on Monday filed for Chapter 11 bankruptcy in the United States Bankruptcy Court for the District of Delaware. Documents lodged showed that as many as 27 entities within the EHT stable filed for bankruptcy protection on Monday. These debtors have also moved for the joint administration of these cases. Filings for EHT US1, Eagle Hospitality Trust S2 and Eagle Hospitality Trust S1 all listed estimated liabilities of US$500 million to US$1 billion.
The trustee-manager of Keppel Infrastructure Trust (KIT) announced on Tuesday that KIT has entered into an unsecured S$300 million facility agreement with various lenders to partially finance its proposed acquisition, Philippine Tank Storage International (PTSI). PTSI owns the largest petroleum products import storage facility in the Philippines. The trustee-manager had announced last month that it had, together with its Philippine partner Metro Pacific Investments Corporation (MPIC), entered into a conditional agreement to fully acquire PTSI.
ARA Logos Logistics Trust said in an update of its preferential offering that it has received valid acceptances and excess applications for a total of 205.4 million preferential offering units at the close of the offering on Jan 15. This represents about 225.4 per cent of the total number of preferential offering units available, said ARA in a bourse filing on Tuesday.
Frasers Hospitality Trust (FHT) is banking on its properties in countries with a predominant domestic travel market to recover faster than the others. This includes properties in Australia, Japan and the United Kingdom, said FHT, a stapled group comprising Frasers Hospitality Real Estate Investment Trust and Frasers Hospitality Business Trust. "While demand for accommodation is likely to be constrained by health concerns and the level of post-Covid-19 austerity, pent-up travel demand seems most evident within the leisure segment," said FHT in response to shareholders' questions ahead of its annual general meeting to be held on Wednesday.
Source: SGX Masnet, The Business Times, Bloomberg, Channel NewsAsia, Reuters, PSR
Author: traderhub8
| Publish date: Mon, 18 Jan 2021, 11:15 AM

---
3Q21 results were better than expectations. Revenue was up 150.9% YoY, PATMI up 477.9% YoY. 9M21 PATMI formed 77.5% of our FY21e forecast.
3Q21 sales volume increased a stellar 93.8% YoY on the back of increased domestic demand for steel.
Maintain BUY with a higher TP of S$0.47, up from S$0.28. We raise FY21e PATMI by 69.2% to capture its 3Q outperformance. Our TP remains pegged to 11x FY21e, the industry average. Catalysts are expected from a 50% jump in production in FY21e and iron ore prices (Platts Iron Ore Index, IODEX 65% Fe CFR North China) remaining above US$110/DMT. The company announced a proposed US$30mn acquisition of Malaysia iron ore and copper producer.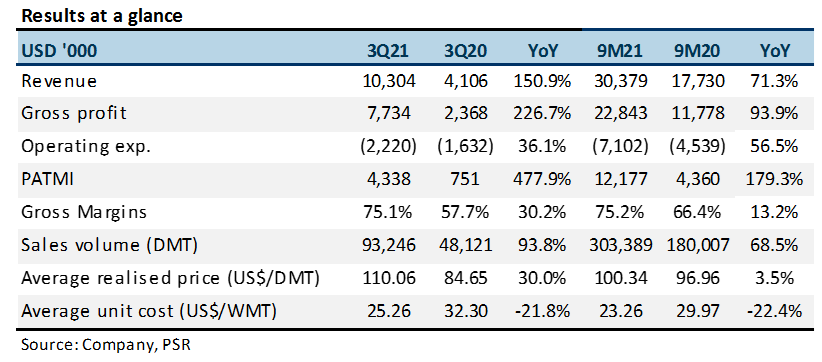 The Positives
+ Continued volume growth. Iron ore concentrate volumes sold increased 93.7% YoY in 3Q21. This translated to revenue growth of 150.9% YoY. Volume and revenue were both lower QoQ due to monsoon disruptions to production that typically occur at year-end.
+ Spike in margins. Gross margins increased from 57.7% to 75.1% in 3Q21. Revenue for the quarter more than doubled, driven by higher prices for high-grade iron ore concentrates. Their ASP was a record US$110.06/DMT as iron ore prices reached a 7-year high. Average unit cost was also lower YoY through increased iron ore production.
+ Operating cash flow increased 7x. 3Q21 operating cash flow of US$11.7mn was 7x the US$1.6mn achieved a year ago. Net cash slightly dipped from US$9.9mn to US$9mn while FCF turned around from -US$328k in 3Q20 to US$10.4mn in 3Q21.
The Negative
– Nil.
Proposed acquisition of Malaysian subsidiary of Monument Mining Ltd
Monument Mining Ltd (MMY CN, Not Rated) is an established Canadian gold producer that operates gold mines. It also acquires, explores and develops other base metals. FML has entered into a conditional sale and purchase (SPA) agreement with the company for the acquisition of the entire Monument Mengapur (MMSB). MMSB owns a 100% stake in the Mengapur copper and iron project in Pahang, Malaysia. Cash consideration is US$30mn. FML will pay a royalty fee of 1.25% of gross revenue from all products produced at Mengapur to Monument Mining.
Other than magnetite, Mengapur contains a significant amount of copper, gold and silver resources. FML will mine only magnetite for the production of its iron ores. Ores containing other materials encountered during mining will be stockpiled for future use.
With this acquisition, FML's magnetite resources will surge from 7.18mn tonnes from its Bukit Besi mine as of February 2020 to 17.93mn tonnes. Geochemical analysis and metallurgical tests have proven that the Mengapur magnetite is extremely similar to that from the Bukit Besi mine, which has demonstrated to be economical. FML's Buki Besi mine has been able to yield consistently-high-grade magnetite iron ore concentrates.
Mengapur is strategically located 65km away from the Kuantan port, the main bulk iron ore export port on Malaysia's East Coast. It is also within close proximity of the two largest steel mills in Malaysia, both of which are FML's customers.
Mining leases and environmental approvals for open-pit mining have been obtained. With its existing processing plants and other facilities, the Mengapur site is ready for development. It is immediately available for magnetite production after refurbishment.
This is the company's first proposed acquisition. If executed according to plan, it should help transform FML into a regional player in iron ores, coupled with its efforts to explore and develop iron ore assets across Malaysia. Mengapur should also complement FML's existing portfolio of advanced iron ore projects.
Outlook
Iron ore prices are expected to taper down in 2021 as supply balances out demand. We expect them to drop from the current US$190/DMT (Platts IODEX 65% Fe CFR North China) to the region of US$110/DMT. This would translate to lower ASPs of US$95/DMT for FML, from US$110.06/DMT in 3Q21. However, FML's revenue should still increase with higher iron ore volumes sold following its announcement of an offtake agreement in September 2020. Operating expenses are also expected to be stable with the help of improved economies of scale.
Maintain BUY with higher TP of S$0.47 from S$0.28
We maintain BUY with a higher TP of S$0.47, up from S$0.28, after we increase FY21e PATMI by 69.2% to factor in its 3Q21 outperformance. We continue to peg the stock at 11x FY21e PE, the industry average. We expect production to jump 50% in FY21e and iron ore prices (Platts Iron Ore Index, IODEX 65% Fe CFR North China) to remain above US$110/DMT, providing stock catalysts.
Source: Phillip Capital Research - 18 Jan 2021
Author: traderhub8
| Publish date: Mon, 18 Jan 2021, 11:14 AM

---
STI outperformed FTSE S-REIT Index in January, as investors rotated to cyclical sectors to tap recovery prospects. Biggest gainers were Industrial REITs, climbing 3.0% MoM. Healthcare was the biggest loser, pulled down by First REIT (FIRT SP, Not Rated) which shed 40.2% MoM due to its impending rights issue.
Sector yield spread over benchmark 10-year SGS (10YSGS) was 303bps, at -0.7SD. More acquisitions expected in low-interest-rate environment.
Remain OVERWEIGHT with sector catalysts expected from pick-up in economy activity, interest savings and acquisitions. Prefer Retail and Hospitality. Top picks are and Manulife US REIT (MUST SP, BUY, TP US$0.92) and Ascendas REIT (AREIT SP, BUY, TP S$3.61). These counters look attractive at current valuations and will remain resilient despite the weaker sector outlook, in our view.
SECTOR ROUND-UP
Four inter-conditional resolutions to approve Eagle Hospitality Trust's (EHT SP, Not Rated) rescue and recapitalisation plan failed to pass an EGM on 30 December 2020. The EGM was convened for voting on: i) the appointment of SCCPRE HRM as its new REIT Manager; ii) approval of the new Manager's fee structure; iii) the appointment of SCCRPRE HTM as the new Trustee-Manager; and iv) the issuance of 140mn new units as payment of base fees to the new REIT Manager. The appointment of SCCPRE as the new REIT Manager was crucial as EHT's working capital was to have run out by December 2020. Ongoing negotiations with lenders were contingent on the appointment of SCCPRE as the new Manager. As SCCPRE HRM was not appointed, EHT would not have sufficient resources to operate as a going concern beyond December 2020. Additionally, its incumbent REIT Manager had been removed after the EGM, in compliance with an MAS directive issued on 30 November. EHT appears to be headed towards a Chapter 11 bankruptcy filing and sale of assets.
Keppel REIT (KREIT SP, Not Rated) will acquire Keppel Bay Tower for S$657.2mn, at 1.2%/1.5% discounts to JLL's/Cushman & Wakefield's valuations and an LTV of 60%. The property comprises an 18-storey office tower and a six-storey podium block, with a combined net lettable area of 386,600 sq ft. Target completion of the acquisition is 2Q21. The acquisition is expected to provide a 2.7% pro-forma DPU accretion bases on an LTV ratio of 60%.
Frasers Centrepoint Trust (FCT SP, BUY, TP S$2.79) announced its divestment of Anchorpoint mall on 23 December 2020. The 71,213 sq ft mall comprising two retail levels has been sold to unrelated third parties for S$110mn. The sale is expected to be completed on 21 March 2021.
Retail
November 2020's seasonally-adjusted Retail Sales Index ex-motor vehicles eased to -3.1% YoY, boosted by mega-sales events such as the 11.11 Singles' Day and Black Friday on 26 November. This was an improvement over October's -11.4%. Online sales accounted for 16.7% of total sales, slightly higher than the 13% average under Phase 2 reopening.
F&B sales are expected to be lifted by a relaxation of group size and capacity restrictions under Phase 3 reopening. The recovery for central malls is expected to be more pronounced than suburban malls due to returning office crowds. Still, suburban malls should be resilient, as more firms announce permanent hybrid work arrangements.
Although a recovery in sales could return confidence to tenants, weaker demand and lower rents may persist for some time as tenants rationalise costs. Dominant central and suburban malls which are located near transport nodes are likely to be prioritised when retailers consolidate stores.
Office
With more firms rolling out permanent hybrid work arrangements, more right-sizing is expected over the next 2-3 years when leases come due. We think that office rents will remain under pressure in 2021, even though oversupply can be mitigated by office stock taken offline for redevelopment in 2021/22.
Demand is expected to come from displaced office tenants, flexible-space operators, Chinese tech companies and non-bank financial services. Flexible space should feature more prominently as firms adopt flexible, low-capex, interim solutions while hashing out their space needs.
Industrial
The outlook for data centres, hi-spec and business parks remains favourable. These asset classes are supported by a growing technology sector and low supply under construction. In the near term, rents may still be under pressure as businesses remain cautious.
Warehouses have been benefitting from higher demand from logistics players, given a higher percentage of online sales. With increased e-commerce penetration, we expect demand for warehouse space to heighten further.
The leasing of light industrial factory space could be muted, as global demand is still on the mend. The outlook for factory assets remains challenging given considerable new supply. Key performance indicators have been a mixed bag. Manufacturing output rose by 17.9% YoY in November, up from -0.8% YoY in October. The PMI posted its sixth consecutive month of expansion in December but NODX landed in the red at -4.9%.
Hospitality
RevPAR dipped 2.3% MoM in November, as higher average daily rates (ADRs) were wiped out by lower occupancy. Industry occupancy of 53.8% was 35.1ppts lower YoY. The sector was weighed down by the mid-tier and economy segments.
The outlook for December through February looks more optimistic, as S$320mn of SingapoRediscover vouchers are eligible for redemption at selected hotels, attractions and tours from 1 December 2020 to 30 June 2021. An online poll conducted by The Sunday Times in December found that 60% of the respondents were willing to top up their vouchers when using them. About 51.3% of the respondents indicated that they would spend their vouchers on staycations and/or local attractions and tours.
Tourist receipts amounted to S$27.7bn in 2019, of which S$5.5bn was attributed to accommodation. In comparison, Singapore residents spent S$36.5bn on overseas travel in that year. As international borders remain closed, some residents may spend part of their travel budgets on staycations. While it is unlikely that the domestic market can make up for the shortfall in tourist spending, the SingapoRediscover Vouchers should provide a much-needed reprieve for occupancy and ADRs.
INVESTMENT RECOMMENDATIONS
Maintain OVERWEIGHT on SREITs
REITs have resumed their quest for acquisitions, spurred by low interest rates and share-price recoveries. The establishment of travel channels with more countries is expected to pave the way for more overseas asset acquisition negotiations. With interest rates expected to remain low, share prices recovering and confidence returning to capital markets, there could be more M&A opportunities for the REITs.
Sub-sector preferences: Retail and Hospitality
We believe that the Retail and Hospitality sub-sectors will be the first to benefit from further economic reopening. The rollout of vaccines has provided a clearer recovery timeline and is expected to lift the price overhang for Hospitality REITs.
Retail (OVERWEIGHT). While weaker demand and lower rents are expected as tenants rationalise costs in the near term, F&B sales could be lifted by a relaxation of group size and capacity restrictions under Phase 3 reopening. Central malls are expected to enjoy a more pronounced recovery due to returning office crowds. Suburban malls should, nevertheless, stay resilient, as more firms announce permanent hybrid work arrangements. Dominant central and suburban malls which are located near transport nodes are likely to be prioritised when retailers consolidate stores. Prefer Frasers Centrepoint Trust (FCT SP, BUY, TP S$2.79) due to resilient, necessity-driven spending at suburban malls and growth in suburban catchments.
Office (NEUTRAL). Lacklustre demand and downsizing from the adoption of permanent hybrid work arrangements will likely result in oversupply in the office market in the near term, despite mitigation from office stock taken offline for redevelopment. Rents could remain under pressure. Still, the long-term outlook of the office market is optimistic as Singapore remains one of the top cities for the location of regional headquarters. This is largely attributed to its political and operational stability, business-friendly policies and educated workforce. Prefer Manulife US REIT (MUST SP, BUY, TP US$0.92) for its defensive portfolio with a long WALE of 5.7 years and lower downsizing risks in the mature, remote-working-adjusted US office market.
Industrial (NEUTRAL). The outlook for data centres, hi-spec and business parks remains favourable. These asset classes are supported by a growing technology sector and low supply under construction. Warehouses have been benefitting from higher demand from logistics players, given a higher percentage of online sales. The leasing of light industrial factory space may be muted as global demand is still on the mend. The outlook for factory assets remains challenging given considerable new supply. Top pick is Ascendas REIT (AREIT SP, ACCUMULATE, TP S$3.61) for its diversified portfolio. AREIT is also positioned to capture new economy sectors. Some 93% of its assets are hi-spec, logistics and business park assets catering to the biomedical, hi-tech, e-commerce and knowledge-driven industries.
Hospitality (OVERWEIGHT). We believe the hospitality sector faces a long road to recovery. We estimate that the industry may only return to pre-COVID levels in 2023/24, in line with the Singapore Tourism Board's expectation of a 3-5-year recovery timeline. We think that international borders will remain largely closed in 1H21. Economies with sizeable domestic demand such as China, the UK, France, Australia and the US will be the first to recover, in our view. Business travel is likely to be less frequent, as companies may elect to hold business meetings virtually to save costs.
On the other hand, some MICE demand is expected to return, as certain aspects of business engagement and networking cannot be replicated by virtual meetings. Also, digital adoption has resulted in leaner cost and operating structures for hoteliers, resulting in higher profit margins. COVID-19 has, moreover, set new historical lows for the sector. This may result in lower minimum rents in future master lease negotiations. Hospitality counters are still trading at depressed levels and should be positioned for a recovery. High efficacy rates of approved Moderna and Pfizer-BioNTech vaccines and high participation in the COVAX* programme have lifted the cloud of uncertainty and provided a more visible timeline to recovery. This should lift the price overhang for Hospitality REITs. Prefer Ascott Residence Trust (ART SP, BUY, TP S$1.15) as we expect it to make a faster recovery from its 74% exposure to countries with large domestic markets.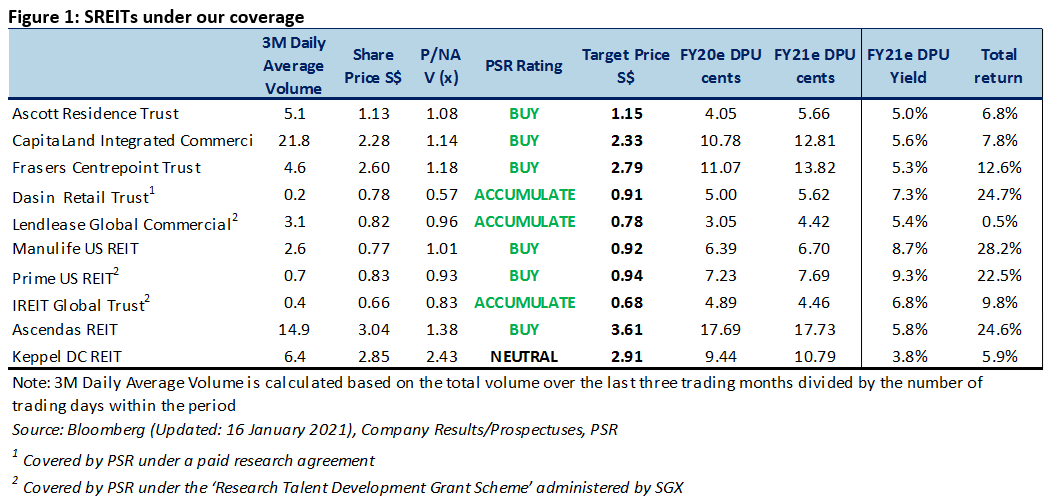 Source: Phillip Capital Research - 18 Jan 2021
Author: traderhub8
| Publish date: Mon, 18 Jan 2021, 11:12 AM

---
A stronger U.S. dollar is proving to be an early test for emerging-market currencies on the eve of Joe Biden's inauguration. The greenback gained over the last two weeks, buoyed by the president-elect's proposal for a $1.9 trillion stimulus package. Most developing-nation currencies have slumped in that span, and history suggests further pain may be in store. Although the MSCI's gauge of emerging-market currencies ended 2020 with its biggest quarterly advance in a decade, the backdrop of rising cases, renewed lockdowns and vaccine concerns threatens to reverse those flows.
Janet Yellen, President-elect Joe Biden's pick to take over the US Treasury, is expected to affirm the United States' commitment to market-determined foreign exchange rates when she testifies on Capitol Hill on Tuesday, the Wall Street Journal reported on Sunday. The Treasury secretary nominee will make clear at a Senate confirmation hearing that the United States does not seek a weaker dollar, the newspaper reported, citing Biden transition officials familiar with her preparation for the session.
France and Russia prepared to beef up their coronavirus inoculation programmes next week, even as authorities sought to allay concerns about supplies of the vaccines while the global pandemic shows no sign of being brought under control. With infections surging past 94 million and more than two million deaths - and Europe among the hardest-hit regions - France and Russia were hoping to shift their vaccination programmes into a higher gear from Monday.
The Trump administration notified Huawei suppliers, including chipmaker Intel, that it is revoking certain licenses to sell to the Chinese company and intends to reject dozens of other applications to supply the telecommunications firm, people familiar with the matter told Reuters. The action - likely the last against Huawei Technologies under Republican President Donald Trump - is the latest in a long-running effort to weaken the world's largest telecommunications equipment maker, which it says is a threat to US national security and foreign policy interests.
About a third of the residential units offered at Normanton Park were sold at an average price of S$1,750 per square foot on the first day of sales, developer Kingsford Huray Development said on Sunday afternoon. Of the 600 residential units sold, 80 per cent are one- and two-bedroom units, it said in a press statement. Three commercial units were also taken up. The development, which is expected to obtain Temporary Occupation Permit (TOP) in 2023, consists of 1,840 apartment units, 22 two-storey strata terraces and eight commercial units.
Parler, the social network popular among conservatives, could return to Apple's App Store if it changes how it moderates posts on the platform, the tech giant's CEO Tim Cook said Sunday. Apple suspended all downloads of the Parler app following the attack on the US Capitol on January 6, citing postings on the platform that could incite further violence. Google and Amazon also cut ties with the company.
Source: SGX Masnet, The Business Times, Bloomberg, Channel NewsAsia, Reuters, PSR
Author: traderhub8
| Publish date: Fri, 15 Jan 2021, 9:27 AM

---
U.S. equity futures edged higher and Treasury contracts were steady as investors scrutinized President-elect Joe Biden's $1.9 trillion Covid-19 relief plan. Asian stocks looked set for a muted start. S&P 500 futures nudged up after the benchmark surrendered gains late in the session to end modestly lower. Technology, communication services and consumer discretionary sectors were the biggest losers. After the market closed, the details of Biden's proposal were released, including a wave of new spending, more direct payments to households, an expansion of jobless benefits and an enlargement of vaccinations and virus-testing programs.
Futures were flat in Hong Kong and Japan, while Australian shares opened higher. Treasury yields rose in the Thursday session and the dollar weakened.
Mainboard-listed Yangzijiang Shipbuilding (Holdings) has inked a deal to set up a liquefied natural gas (LNG) supply chain joint venture, the board said on Thursday. Its wholly-owned Yangzijiang Terminals China Holding subsidiary will cough up six million yuan (S$1.23 million) for a 30 per cent stake in the three-way joint venture. Joint-venture company Jiangsu Run Yuan Energy Co will build LNG storage facilities, undertake trade in natural gas and carry out businesses in other parts of the LNG supply chain, said the bourse filing.
The financials of Mainboard-listed property player Lian Beng Group took a hit in the first half-year, as Covid-19 restrictions hammered the construction segment. Net profit fell 5.2 per cent year on year to S$17.6 million for the six months to Nov 30, 2020, while revenue tumbled by 36.6 per cent to S$197.5 million. The drag came on work suspension during the circuit-breaker period, as well as labour supply disruptions, its results released on Thursday indicated.
The Singapore High Court on Thursday granted a three-month extension on the judicial management order to restructure Singapore's troubled oil trader Hin Leong Trading (HLT), subject to certain conditions, sources said. This follows an application by HLT's judicial managers (JMs) for more time, as the judicial management order granted at the beginning of August last year was set to expire on Feb 3, 2021.
Seventeen parties are interested in the embattled Hyflux and have signed non-disclosure agreements (NDAs) to explore investment, judicial managers (JMs) Borrelli Walsh told perpetual and preference share, as well as medium-term note holders on Thursday. These parties include previously known ones such as American fund manager Strategic Growth Investments (SGI), Spain-based FCC Aqualia and Middle Eastern utility firm Utico. Pison, backed by Indonesian magnate Johnny Widjaja, and Singapore-listed developer OUE have pulled out.
Catalist-listed SLB Development's earnings held steady in the first half-year on profit contributions from its associates, according to unaudited results on Thursday. Net profit ticked up by 0.9 per cent year on year, to S$5.54 million for the six months to Nov 30, 2020, even as revenue slipped 4.9 per cent to S$19.0 million on a slowdown in construction work amid Covid-19 safe management measures at project sites. The bottom line was buoyed by the share of results from joint ventures and associates, which came to S$1.54 million, reversing the loss of S$592,000 previously.
KrisEnergy creditors approved its debt restructuring in a court meeting on Thursday, the upstream oil-and-gas company announced in a bourse filing. The company "will now press ahead" with the last two steps of its four-stage restructuring, which involve zero coupon note holders and shareholders, said chief executive Kelvin Tang in the statement. The creditor vote was the second stage, following an earlier move to extend KrisEnergy's revolving credit facility maturity date to June 30, 2024.
Source: SGX Masnet, The Business Times, Bloomberg, Channel NewsAsia, Reuters, PSR