Trader Hub

Author: traderhub8 | Latest post: Fri, 16 Jul 2021, 12:06 PM

Trader news and research articles
Author: traderhub8
| Publish date: Fri, 16 Jul 2021, 12:06 PM

---
1QFY22 PATMI beat, at 30% of our FY22e forecast as ASPs were higher than expected. Revenue was up 144% YoY, PATMI up 234% YoY.
1QFY22 sales volume increased 61.6% YoY. Last year, mining was halted in 1QFY21 by movement controls, for 1.5 months. PATMI more than doubled YoY from higher selling prices and gross margins.
Maintain BUY with a higher TP of S$0.81, up from S$0.64. We raise FY22e PATMI by 41%, factoring in stronger iron-ore prices. We raise ASPs by 37% to US$140/DMT. Our TP remains pegged to the industry average, which is now 10x FY22e PE, down from 11x previously. Catalysts are expected from an increase in production and strong iron-ore prices.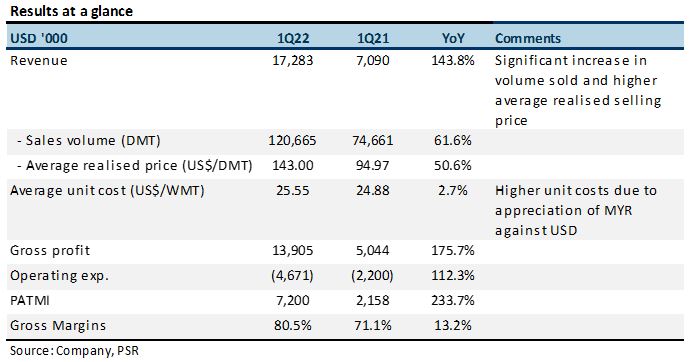 The Positives
+ Steady increase in volume. Iron-ore concentrates sold increased 61.6% YoY in 1QFY22. This lifted revenue by 143.8%. QoQ, volume sold and revenue were down 19.2% and 0.3% respectively, mainly due to seasonality.
+ Spike in margins. Gross profits almost tripled from US$5.0mn in 1QFY21 to US$13.9mn, with gross profit margins up from 71.1% to 80.5%. This was achieved with higher realised ASPs for iron-ore concentrates, which went from US$94.97/DMT in 1QFY21 to US$143.00/DMT. Unit costs climbed from US$24.88/WMT to US$25.55/WMT, mainly due to RM strength against the US$.
+ Operating cash flow increased. Operating cash flow catapulted from US$1.6mn in 1QFY21 to US$9.3mn in 1QFY22, with the help of higher profits before tax. FCF also increased from US$1.4mn in to US$9.2mn.
The Negative
– From net cash to net debt. Bank borrowings increased to US$22.8m for financing its acquisition of Fortress Mengapur in January 2021. From net cash of US$9.4mn in 1QFY21, the company booked net debt of US$10mn in 1QFY22. Still, we are expecting a net-cash position for the full year of FY22e, on the back of higher cash from higher net profit on a full-year basis.
Outlook
Demand for iron ores. According to the World Steel Association, global crude steel production increased 13% to 826.2mn tonnes in the first five months of this year. This spurred demand for iron ores. World Steel forecasts that steel demand will grow by 5.8% in 2021 to 1.874bn tonnes, after dipping 0.2% in 2020, and further grow by 2.7% in 2022 to 1.924.6bn tonnes.
China has been struggling to cut steel production in 2021 without much success. According to World Steel, its steel production in the first five months 2021 rose 11.8% YoY to 464.6mn tonnes. Production was 99.5mn tonnes in May 2021, up 7.8% YoY.
There are also uncertainties in global iron-ore supply. In 1Q21, major Brazilian iron-ore producer, Vale, recorded 28.4% QoQ decline in iron ore sales, due to operational issues and maintenance at its S11D mine.
As such, we expect prices to remain above US$140/DMT. Current prices are about US$200/DMT.
Other updates
MCO 3.0. Malaysia was placed under MCO 3.0 from 1 June to 28 June 2021. This affected mining at FML's Bukit Besi mine. Thereafter, its government extended MCO indefinitely until certain benchmarks are met.
On 5 July 2021, certain states such as Terengganu and Pahang, where FML's mines are located, moved to Phase 2 of a 4-phase National Recovery Plan. Parameters for transitioning to the different phases of the National Recovery Plan will be applied at the state level, to allow individual states where local Covid cases have been stable to transition earlier.
With this, mining at Bukit Besi resumed at an approved worker capacity of 80% on 5 July 2021. Mining has since gradually returned to normalcy.
Fortress Mengapur. FML maintains its target of commencing iron-ore production at Mengapur by end-FY22e. Contributions from Mengapur have not been factored in.
Maintain BUY with higher TP of S$0.81, from S$0.64
We have a higher TP of S$0.81, up from S$0.64. Our FY22e PATMI has been raised by 41% as we incorporate stronger iron-ore prices. We expect FML's production to increase 10% in FY22e and iron ore prices (Platts Iron Ore Index, IODEX 65% Fe CFR North China) to remain elevated. Our FY22e iron-ore ASP forecast is US$140/DMT, up from US$102/DMT. Spot prices are currently US$210/DMT.
We continue to peg the stock at the industry average, which is now 10x FY22e PE, down from 11x previously. Maintain BUY with catalysts expected from an increase in production and strong iron-ore prices.
Source: Phillip Capital Research - 16 Jul 2021
Author: traderhub8
| Publish date: Fri, 16 Jul 2021, 12:05 PM

---
One of the largest recruitment agencies in Asia-Pac ex-Japan with an asset-light, net-cash (S$332mn) and high-return (FY21e ex-cash ROE of 152%) business.
Economic recovery to revive employment in key service sectors. Higher contract volumes and rates expected for both permanent recruitment (PR) and flexible staffing (FS) solutions.
Trades at 16.2x P/E against peer average of 24.4x, even though it is the most profitable employment agency in town. After net cash of S$332mn, it trades at ex-cash P/Es of 9.2x/8.9x on FY21e/22e EPS. We initiate coverage with BUY and a TP of S$1.00, set at 14x FY21e ex-cash P/E.
Company Background
Listed on the main board of the SGX on 16 June 2017, HRnetGroup is the largest recruitment agency in Asia, ex-Japan. It has over 900 consultants in 13 Asian cities. Singapore is its stronghold, contributing 54.5% to its FY20 gross profit. PR generated 56% of its FY20 gross profit and FS, 43%. Other services include payroll processing and outsourcing of recruitment processes.
Investment Merits
Most profitable of them all. As a human-resource business, its operations do not require much PPE. Its 152% ex-cash ROE can be attributed to strong income generation built on scale and reputable brands, led by an experienced board and management team. According to Frost & Sullivan, HRnet is the largest employment agency in Singapore with a 20.5% market share based on 2015 revenue. In a recent ACRA compilation, HRnet remained the largest and most profitable recruitment service player in Singapore.
High barriers to entry for FS and scale barriers for PR. Complementing each other, PR performs well during economic expansion while FS protects HRnet during downturns. Creating scale in both trades is not easy. FS requires a lot of liquid capital. Contract employees are frequently paid upfront before clients reimburse recruitment agencies. A strong balance sheet is therefore required to enter and grow this business. On the other hand, PR faces high barriers to scale. To increase volume, PR firms need to be able to manage and train batches of headhunters effectively. It took HRnet years to find a golden methodology for its PR business.
Turnaround in hiring. In 4Q20 and 1Q21, 18,700 and 17,600 new jobs were created in Singapore, following renewed hiring by the F&B, community, social and personal service industries. HRnet's PR and FS volumes and rates increased, driven by urgent market needs to fill positions left vacant during the pandemic. We expect FY21e bottom line to improve 1.9% YoY, after accounting for easing Covid-19 government grants.
Cash-rich and cheap. HRnet is trading at 16.2x FY21e P/E, significantly lower than its peer average of 24.4x. Stripping out net cash of S$332.2mn which is equivalent to 43% of its market cap, it trades at ex-cash P/Es of 9.2x/8.9x on FY21e/22e EPS. A strong cash hoard positions HRnet for any earnings-accretive North Asian opportunities that may come its way.
We initiate coverage with a BUY rating. Our target price of S$1.00 is set at 14x FY21e ex-cash P/E (net of interest income after tax), given that HRnet has been generating superior ROEs than most regional and global recruitment peers. Historical high of HRnet's ex-cash P/E is c.14x.
REVENUE
HRnet has two main businesses: PR, which formed 17% of its FY20 revenue and FS, which formed 82%. Other services include payroll processing and outsourcing of recruitment processes (1%). HRnet has clients spanning industries such as financial institutions, information technology, retail and consumer, manufacturing and government. Its top 10 and 5 clients contributed 22.0% and 14.8% to its FY20 revenue respectively.
Source: Phillip Capital Research - 16 Jul 2021
Author: traderhub8
| Publish date: Thu, 8 Jul 2021, 9:12 AM

---
Singapore loans were up 0.2% YoY in May. Business loans contracted for ninth straight month by 0.5% YoY. Consumer loans were up for 10th straight month, by 0.3% YoY, aided by housing.
MAS is assessing whether to extend current dividend restrictions on banks. We continue to see the potential for a removal of the dividend cap.
Maintain OVERWEIGHT. Loans remain on path of recovery on stable interest rates. Catalysts to come from a relaxation of dividend caps on banks. We believe MAS could ease the dividend cap as Singapore banks have kept sufficient capital buffers. We prefer DBS (DBS SP, ACCUMULATE, TP: S$31.40) for sector exposure on account of its wealth-management and investment banking franchises.
Local lending rates rebounded in June
Interest rates reversed their decline in May, with 3M-SIBOR and 3M-SOR recovering to 0.43% and 0.24% respectively in June as Singapore transitions out of Phase 2 (Heightened Alert). Current 3M-SIBOR is 1bps higher than the 1Q21 average of 0.42%. 3M-SOR is 2 bps lower than its 1Q21 average of 0.26% (Figure 1).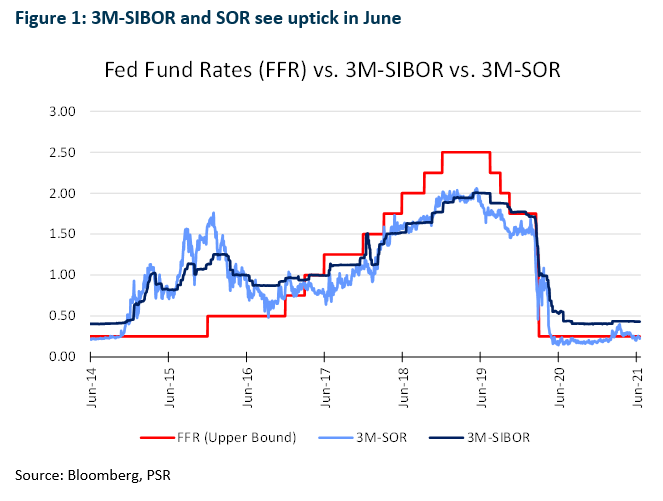 Stress tests on banks for potential lifting of dividend cap
The MAS is running additional stress tests on the local banks to assess whether it is necessary to extend current dividend restrictions on them. It is in close discussions with the banks on their capital management plans and will be advising them on its position "very shortly".
We believe MAS will lift its dividend cap as banks had made significant provisions in FY2020. Earlier concerns that defaults among weaker corporates could strain their capital ratios have not materialised. Systemically-important domestic banks have CET-1 ratio at over 14%, which are higher than their pre-COVID levels. With total allowance coverage over 30% above MAS' regulatory limit, we believe the central bank could lift its dividend cap.
Source: Phillip Capital Research - 8 Jul 2021
Author: traderhub8
| Publish date: Wed, 30 Jun 2021, 2:55 PM

---
FTSE S-REIT Index inched up 2.9ppts in June, narrowing its gap with the STI and FTSE ST Real Estate Holding and Development Index. All sub-sectors in the green, led by Hospitality (+3.5%).
Dividend yield spread of 249bps is -1.4SD of 10-year average. Deal momentum persisted. Near-term interest rates still below 5- and 10-year historical levels, supportive of acquisitions.
Remain OVERWEIGHT with selective sector preferences. Catalysts expected from pick-up in economy. SREITs expected to resume DPU growth, potentially delivering FY21e DPU yields of 3.9-8.6%. Prefer Retail and Industrial. Top picks are Manulife US REIT (MUST SP, BUY, TP US$0.84) and Ascendas REIT (AREIT SP, BUY, TP S$3.65).
SECTOR ROUND-UP
Deal momentum spilled into June with hospitality and retail REITs also getting into the action. Ascott Residence Trust (ART SP, Accumulate, S$1.17) acquired three Japan rental-housing assets for S$85.2mn, or an EBITDA yield of 4%. It also bought a 45% stake in a student accommodation in South Carolina, US. The remaining 45%/10% stakes will be held by sponsor Ascott Limited (not listed) and an unnamed US student-housing developer. The development costs S$146.2mn and carries an EBITDA yield of 6.2%. Elsewhere, Lendlease Global REIT (LREIT SP, Accumulate, S$0.82) will raise its holding in integrated office and retail property, JEM, from 3.75% to 31.8%. Prime US REIT snapped up two office towers in San Diego and Florida for US$245.5mn.
NYSE-listed Digital Realty Trust Inc (DLR US, Not Rated) is evaluating a data-centre REIT IPO in Singapore, potentially by year-end. The IPO could raise US$300-400mn, backed by a geographically diversified portfolio of 10 assets. This brings the number of potential REIT IPOs in 2021 to three. City Developments (CIT SP, Buy, S$10.68) and unlisted Mapletree Investments are also mulling REIT IPOs.
As of 25 June 2021, 53% of the Singapore population had received at least one dose of COVID-19 vaccines. Another 36% had received two doses. The government has ramped up vaccination capabilities. From 26 June, Singapore will be able to administer up to 80,000 doses daily, a 70% increase from its previous 47,000. Singapore aims to vaccinate two-thirds of its population fully by National Day on 9 August. It is, moreover, considering allowing larger gatherings and COVID-19 testing in lieu of stay-home notice for vaccinated travellers. Vaccinations so far appear to be effective in containing rates of infection, transmissions and the severity of disease in individuals who contract the virus after vaccination.
Retail
Shopper footfall thinned after Phase 2 Heightened Alert on 16 May 2021. Restrictions included a ban on dining in, work-from-home as the default and two unique household visitors per day. These measures hurt downtown malls more than heartland malls, which have the benefit of close proximity to household catchments. While group sizes have been increased from two to five since 14 June and 2-pax in-restaurant dining has been allowed since 21 June, the uplift is expected to be muted as lunch and dinner gatherings involving more than 2 persons will likely take place at home.
The government has enhanced its Job Supports Scheme to help retailers affected by Phase 2 Heightened Alert. From 16 May to 13 June 2021, F&B and gyms will receive 50% of wage support. Retail stores, cinema operators and affected personal care services will be given 30%.
As part of Phase 3 Heightened Alert, F&B and gym operators will receive 10% wage support from 21 to 30 June 2021.
May's retail sales index was -7.3% below 2019 levels. The F&B index was down 17.5%. Consumer spending has normalised at these levels since the pandemic. The rental index slipped 16.5% YoY in 1Q21 but vacancy improved to 8%, -0.5ppt shy of 1Q20 levels. We think that retail rents have bottomed. Still, given a 3-year rent cycle, negative reversions in the mid-single to mid-double digits can be expected as leases expire over the next 12 months.
During the pandemic, major landlords had established e-store and food-delivery platforms to provide tenants with online channels to capture retail spending. Support from landlords will be more targeted and operational going forward, instead of outright rental rebates. It may come in the form of advertising, promotions and waivers of listing, delivery and service charges for purchases made through their e-commerce platforms. The support is expected to lower sales and fulfilment costs for tenants as well as help malls keep consumer spending within their ecosystems.
Hospitality
May's hotel RevPAR fell 23% MoM on cancellations and postponements due to the two guest limits imposed during the Phase 2 Heightened Alert. YoY, it grew 58% from a low base. RevPAR of S$61 was 68% below the 2019 average as borders remained closed to leisure travel. Singapore hoteliers will receive 30% wage support from April to June 2021, which will taper off to 10% from July to September 2021.
Near-term catalysts for the sector could include a substitution of COVID-19 testing for stay-home notice for vaccinated travellers. This is expected to provide a shot in the arm for business travel.
Source: Phillip Capital Research - 30 Jun 2021
Author: traderhub8
| Publish date: Fri, 25 Jun 2021, 2:39 PM

---
Group takes another step toward final resolution for Keppel O&M.
Keppel to potentially receive up to S$500mn for its O&M legacy assets, which will be monetised over time.
Proposed transactions, if successful, will allow investors to benefit from merged entity's revenue and cost synergies.
Maintain BUY with higher SOTP TP of S$6.20 from S$6.12 as we believe the better clarity on its O&M division should narrow the O&M divisions discount to its book value, with a 10% holding-company discount. Our TP translate to about 1.0x FY21e book value, a slight discount to its 5-year average of 1.05x. Catalysts expected from contract wins and a successful resolution to its O&M unit.
The news
Keppel Corporation and Sembcorp Marine have entered into a non-binding MOU for exclusive negotiations on combining Keppel O&M and Sembcorp Marine. It is envisaged that Keppel and the merged entity will enter into a 50:50 joint venture.
Keppel has also signed a non-binding MOU with Kyanite Investment Holdings, a wholly owned subsidiary of Temasek, to sell Keppel O&M's legacy completed and uncompleted rigs and associated receivables to a separate asset company, which would be majority-owned by external investors. Keppel will retain not more than a 20% stake in the asset company as an non-core investment. The external investors, which Kyanite will procure, will hold the balance of at least 80%.
Positives
+ Another step towards final resolution of Keppel O&M. We believe Keppel O&M has been a major overhang for the stock. With an understanding of how a deal on Keppel O&M might be reached, we believe the potential for a re-rating. Keppel expects a definitive agreement on this in 4Q21, with the transaction expected to be completed in 2022.
+ Cash consideration of up to S$500mn and solution for Keppel O&M's legacy assets. If the proposed transaction is successfully completed, Keppel will receive shares in the merged entity and a cash consideration of up to S$500mn. It will be able to recycle this cash into new initiatives such as smart cities, renewables and environmental solutions, which is part of its Vision 2030 plan.
We also expect Keppel's cash flow to improve over time as the external investors to be procured by Kyanite will provide capital for finishing its uncompleted rigs. Keppel's economic exposure to the asset company, currently at S$2.9bn, will be reduced over time, as the rigs are sold or securitised when conditions in the rig chartering market improve.
+ Exposure to synergies and opportunities. Keppel will distribute to shareholders all the merged entity shares that it receives by way of distribution in specie.
This will allow investors to benefit from the merged entity's ability to capitalise on the energy transition to areas such as offshore wind and address opportunities and challenges in the evolving and consolidating offshore & marine industry. Terms of the transaction are under discussion, and the exact exchange ratio is still to be decided.
Outlook
While no definitive agreement has been reached, we view the latest announcement positively as it provides better clarity on the fate of its O&M unit. With the overhang removed, along with the planned divestment of its logistics unit, we believe Keppel will be re-rated.
The proposed transactions are expected to be earnings-accretive for Keppel for the current financial year on a pro-forma basis, although there is no guarantee that it will be completed by this year. The group's net debt will fall as a result of the deconsolidation of Keppel O&M and receipt of a part of the consideration from the merged entity. Distribution in specie of shares in the merged entity will, however, reduce Keppel's shareholders' funds. Overall, net gearing is not expected to be significantly affected following the transactions.
Source: Phillip Capital Research - 25 Jun 2021
Author: traderhub8
| Publish date: Mon, 21 Jun 2021, 2:38 PM

---
Portfolio stable. Slight dip in occupancy from 91.7% to 90.6% due to non-renewals but reversions positive at 3.0%. Singapore assets improving.
Demand remains muted as companies exercise caution but tenants also avoid relocation costs, leading to higher retention rates for AREIT. Electronics (29.3%) and Biomedical (34.0%) sectors main sources of demand in 1Q21.
Reiterate BUY. DDM TP (COE 6%) raised from S$3.64 to S$3.65. We adjust FY21e/22e DPU by -0.5%/0.8% to reflect acquisition of remaining stake in Galaxis and divestment of three Australian logistics assets. Forecast FY21e DPU growth of 9.2% as acquisitions and redevelopment/AEI start contributing. AREIT remains our top pick in the sector for its scale and diversification.
1Q21 update
+ Positive
+ Reversions at 3.0%. US and Singapore reversions were 6.2%and 2.9% respectively. Singapore reversions were mixed, with positive reversions of 5.6%, 2.8% and 0.8% for logistics, business parks and light industrials respectively. Reversions for high-spec and integrated development assets were -0.9% and -2.7%.
– Negative
– 1Q21 portfolio occupancy slid QoQ from 91.7% to 90.6%, under non-renewals in Australia and Singapore. Singapore occupancy fell QoQ from 88.4% to 86.9% on the back of a 14.9ppt decline at 138 Depot Road and 0% occupancy at TÜV SÜD PSB Building which will be redeveloped (4Q21: 100%). Australia's occupancy shed 2.5ppts to 94.9% following a non-renewal at 1 Distribution Place (1Q21 0%, 4Q21 100%). Occupancy is expected to improve as the manager has lined up tenants for the space.
Acquisition of remaining 75% stake in Galaxis from CapitaLand for S$543.8mn
AREIT's acquisition of this stake comes 13 months after its initial 25% investment in Galaxis, acquired from MBK Real Estate Asia Pte Ltd. The agreed property value of S$720mn on a 100% basis represents a 2% discount to the market value of Galaxis and a 14.3% appreciation since AREIT's initial investment (Figure 1). AREIT has raised S$420mn from private placements and will issue an additional S$83mn new units as partial payment to CapitaLand (CAPL SP, Buy, TP S$4.38) for the remaining 75% stake. The issue will increase its share base by 4.2%.
Galaxis is currently held by a private limited company and is subject to a 17% corporate income tax. With full ownership of Galaxis, AREIT can apply for limited liability partnership conversion, allowing unitholders to enjoy tax transparency on the income from Galaxis. Expected DPU accretion on a pro-forma basis, assuming a 6-month conversion approval process, is 0.46%.
AREIT declared a DPS of 5.63 Singapore cents for the period 1 January 2021 to 13 May 2021, forming 35% of our FY21e DPU, broadly in line with our full year forecast.
Source: Phillip Capital Research - 21 Jun 2021