29th January, 2019, 7:13 PM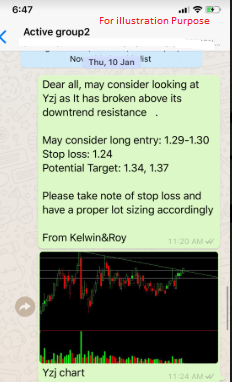 Chart Source: Poemsview 29th Jan 2019
Yzj Shipbldg has seen it moved up steadily in the past two weeks. This is despite our markets going through some rough patches and volatile moments.
Yzj Shipbldg has weathered the storm and slowly inched up to reach our two targets despite weakness in the market.
Our EXCLUSIVE CLIENTS were informed just when Yzj Shipbldg broke out of its downtrend line of around $1.29 level. A nice 6% upside since entry can be seen and we're glad we caught this upside.
As for now, Yzj Shipbldg is sitting on its uptrend line and a break of that might signal more downside. So we're watching that uptrend line closely. The 5ema is also supporting Yzj Shipbldg for now.
What is your trade plane like?
Want to be part of this EXCLUSIVE COMMUNITY to help guide and prepare for market.
Don't wait and CLICK HERE to see how you can join this community and all the exciting perks of being a Client of Kelwin&Roy
Yours
Humbly
Kelwin&Roy
The post YZJ Shipbldg – [ Steady Ship In A Turbulent Market] appeared first on Singaporehumblestock.