21st May, 2023, 4:35 PM
Fist bumps all round as US markets push higher with Nasdaq even breaking above Aug2022 high! We've been bullish on the US markets and have been giving regular updates so hopefully you caught this break! Big tech led the gain as traders/investors are becoming more optimistic about a rate pause. What will happen to the market with a rate pause? Will market trend up or down? We'll be answering that in our upcoming webinar at the end of May. So register HERE if you want to find out what will happen.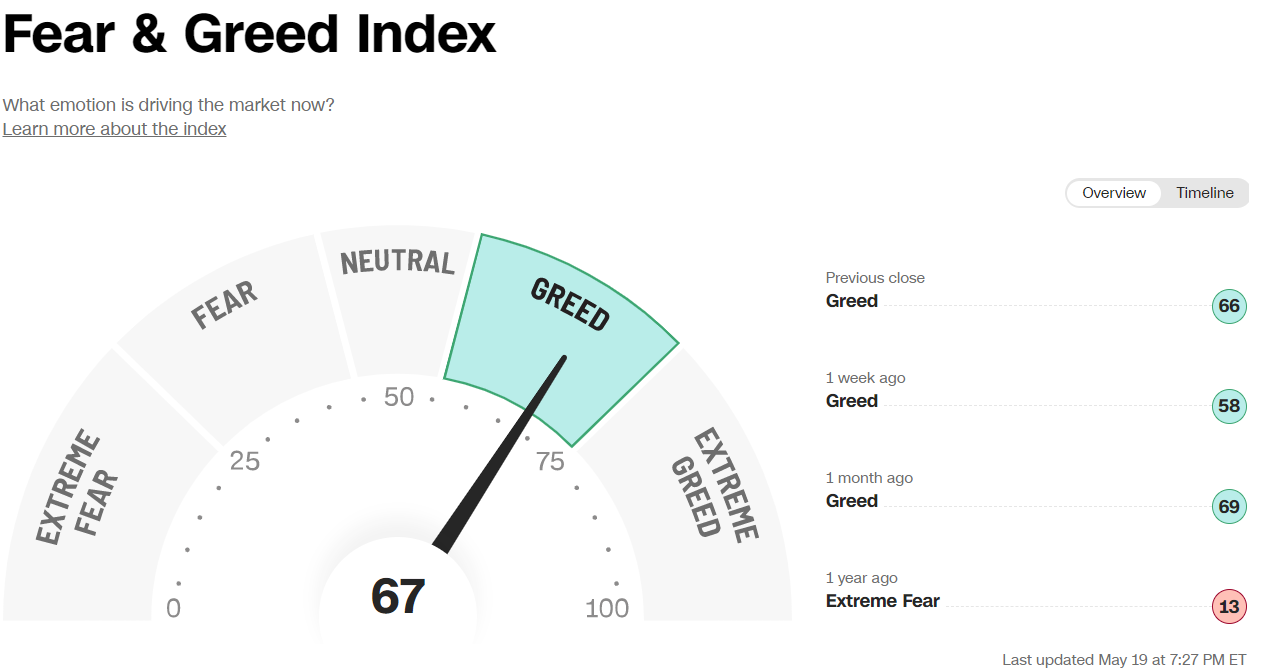 The Greed and Fear index is starting to creep up towards the extreme greed area which is good if you're on the LONG side. When it goes into the extreme greed that's when we need to be alert as market might start being too bullish.
For this week, take note of Fed's statement on Wednesday ( thursday morning local time) to get a confirmation if you're going for a rate pause!
STI

STI came down to our target support before launching a rebound. Short term resistance at 3200 which was the previous support. STI could look to break past this and stage a rebound to around 3260 levels. Banks are also due for a rebound after falling for over 2 weeks. Blue chip stocks like Capitaland Invest, Venture also could see further rebound into the week. =)
HSI
HSI once again the wild beast of the east saw wide swings during the week. It is now in a sideway consolidation. Results from big tech stocks like Baidu, Tencent, Alibaba were a little mixed. Some did better than expected while some came below expectation. Data coming out from China were also not as expected hence some selling came in. G7 summit also added strain as world leaders were looking to clamp down on China's growing power.
With that on the backdrop, we might see weakness in the HSI a test of 19000. We need to see 19k hold before we can start to see another rebound. A rebound back to 20k could be on the cards very soon and we're watching closely for that. Moving averages are already sloping down so more downside might be seen.
Head over to our Facebook to know more about our view on S&P500 and the strongest index for now Nasdaq100.
Yours
Humbly
Kelwin & Roy
The post The Week Ahead May 2023 - [STI, HSI, NASDAQ & S&P] appeared first on Singaporehumblestock.