7th May, 2023, 11:05 PM
It was an exciting week for the markets as Fed increase rates by 0.25% and bringing the Fed Fund rates to 5-5.25% . With this hike, Fed opens door to pause tightening cycle. Is this good news for markets? Our clients have been briefed and know what to do in an event of a pause. =) Want to know what happens when Fed pauses rates? Simply drop us a message.
Big tech results have also reported their results and so far all beating expectations which is a positive sign. Though slowing down which is very much expected, its a positive sign that results are still coming in above analyst expectations.
For this coming week , U.S CPI data on Wednesday and Thursday'sPPI data are among key data markets will be watching on further signs of inflation easing.

Markets are actually holding up well and there is risk on for the markets too. We would start to cautious if the gauge goes to extreme greed.
Could S&P500 finally break that strong resistance 4200? Head over to our Facebook to find out more. Meanwhile, we'll dive more into the Straits Times Index and Hang Seng Index.
STI
Chart source: DZH International Advisor 7th May 2023
STI moved as we expected, moving up to the resistance(3295) as drawn and coming back down. The banks are the main draggers for the STI as interest rates are looking to stabilize meaning that their NIM might start coming down and with recession looming, this could be a double blow for the banks. But once the banks come off to a low enough level, thats when we'll be entering once again.
For this week, STI is being resisted by the 5ema. We're expecting more downside for STI to 3220 level which could then flush out the weak hands.
HSI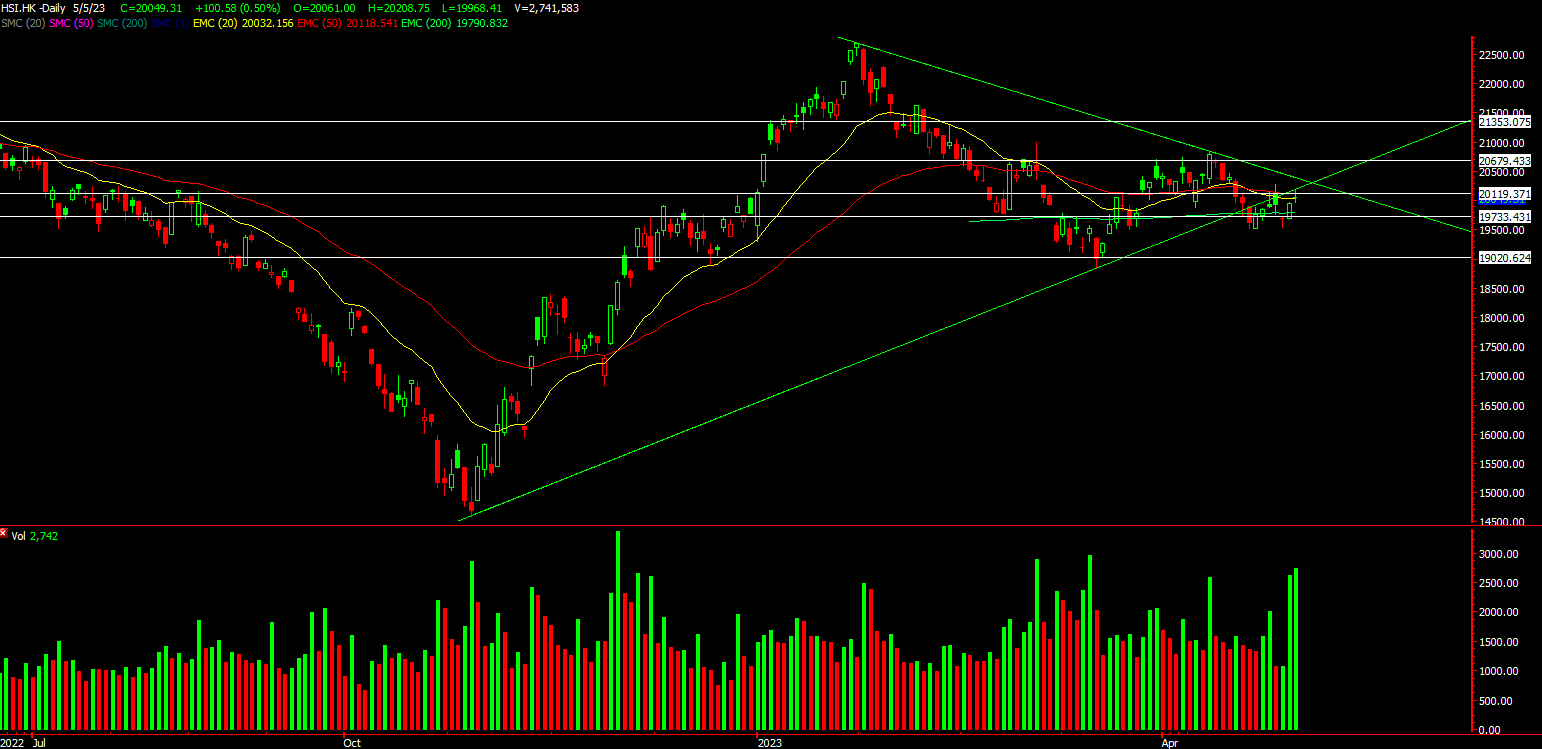 Chart source: DZH International Advisor 7th May 2023
HSI also moving to plan. Pulling back first and then moving up. HSI is more exciting now and we have re-drew some of the lines to have a clearer picture. It is currently at the 20ema resistance of around 20032 level BUT we do think that there is strength for the HSI to breakthrough. We should have seen the bottom for this round and onwards to our target of 20500-20600. Jia you!
Head over to our Facebook to find out more about view on the US markets.
Yours
Humbly
Kelwin & Roy
The post The Week Ahead May 2023 - [STI, HSI, NASDAQ & S&P] appeared first on Singaporehumblestock.