11th October, 2021, 7:28 PM
Chart source: AdvisorXs 11th Oct 2021
Wilmar finally saw life after drifting lower for about 6 months since April. It finally broke its 50ema and from the chart you can see that it hasn't happen for the last 6 months! So when that happen , you can guess what we did! Yup, our EXCLUSIVE CLIENTS were alerted of it! SEE BELOW!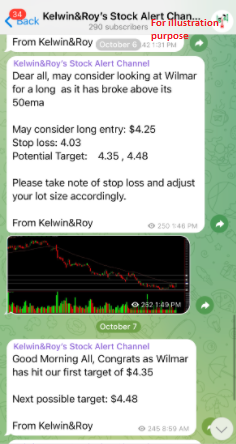 A Gap up happened the next day and we saw a nice 5% upside since our entry! It was very near our SECOND TARGET but it started to retrace. What's healthy is that the fast moving averages are starting to slope up, the 5ema is above the 20ema which might start to indicate a trend reversal. We're still early in a trend reversal so its not all clear skies yet. A retracement back to around $4.20 is fine but if it goes back down to around $4 then that's worrying.
Commodities counters are in play, so hopefully this brings some positive sentiments to Wilmar too.
Don't want to miss out on another trade alert? Want to know what stock we're looking at next?
Then JOIN our growing community and see how you can receive such trade alert sent to your phone.
Yours
Humbly
Kelwin&Roy
The post Wilmar – [ Back In Play? ] appeared first on Singaporehumblestock.