23rd November, 2020, 7:17 AM
Image source: Keppelcorp.com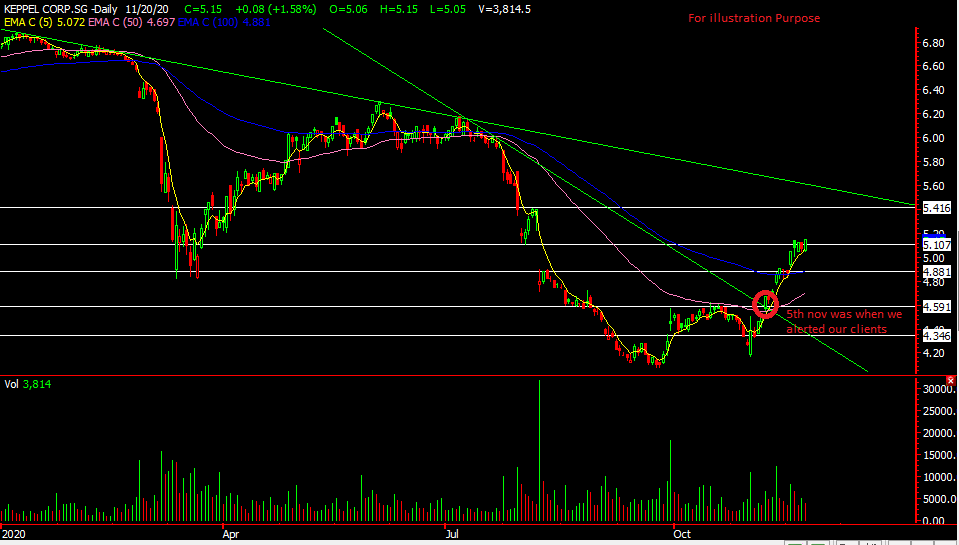 Image Source: Poemsview 23rd Nov 2020
Keppel Corp one of Singapore's stock darling has been on a downtrend for awhile before finding some footing at the double bottom of around $4.08. It was only after it released its recent set of results that actually saw some buying interest. It's also part of the STI component stock hence we can see why STI has been moving up.
The bullish engulfing candle on 30th Oct came with volume which caught our attention but as there was a downtrend line and the 50ema nearby we waited for confirmation. So as Keppel Corp gathered strength we alerted our clients on 5th Nov of this trade analysis. Letting them in on how we analyze our stocks as seen from above. We're glad it hit our second target of $5.10 up 10% since our alert. So what's next for Keppel Corp?
As usual, let's take a look at the chart to see it from a technical perspective. As Keppel Corp has risen a fair bit from the bottom, a break or pullback would be healthy in order for it to continue its upwards move. A pullback to the 5ema of around $4.80 might be an opportunity to scale in if you missed the first round. An eventual target we might see could be the longer term downtrend line of around $5.40+.
Continue to keep watch!
Want to cut through the noise and get such trade alerts straight to your handphone?
Then be our EXCLUSIVE CLIENT and find out how much value is waiting for you!
See you onboard soon!
Yours
Humbly
Kelwin&Roy
The post Keppel Corp – [ Up 10% Since Alert, Next Stop?] appeared first on Singaporehumblestock.