CEO Morning Brief

Author: edgeinvest | Latest post: Fri, 24 Jun 2022, 9:10 AM

TheEdge CEO Morning Brief
Author: edgeinvest
| Publish date: Fri, 24 Jun 2022, 9:10 AM

---
(June 23): Singapore's key inflation gauge accelerated for a third month to the fastest in almost 14 years, bolstering the case for further monetary policy tightening and stronger action to buffer consumers from the drag of rising prices.
The central bank's closely watched core inflation print, which excludes private transport and accommodation, rose by 3.6% from a year ago in May, according to a joint statement on Thursday (June 23) from the Monetary Authority of Singapore (MAS) and the Ministry of Trade and Industry (MTI). That pace, the fastest since December 2008, matches the median estimate in a Bloomberg survey, and compares with 3.3% in April.
The increase was due to inflation across food, services, retail goods and energy, they said in the statement. They also repeated a warning from last month that prices will pick up in the coming months before easing toward year end as external pressures recede, while flagging upside risk from geopolitical or pandemic-related snags.
The Singapore dollar was trading 0.2% weaker at S$1.3896 to the greenback as of 1.46pm local time. The benchmark stock index was 0.7% higher.
The city state's faster inflation underscores the challenge facing policymakers across the region to buffer vulnerable households and businesses still recovering from the pandemic.
In addition to sustained supply chain delays, Covid-19-related lockdowns in China and pricier commodities caused by Russia's invasion of Ukraine, Asian currencies have been sliding as the US Federal Reserve aggressively tightens policy, adding further inflation risks.
Irvin Seah, an economist at DBS Group Holdings Ltd, and Bloomberg Economics' Tamara Mast Henderson said Thursday's inflation figures point toward the possibility of an out-of-cycle policy tightening by the MAS before its next scheduled meeting in October.
"Today's reading has added more impetus for the MAS to act in the upcoming policy meeting" or even before, Seah said.
The MTI and MAS also reiterated their forecasts for the main price measures this year, seeing core at 2.5% to 3.5%, and the broader all-items gauge at 4.5% to 5.5%.
"The way things are tracking, those forecasts will probably need to be revised higher," said Khoon Goh, the head of Asia research at Australia & New Zealand Banking Group. "Further tightening by the MAS will be needed to dampen inflation pressure," he said, adding that he expects that move in October, rather than a unscheduled tightening.
The MAS, which uses foreign exchange rather than interest rates to set policy, has tightened settings three times in the last eight months, including a surprise move in January. As well, the government unveiled a S$1.5 billion (US$1.1 billion or about RM4.76 billion) support package on Tuesday to shield lower-income residents from the impact of higher costs.
"The expected sustained acceleration in core Consumer Price Index (CPI) points to further monetary policy tightening on the horizon," said Selena Ling, the head of treasury research and strategy at Oversea-Chinese Banking Corp (OCBC) in Singapore. "Risks still lean to the upside for now."
A majority of Singaporeans in a survey released this week by DBS Group said they expect inflation pressures to continue for the next year. As well, more than half of Singaporeans think the government is handling inflation "badly", according to a mid-May survey by Blackbox Research Pte Ltd.
The all-items CPI gained 5.6%, compared with a median estimate of 5.5% in a Bloomberg survey, and 5.4% the previous month. That's the fastest since November 2011.
Author: edgeinvest
| Publish date: Wed, 22 Jun 2022, 9:20 AM

---
(June 21): Singapore is joining global peers in proposing laws that will grant regulators the power to order social media services to remove or block online content deemed harmful especially to youths.
The envisioned rules also require social media platforms to implement community standards and content moderation processes to shield users from harmful content, communications minister Josephine Teo said in a Facebook post Monday. The guidelines, which will undergo public consultation starting next month, push social media companies to take greater responsibility for user safety, she said.
Singapore has long defended the need for laws to police content on the internet, saying the island is especially vulnerable to fake news and misinformation campaigns given it's a financial hub with a multi-ethnic population that enjoys widespread internet access. But critics are concerned that recently enacted laws, such as ones barring foreign interference in local politics and governing online falsehoods, could be used to stem dissent or mis-applied because they're too loosely defined. Meta Platforms Inc's Facebook are among those that have expressed concern with Singapore's fake news law.
The Southeast Asian nation joins countries such as Australia, Germany and the UK, which have enacted or proposed online content and safety laws. US internet giants such as Meta and Alphabet Inc are under growing pressure worldwide to curb the spread of misinformation on their globe-spanning platforms, most recently around the coronavirus pandemic. Governments are concerned about their influence in an era where more and more people get their news online and through social media.
Under the proposed laws, examples of content that could be blocked include live-streamed videos of mass shootings and viral social media challenges that encourage young people to perform dangerous stunts, according to the Straits Times. They will also take into account sensitive issues like race and religion, the newspaper added.
"Online safety is a growing concern and Singapore is not alone in seeking stronger safeguards for our people," Teo said in her post. "There is a growing global movement pushing to enhance online safety, recognising harms come along with the good when people engage on social media."
Author: edgeinvest
| Publish date: Fri, 17 Jun 2022, 9:09 AM

---
(June 16): Singapore's NTUC Enterprise Co-operative Ltd is exploring a sale of its retail malls in the city state for about S$4 billion (US$2.9 billion or about RM12.67 billion), according to people with knowledge of the matter.
NTUC is working with a financial adviser on the potential sale and had reached out to some prospective buyers to gauge interest, said the people, who asked not to be identified as the process is private. The properties are held by unit Mercatus Co-operative Ltd, a real estate owner and investor that manages more than S$10 billion of assets, according to its website.
Deliberations are ongoing and there is no guarantee that NTUC will go ahead with a sale, said the people. Representatives of NTUC and Mercatus didn't immediately respond to requests for comment.
Mercatus is one of the largest mall owners by floor space in Singapore, its website shows. It owns and runs the AMK Hub, Jurong Point and Swing By @ Thomson Plaza, and co-owns NEX. The company also has strata-titled assets within retail malls and at sites in various locations across Singapore, and One Marina Boulevard, a 31-storey office building.
Author: edgeinvest
| Publish date: Fri, 10 Jun 2022, 8:32 AM

---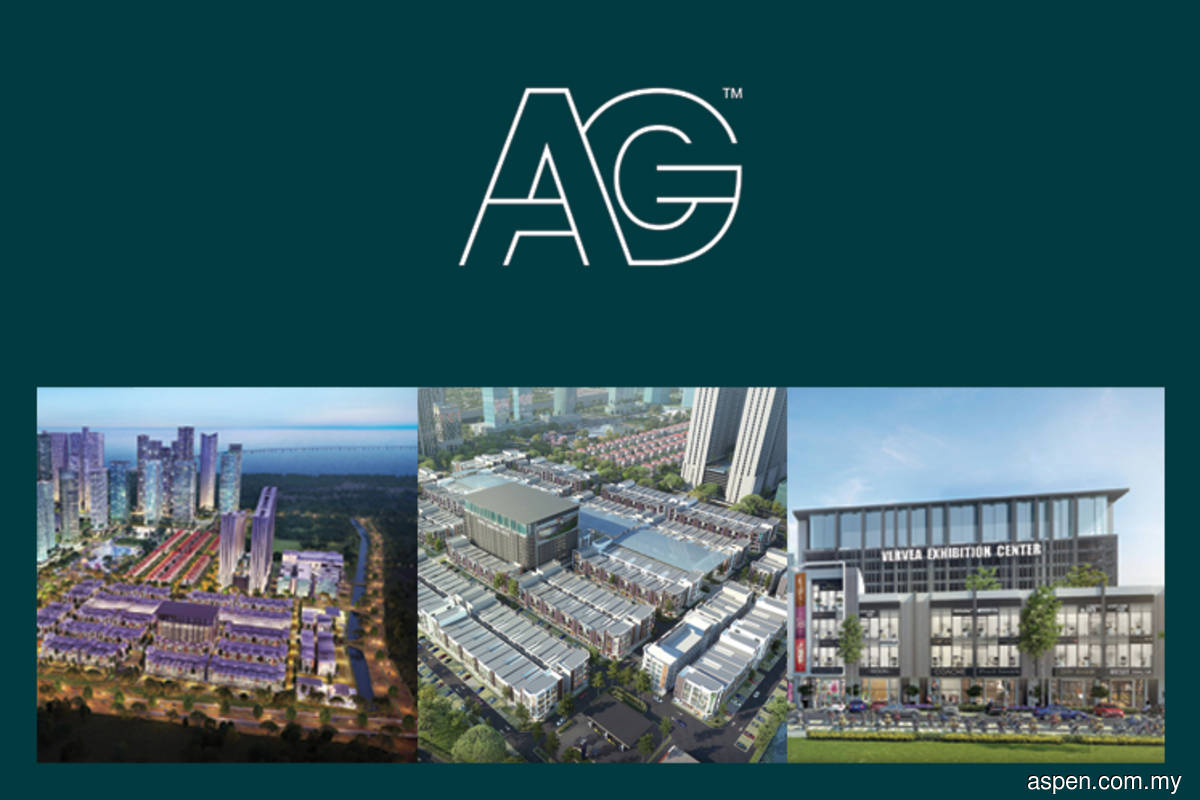 Aspen to scale down its glove-making unit, warns of material impact
KUALA LUMPUR (June 9): Singapore-listed Aspen (Group) Holdings Ltd has announced plans to "significantly" scale down its glove-making unit as it suffers from industry-wide issues from lower demand and falling average selling price (ASP), resulting in it being unable to secure significant new purchase orders from its existing or new customers.
This comes after Aspen Group ventured into glove-making business in August 2020 and set up its glove manufacturing plant at Kulim Hi-Tech Park in Kedah. Its glove unit is operating under the name Aspen Glove Sdn Bhd (AGSB), which is a joint venture between Aspen Group and CMY Capital Sdn Bhd, an investment holding company founded by businessman Tan Sri Chua Ma Yu.
Along with the scaling down of AGSB's operations, the group is also currently evaluating various options on the future direction of AGSB, including recapitalisation, entering into a joint venture and/or disposal of the entire business and assets of AGSB, Aspen's filing with Singapore Exchange showed.
Its president and group chief executive officer Murly Manokharan attributed the move to the increasing headwinds for the medical glove market resulting from a drastic reduction of demand owing mainly to the easing of the Covid-19-induced demand and high inventory levels of medical gloves, heightened competition, global supply chain challenges, higher shipping and logistics costs, high inflation and continuous decline in the ASP of gloves.
He added the glove unit also took a hit from the geopolitical tensions and risks of a global economic recession from the ongoing Russia-Ukraine conflict.
He also cited that further margin compression is expected due to the higher production costs also dragging on its glove-making business.
"Amidst the falling ASP, glove buyers have refrained from stocking up on gloves to avoid locking in purchases at high prices.
"As a result, AGSB has been unable to secure any significant new purchase orders from its existing or new customers," he added.
Against this backdrop, Murly warned that the scaling down of AGSB's operations is expected to have a material impact on the group's results in the current financial year ending June 30, 2022.
In the meantime, he said the group will continue to focus on its property development sector and food and beverage sector which are showing signs of recovery as most countries progressively transition towards endemic management of Covid-19.
However, he cautioned that the recovery of these sectors may be thwarted by the supply chain disruptions which persist, soaring price inflation and fears over a global economic recession.
Aspen Group is a Penang-based property developer. Its flagship project is Aspen Vision City in Batu Kawan, with an estimated gross development value of RM13 billion.
At 10.30am, Aspen Group shares traded unchanged at six cents. Year to date, it has declined 45.45%.
Author: edgeinvest
| Publish date: Thu, 9 Jun 2022, 8:58 AM

---
SINGAPORE (June 8): Singapore-based private securities platform ADDX said it has become the first financial firm in the city-state to recognise cryptocurrency in their assessment of assets of high-net worth clients.
The move underscores the growing acceptance of digital currencies among financial services firms as they seek to tap a wide array of investors.
ADDX, whose backers include Singapore Exchange, said in a statement on Wednesday that it would recognise only cryptocurrencies with a higher market value and would apply discount rates when valuing these assets.
"Cryptocurrencies are here to stay. They no longer exist only on the fringes of wealth and investment conversations," said ADDX CEO Oi-Yee Choo.
"With a large minority of investors owning crypto, it is reasonable for these digital assets to be recognised as a part of one's portfolio – not unlike any other assets that can be valued in the marketplace, such as real estate or equity," Choo said.
Under Singapore's regulations, individuals need to have at least S$300,000 (US$217,991.57) of income from the past 12 months, S$1 million in net financial assets or S$2 million in net personal assets to qualify as accredited investors.
ADDX said it will accept crypto assets only in the category of net personal assets and will apply a 50% discount rate for bitcoin or ether when calculating the value of these holdings and a 10% discount for USDC stable coin.
Cryptocurrencies - once seen as a niche asset for risk-hungry investors - became more popular during the COVID-19 pandemic. While bitcoin's value has recently fallen, the overall crypto market is still valued at US$1.2 trillion.
"In time to come, we are likely to enable customers to fund their investment wallets with cryptocurrencies and to convert their assets between fiat currencies and crypto," said Choo.
Author: edgeinvest
| Publish date: Wed, 1 Jun 2022, 8:58 AM

---
(May 31): Singapore has begun a project to investigate potential uses of asset tokenisation as the city state looks to establish itself as a hub for decentralised finance (DeFi) after several key crypto players left.
"Project Guardian", a collaboration between the Monetary Authority of Singapore (MAS) and the finance industry, will test the feasibility of applications in asset tokenisation and DeFi while working to manage risks to financial stability and integrity, according to a statement from Deputy Prime Minister Heng Swee Keat on Tuesday (May 31).
The project aims to develop and pilot use cases in areas including open, interoperable networks; trust anchors; and institutional-grade DeFi protocols. The first pilot in the project will explore potential DeFi applications in wholesale funding markets. The pilot, led by DBS Bank Ltd, JPMorgan Chase & Co and Marketnode Pte Ltd, involves the creation of a permissioned liquidity pool comprising tokenised bonds and deposits.
The MAS was relatively early among regulators to look at uses of blockchain technology, and Singapore set up a licensing regime a few years ago. However, applicants have been frustrated by the slowness of approvals, and a crypto advertising ban caught the industry off guard.
Crypto players have been enticed particularly to Dubai, where the government is actively wooing companies in the space, with Bybit Fintech Ltd moving its headquarters there from Singapore. Three Arrows also switched to that location and crypto exchange Binance Holdings Ltd shifted many of its operations from Singapore.
"Through practical experimentation with the financial industry and the broader ecosystem, we seek to sharpen our understanding of this rapidly transforming digital assets ecosystem," said Sopnendu Mohanty, the chief fintech officer of the MAS. "The learnings from Project Guardian will serve to inform policy markets on the regulatory guardrails that are needed to harness the benefits of DeFi while mitigating its risks."