NCES We can confidently say "PALM OIL CPO PRICES WILL REMAIN ELEVATED As Far As We Can See NOWDear friends,
Why Palm oil Prices will Remain Very High
These are The FACTS AND THE FIGURES
Palm oil is only of the 4 Major Popular Vegetable Oils in Use. The other three are Sunflower Oil, Canola Oil & Soybean oil
And all are now insufficient on planet earth
1) SUNFLOWER OIL EXPORT STOPPED BY RUSSIAN BLOCKAGE OF UNKRAINE PORTS & RUSSIAN SUNFLOWER OIL IN TURN GOT EMBARGO DUE TO ITS WAR AGAINST UKRAINE
Right now there is very little Sunflower oil left as Export from Ukraine dried up.
Ukraine & Russia both made up of more than 50% of Sunflower oil export
ZAPORIZHZHIA, Ukraine — The price of sunflower oil is soaring round the world, but Roman Tarasevich is stuck with a mountain of sunflower seeds he just can't move.
Ukraine is the world's biggest exporter of sunflower oil, but the Russian invasion has made farming, producing and shipping all but impossible, sending global prices higher and shoppers from London to New Delhi scrambling for limited bottles of the gold-colored liquid commonly used for cooking.
"We're definitely going to take a financial hit, but right now I just don't want to think about it and we're carrying on working," Tarasevich, 46, said, standing by the heap of unsold sunflower seeds at a farm warehouse in Zaporizhzhia in eastern Ukraine.
He appeared pained as he described how he had held onto last year's harvest to negotiate a higher price, but like many Ukrainians was taken by surprise by Russia's Feb. 24 invasion. Ports have since been blocked, fuel is scarce and insurance premiums are sky high.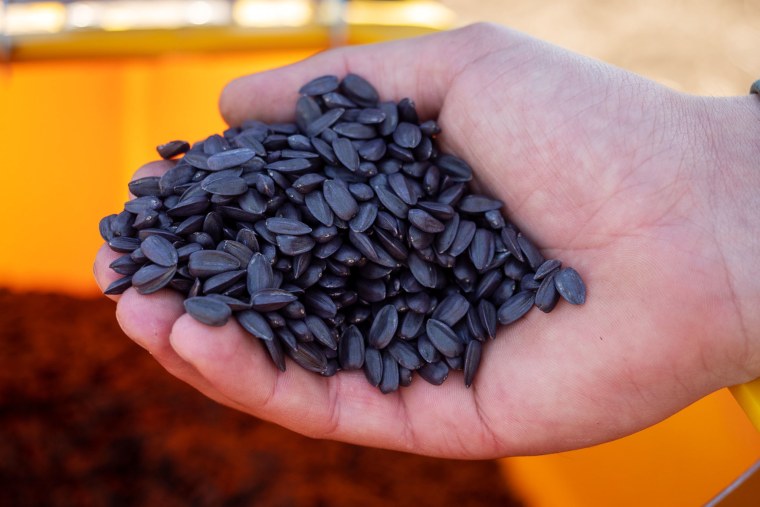 Ukraine is the world's biggest sunflower oil exporter, but Russia's invasion has massively reduced supply, pushing global prices higher and triggering rationing in some countries

Right Now in Ukraine Next Year's Sunflower Crop impacted because Russian Soldiers are all over the place & Ukraine Farmers have fled to Poland & Romania

The short window of planting Sunflower is April to May (Today is 22 May 2022 & once gone will be gone as it will BE TOO LATE TO PLANT

SO CAN EXPECT SUNFLOWER OIL TO BE IN GREAT SHORTFALL RIGHT INTO NEXT YEAR OF 2023

This is NO GUESS WORK. THIS IS REAL LIFE!

WITH SUNFLOWER OIL KNOCKED OUT

We see Canola Oil

2) CANADA CANOLA CROP FAILED DUE TO DROUGHT LAST OCTOBER 2021 SO THERE IS NOT ENOUGH CANOLA OIL TILL NEXT CROP BY YEAR END 2022 IF WEATHER PERMITS

See
Prairie drought drives Canada's canola, wheat production down more than 35%: StatsCan
Curtis McRae opens a half-empty grain bin and picks up a handful of seeds.

"It's not pretty canola," he jokes.

The farmer from St. Andrews, Man., only managed to grow half the canola he expected this year. All of his grain crops suffered as the Prairies were battered by months of drought.

"They got dry enough that they stopped growing. That was something we haven't seen," he said in an interview with CBC last week. "Throughout the season we knew we were in trouble."

The latest numbers from Statistics Canada show he's not alone.

This summer's drought drove down crop yields for the entire country, the federal agency says. Several major grains grown in Western Canada had the largest yearly yield decrease on record.

Canola production fell 35.4 per cent nationally, and wheat production was down 38.5 per cent, according to data released earlier this month.

Soybean production for the country as a whole was down 1.4 per cent, but in Manitoba, where the drought was the most severe, soybean yields fell 17.1 per cent. Barley and oat production also dropped significantly.
Worst drought in '50 to 60 years'
For McRae, whose farm is just north of Winnipeg, the little precipitation that might have saved his thirsty soybean crop arrived as hail, wiping out that crop along with his wheat. He had to claim crop insurance on almost all of his fields.

"This drought is the worst in 50 to 60 years," said Trevor Hadwen, an agroclimate specialist with Agriculture and Agri-food Canada, a federal department that provides advice to farmers to better handle extreme weather.

"It was all the way back to 1961 before we can see something even comparable."

Canada World Biggest Exporter of Canola Oil is Finished Off By Searing Drought (What Indonesia is to Palm oil Canada is to Canola Oil

See How Canola Oil Skyrocketed Upward

Canola oil last Record was USD600. Now Skyrocketed to USD1,170 or up 95%

Cpo last record was Rm4,000

If we benchmark it to Canola oil rise of 95%

Then Rm4,000 X 1.95

= RM7,800

YES RM7,800!! That will be the corresponding price to Canola Oil

SINCE THERE IS VERY LITTLE CANOLA OIL LEFT TILL END 2022 CANOLA OIL PRICES WILL REMAIN VERY HIGH

AND BY PROXY CPO PRICES WILL BE WELL SUPPORTED

NOW WE KNOW CPO PRICES HAVE SHOT UP BY 300% OR MORE

BUT PALM OIL SHARE PRICES ARE STILL VERY LOW IN COMPARISON

THPLANT COST OF CPO PRODUCTION WAS RM1,465

With Increase of Fertilizer we give it Rm1,600 per ton cost

If Cpo is Rm3,200

Profit is 100%

If Cpo Rm4,800

Profit jumps to 200%

If Cpo is Rm6,400

Profit SKYROCKETS TO 300%

THESE ARE THE GROSS FIGURES

ALL PALM OIL COMPANIES ARE NOW ENJOYING THEIR BEST BOOM YEARS RIGHT NOW AS WE TYPE

These is no other Business like Palm oil on earth now!

3) SOYBEAN OIL

USA, BRAZIL, PARAGUAY & ARGENTINA SUFFERED DROUGHT CONDITION AS WELL

Then there is the Huge Demand for Biodisel due to Many Renewable Biodeisel Refineries now Up in USA

Forget about Hengyuan exporting oil to USA as the Shipping Cost now very high. USA can turn to its Soybean for Renewable Energy Needs

See
EIA predicts US biodiesel production will expand in 2022, 2023
The U.S. Energy Information Administration currently predicts U.S. biodiesel production will increase in both 2022 and 2023, according the agency's latest Short-Term Energy Outlook, released Jan. 11. The EIA also expects to see net imports of biobased diesel to expand over the next two years.

According to the EIA, U.S. biodiesel production decreased by 10 percent from 2020 to 2021, averaging an estimated 107,000 barrels per day last year. The agency expects biodiesel production to increase by 7 percent this year, averaging 114,000 barrels per day. Production is expected to increase to 115,000 barrels per day in 2023.

The EIA said forecasted production increases follow the agency's expectation of growing U.S. diesel consumption, along with higher Renewable Fuel Standard targets and the continuation of the $1 per gallon biodiesel and renewable diesel tax credit through December 2022.

SO NO MORE SUNFLOWER OIL: CANOLA OIL IN SCARCITY: SOYBEAN DIVERTED FOR BIODISEL REFINERIES

Now we see Palm Oil

4) PALM OIL DEMAND IN INDONESIA ITSELF IT UP AS ITS POPULATION LOVES TO FRY FOOD PLUS ITS BIODISEL PROGRAM MANDATES PALM OIL TO BE SET ASIDE
Indonesia's B30 biodiesel plan a boost to domestic palm oil consumption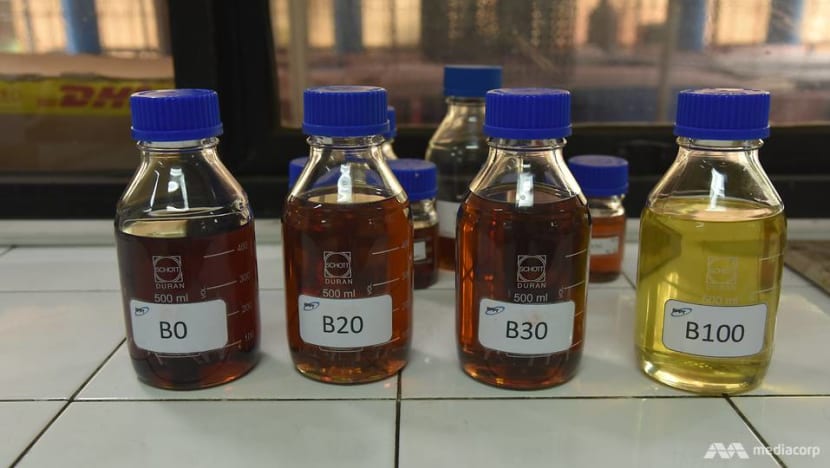 Indonesia will make B30 biofuel mandatory beginning January 2020. (Photo: Kiki Siregar)

SO FROM ALL THE ABOVE LACK, SCARCITY DUE TO WAR, DROUGHT & DEMAND FOR BIODISEL

THERE IS A VERY VERY TIGHT SUPPLY OUT THERE FROM NOW TILL YEAR 2023

DO NOT BELIEVE THE LIES OF NAYSAYERS TALKING WITHOUT FACTS AND FIGURES

THESE ARE TOTALLY IRRESPONSIBLE PEOPLE TRYING TO STOP YOU FROM JOINING THE ONCE A CENTURY PALM OIL SUPERBULL

DON'T MISS!

BE WISE!

Best Regards

Calvin Tan